If you hadn't seen Larry's Cash Machine video, they were talking about this software that is so important that the government wants to take control of it.
We all know if the government wanted your stuff, they are going to take it.
It's just as simple as that.
I've seen remakes after remakes of these types of videos.
They always talk about a push-button system that is supposed to make people millions by doing some program.
I had to do a review on Larry's Cash Machine because I'm sure there are no push buttons that work and the only one making money, maybe this "mysterious Larry" Person.
I also wanted to express that people need to be careful about what they are getting themselves into if they decided to buy into this offer.
Specs About Larry's Cash Machine
---

Product Name: Larry's Cash Machine
Year: 2014
Free Access: Yes
Price: Starting at $250
Website URL: larryscashmachine.com
BeginAtZero.com Overall Rating: 1/10
---
The Rundown
What is Larry's Cash Machine?
It's supposed to be a software that predicts the results in Binary Trading Options.
How does it work?
According to what they say, it's pretty simple. All you have to do is place your info into the member's area, and you have access to the software. Once you have access to the software, you can start investing your money and begin doing binary trading.
How much does it cost?
The software is supposed to be free, but in order to make an investment, it starts off at $250. I will call that some kind of catch to get access to the free "software".
Who can join?
Before you invest any money into a binary program, a person should check if it's regulated. 18 years or older.
My Take
When I saw this video, it was very cheesy. There was some guy in the video talking all this blah, blah, blah stuff.
It should be old by now. I've come across so many programs promoting binary trading.
It seems to be one of the biggest things on the net right now.
A lot of times, these programs come up with these stories that just don't make sense. Just like in the video I just saw.
I personally would like to express to people, buyer's BEWARE.
This is not a game when you tie your bank account to a program like binary trading. It can be addicting and sometimes these programs can be rigged.
Red Flag Video
---
These are just stories when they put these videos out. Let's be real here, these videos can be comical and that's how you should take it. No one can make millions like what this video claims.
Let's talk about this guy here. I don't want to be mean, but he says he's a millionaire. He's been making all this money, but yet check out that door, that door doesn't look high price to me. He says he's retired and spends his time at the lake on his boat and it only took 11 months.
The Student In The Video
---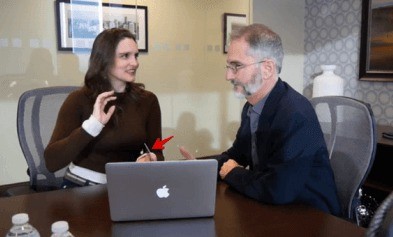 There's a single mother actress in the video. They asked her to deposit $250 of her supposedly hard earn money. If the system was so accurate, why didn't the actor just tell her here's $250, if you don't make more than that, you can keep this $250.
I'm putting this out there because according to the video they claim people can make money in matters of minutes. They also claim this software is so accurate and the chances of a person not making a profit are slim to none.
He even told the actress that the funds will be available in her account the same day, actually in the evening. Funds do not go through your bank account that quickly.
This actress supposedly just started using the system, and we all know things don't work that way with our banks.
Is Their Software Accurate?
---
In the video, the actor says that the software is 97% accurate. It's automated and should be generating you millions. In my opinion, it's 97% inaccurate. In my opinion, there is no software.
They gave some bogus story about some guy who went to an Ivy League University claiming he made the software. In the video, they say they can't give out his identity because the government will kill him.
I know there are a lot of conspiracy theory's out there. I won't get into what I believe or don't believe. I'm sure we all believe in at least one conspiracy theory, but this one, heck no!
The Site
---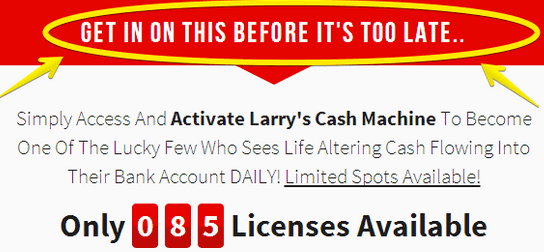 ---
When sites say get in before it's too late, you should be very cautious. This is a way to rush someone into something they may not be ready to do.

When I scrolled down to the bottom of the site to take a look at the disclaimers, the links don't even work. This is another telltale sign that people should be careful.

When You see those as seen on, don't believe the hype. Anyone can put that on their sites. If the news was reporting about this Larry guy, they would have shown the news footage on their site.
Be Wary Of Binary Trading Options
---

If you're not familiar with binary options or trading, I highly suggest you learn about it before you even think about doing something like this. I just did an article about binary options, and their claims were similar.
A lot of times, these binary options are unregulated. According to what the SEC says on their site about binary fraud is that you can get ripped off or your identity can be stolen. Is this really worth the risk?
With these binary options services, you're giving out a lot of your personal information. This is something you shouldn't take lightly. I've read how some of these platforms are considered gaming rather than trading. People can get highly addicted to this stuff. Please research and research and research before you get involved in something like this.
Is It Free?
---
In my opinion, this is just some story. My daughter saw a scene in the video, and she even said it was cheesy. Of course, people have to invest some money in order for this "software" to generate the money they claim. I want people to think about this before they think about investing.
Do you think a bank will actually allow you to make that much money in a short amount of time? I just want you to think about that too. In my opinion, this is just a way to get people into this binary gaming system and get people hooked. It's not free.
All In All
I don't do binary trading nor do I want to. These videos on the net try to explain how accurate and good it is. There are so many of these binary programs out there. I would highly recommend researching what you're getting into before you get into it. Lot's of people have strategies, your odds of winning or losing are 50/50 and that's only if the trading program is not rigged.
If you want to learn a real way to make money, then it's going to take work. It's as simple as that. You gotta put in your time to make your dime. If you're hard-working, willing to learn, then I highly suggest My #1 Heroic Site.
What is your take about Larry's Cash Machine, Tweet me @evelynbaz!

We earn a commission if you click this link and make a purchase at no additional cost to you.