Okay all, I decided to do a review about Lottery Dominator because of a repeated ad that was told through another Lottery service similar to the Lottery Dominator.
Before I begin this review, I have nothing against Mr. Lustig and what he's accomplished by winning the lottery 7 times.
I recommend to people to purchase his book, "Learn How To Increase Your Chances of Winning The Lottery" on Amazon rather than purchasing an expensive Lottery formula that I did a review on a while back.
So let's just get right into this familiar tale that is repeated again.
Specs About Lottery Dominator
---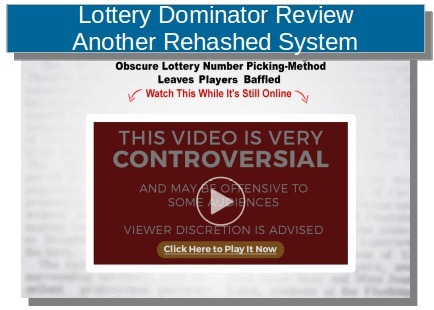 Product Name: Lottery Dominator
Year: 2010
Free Access: No
Price: $97
Website URL: lotterydominator.com
BeginAtZero.com Overall Rating: 1/10
---
My Take
I see this time and time again where an ad platform uses the same platform that has another name to sell us a service or product that may attract us to buy.
With the Lottery Dominator, it is no different.
When I watched the ad there were some similarities to another Lottery system called The Lotto Crusher.
The familiar tale goes on about how someone somehow figured out a way to win the lottery by discovering some secret formula and now they are offering it to you for a limited time.
What Bothered Me The Most About Lottery Dominator
---
---
Okay, Richard Lustig has been on TV and has done a number of interviews, so he is very familiar with speaking to the public about his winning lottery streak.
When I watched the Lottery Dominator's video, I was shocked not to see Richard Lustig in the video. It was obviously an actor was representing Richard Lustig.
When I knew it was an actor talking in the video, right then and there I question the transparency of Lottery Dominator.
---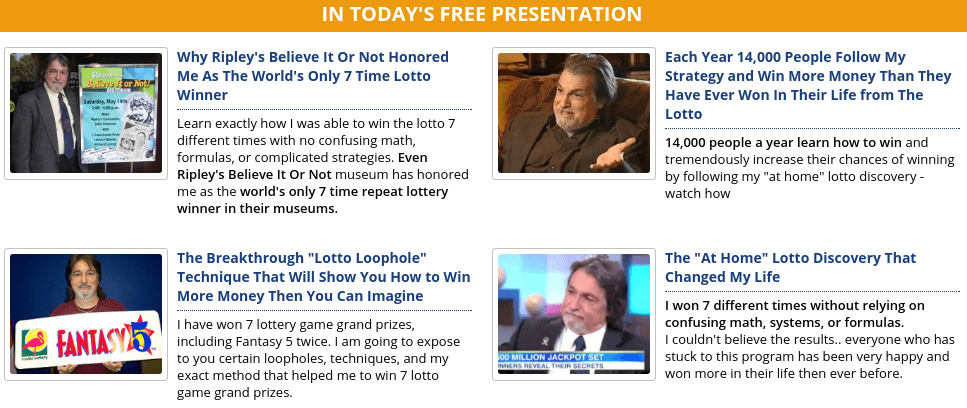 ---
Why wasn't Mr. Lustig in the video?
His name is plastered all over the ad along with images of him.
When I saw the asking price for Lottery Dominator for $97, I kind of felt ripped off because he sells his Amazon book for extremely less.
Anyways, now that I got my little complaint out of the way, it was time for me to start doing some research and this is what I dug up.
Lotto Crusher And Lottery Dominator Uses The Same Platform
---
Lotto Crusher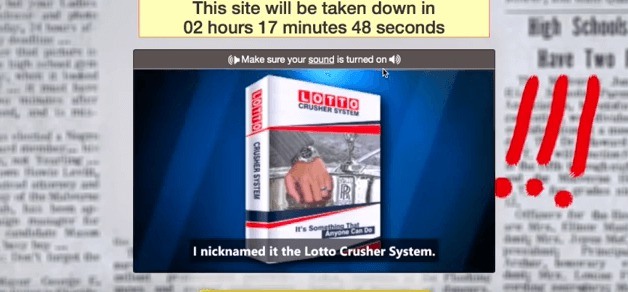 Lottery Dominator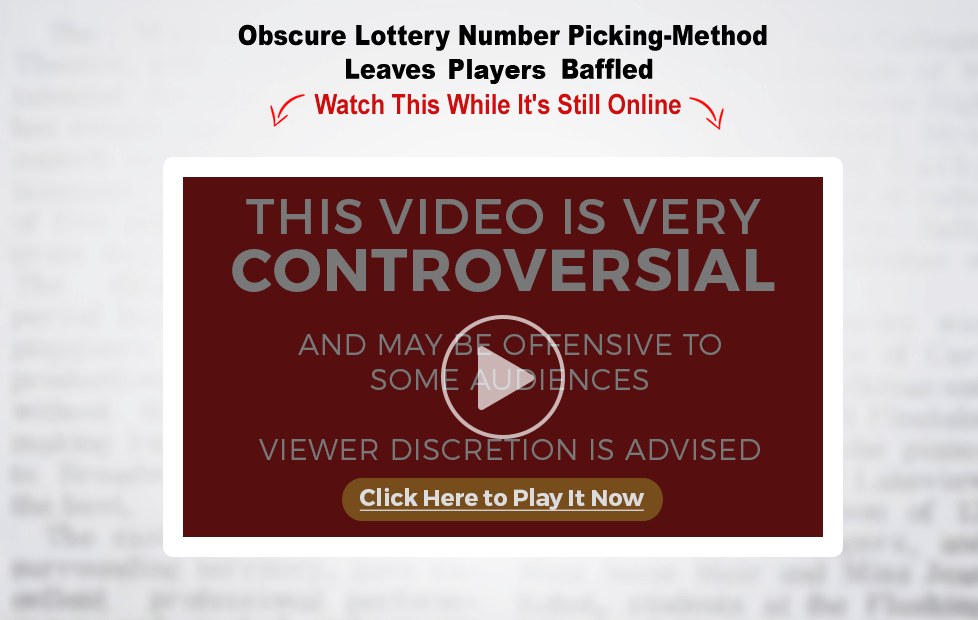 ---
It has that newspaper look on the side, with a video in the middle that tells a story.
Like I said earlier, both stories have some similarities.
Of course, it's not the exact same tale, but the video ends with an amazing story about studying lottery numbers, and all of a sudden some remarkable formula to winning the lottery occurred and now they are selling this snake oil to you.
---
---
I went to Lotto Crusher's website and to my surprise, it's no longer available. It made me wonder if The Lottery Dominator is just a rehashed of Lotto Crusher.
TheWayBackMachine
---
Oh no Evelyn, you did TheWayBackMachine again? Oh heck yeah I did, I did it because I wanted some info about this Lottery Dominator.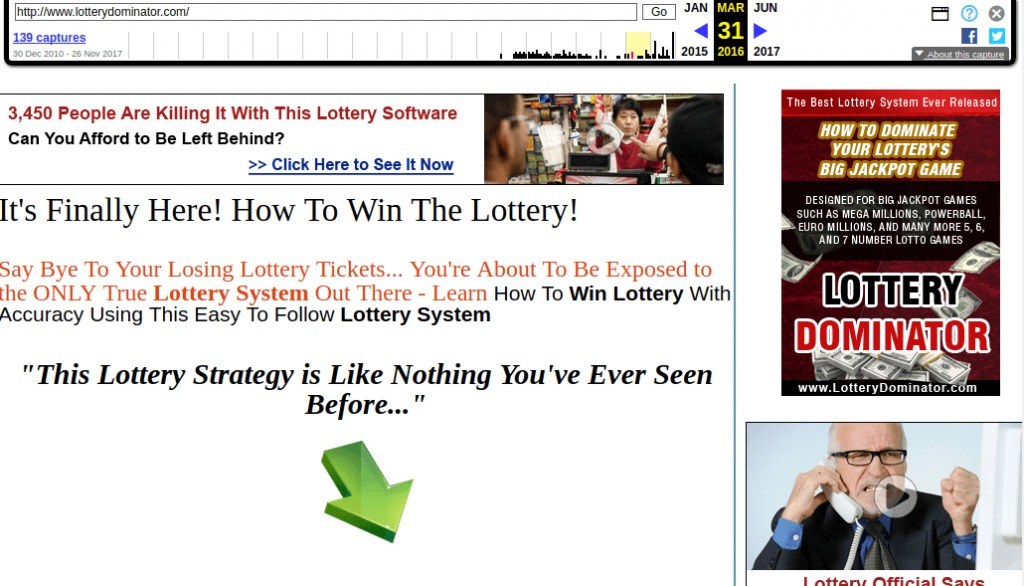 What I got was that The Lottery Dominator didn't have Mr. Lustig's name on it back in 2016 and it was and still is a Clickbank product.
What appeared to me is that they are still selling some lottery dream only with the disclaimer they had that said and I'm going to quote a part of it,

---
"This information on how to win the lottery is for entertainment purposes only and should be taken as such."
I personally feel that the disclaimer is right on the nose because if you are going to buy some tips, it's not a guaranteed way.
You may also purchase and read an entertaining book and for some, that might be money well spent.
Does Richard Lustig Information Hold Any Merit?
---
I personally would go back to his book on Amazon and call it day. Who wouldn't want some tips from someone who has won the lottery the most!
With Products like the Lottery Dominator, you're going to get up-sold and every product you buy will never be a satisfying result.
Richard Lustig has won the lottery numerous times and if you met someone who accomplished that on a personal basis, you are more than likely are going to ask the person how they did it.
You can get some advice through what Richard says in his book, but it goes back to gambling and luck.
Look, Richard won some great money with great odds against him, however, he doesn't really get into how many tickets he's purchased either.
There are people who won the lottery more than once and some people said the reason why they won was an inner feeling inside of them that said to play.
There are people who have certain strategies, like Mr. Lustig, but your odds of winning are troubling, but I always say, if you don't play you will definitely never win.
Here's the thing though, never play and pay more than you can afford.
Do I Play The Lottery?
---
I personally play when the jackpot is big and investing a few bucks to possibly win millions won't hurt me financially.
Shoot why not!
A one or two dollar investment to obtain millions is a great investment and something to celebrate about if you hit the jackpot.
I've gotten four numbers correct and won a little over a hundred bucks. That was selecting a quick pick and I was lucky.
I will get a few scratches on my Birthday and I add them to loved one's Birthday cards, but other than that, I feel that I can invest my earnings with better odds.
I've also heard stories about how people have their own strategies to win. Like I say all the time if it really worked wouldn't we all be doing it.
All In All
You do have to consider the time, effort, and work that Richard put forth to make the money he did.
Like I mentioned before, he doesn't really give you details on how much he spent on lottery tickets to know if his investment paid off.
I'm guessing his investment paid off because not only did he make money winning the lottery more than once or twice, now he has a book to sell along with a very expensive Clickbank product that he wants you to buy.
You can get tips by just getting his book on Amazon, however, it's obvious the more you play the odds are for you.
Just like if you were to walk into a casino and pull a slot machine.
You may hit the jackpot on the first try, but more than likely, you're going to have to keep playing in hopes of hitting that jackpot. It's all a gamble.
What is your take about Lottery Dominator, Tweet me @evelynbaz!
Looking For Ways To Earn From Home?
Check out a list of opportunities!
There are many ways you can earn from home. In this list, you can find other options that can help you make money online. Each opportunity is either earn some extra coins, find work, or start a business. Click the button below to see if any of these options fit your needs.

We earn a commission if you click this link and make a purchase at no additional cost to you.