This article is going to about another aspect I found out about Mommy Jobs Online.
Did you know that Mommy Jobs Online offers an affiliate program?
Their affiliate program allows people to make a commission when someone pays for their "exclusive database of work at home jobs."
MJOL calls them email marketing specialist.
They have other similar job listings that also have these Affiliate programs.
The Reason For The Update
---

I noticed that several Mommy Jobs Online is bombarding the job boards in work at home jobs field.
I get it that Mommy Jobs Online finds jobs from home for you, so people who are looking to work from home don't have to continue looking in many places to work from home.
How Does Mommy Jobs Online Affiliate Program Work?
---
They will pay you $10 when someone pays $85 or $210 for their work at home job listings.
If someone pays for their services, the affiliate makes a commission.
MJOL also have other listings in various names that pay similar commissions
Note: You have to pay the $85 or $210 for these internal positions.
Freelance Job Promoter: $15.00 per client sign up
HR Personnel Assistant: $15.00 per recruited agent
Virtual Recruiter: $12.00 per recruited
Email Marketing Processor: $10.00 per recruited agent
Email Marketing Specialist: $10.00 per recruited agent
Data Entry Specialist: $15.00 / 5,000 entries plus $10.00 commissions
The Problem That May Occur
---
Being that Mommy Jobs Online offers an affiliate service, you will find a lot more listings to work from home that require people to pay a fee for MJOL job listings in the free job boards.
MJOL Affiliates want to make money, so they are going to list many jobs from home that could be a little outdated in several job boards for a person to make a commission.
Being that the consumer is paying for their service, once their service is paid for, the email marketing specialist who made the commission deed got done.
An Interesting Read That I Found In BBB
---
If you read the positive review in BBB given in regards to MJOL, the person indicates that they are listing jobs on the job boards.

---
I'm going to quote it,
"The only complaint I have is that if you are posting jobs online for the company. You should get paid also. A lot of people depend on this job from working from home to have some kind of income coming in. Not just wait until a person refers you then get paid for $10.00."
That tells you right there that their Email Marketing Specialist Position is also you posting jobs on job boards.
You don't get paid to do that. You get paid when someone decides to pay either $85 or $210 when MJOL "Email Marketing Specialist" refers when people.
I also want to add that I examine one of MJOL job listings, and it did seem to be a listing that was a little outdated.
If you look at the two images below, you will understand more about what I'm getting at.
The listing is from Mommy Jobs Online. This listing was in January 2019.
Here are a few of the criteria needed to get hired for a transcribing position.
hold professional typing experience and qualifications
have significant digital audio transcription experience which included an interview and focus group transcription
have a minimum typing speed of 70 wpm
As you can see from the listing below, it is the same listing, but it is not through MJOL.
On this particular job listing, it was back in 2017. This listing might still be looking for people to transcribe.
The problem is, I found this job for free. There is no $85 to $210 fee I'd have to pay.
Does That Mean Mommy Jobs Online Is A Scam?
---
No, it doesn't mean it is a scam because that is what MJOL does, find jobs from home, and list them in their database.
They list jobs from home, but I feel the price tag for their listing is a bit steep, and I had other concerns when I wrote my first review about them here.
Not only that, but you also are not guaranteed a job when you pay their steep price.
It is up to you to consider when you are looking for jobs from home.
You have to ask yourself, is it worth the price.
Here Is A Comparison
---
If you look at Mommy Jobs Online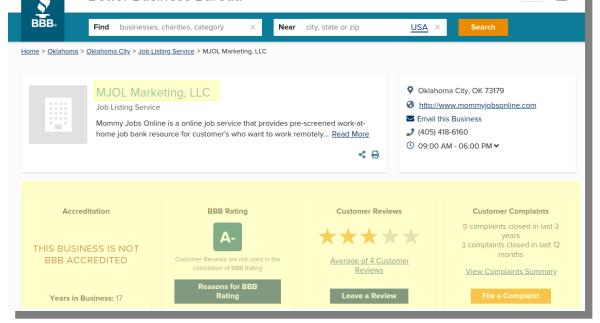 They say they have been in business for over "17 years", but they only listed their business with BBB in 2016.
They already have nine complaints and four reviews through BBB. The price is a one time fee of $85 for their whole database. It costs $210, and there are no refunds.
Also, back when I reviewed MJOL, they said they were BBB accredited and have been in business for over 14 years.
I did my research in this review here. I would recommend that you take a look here in regards to my findings.
If you look at FlexJobs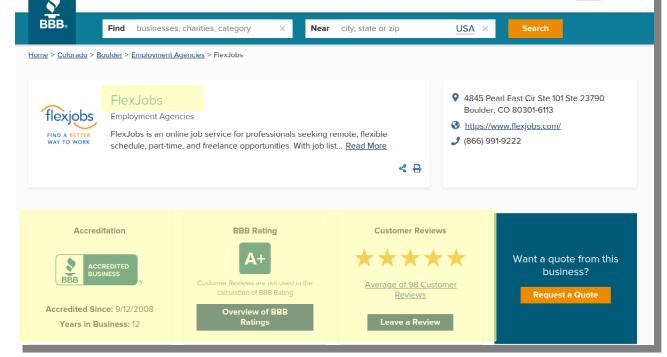 If you don't know what Flexjobs is, they also have a database of work at home jobs. Again, if you don't want to sift through a bunch of posts or so-called jobs, you can pay a small fee and look for work at home jobs through Flexjobs.
If you look at Flexjobs, they have been in business since 2005. They have gotten accredited with the BBB since 2008.
They have over 98 reviews, and most of these reviews are positive.
The Price For Flexjob Database
It cost $14.95 a month
$29.95 quarterly
$49.95 yearly
There is other info you should know about for Flexjobs.
You can request a refund, and you can stop payments without hesitation.
You can even pay for a month and have it automatically cancel.
You can pay with a prepaid gift card if you prefer to pay that way.
Flexjob does offer an affiliate program, but its affiliate program doesn't have its affiliates list jobs in free job boards.
They screen their jobs and have been doing what they do for years.
When You Compare The Two
If you're looking to work from home, you don't want to spend a lot of money because you're looking to supplement your income, not spend money on nothing.
You want a service that will deliver what you paid.
You can make a quality decision based on what BBB has listed inside their website. You can read reviews about both services and then decide for yourself which service will fit your needs.
When I Paid For A Database Of Work At Home Jobs
---
It was way back in the day when I paid for a work at home job database.
I can't remember the name of the database that I paid for. That is how long ago it was. Back then, working from home wasn't as available as it is today.
It took a long time for me to find anything that I felt I was qualified for.
I felt that what I paid for was worth it, though. I spent a one time fee of $10, and I got access to jobs from home.
I pretty much got an email and most of the job listings where repeated listings that were in the coding and transcribing field.
I did find, Yardi, which was Pierce Eislen back in the day and Lifebushido.
I decided to give Pierce Eislen a try and got hired and got paid by checks sent to me.
If I Had To Choose Between MJOL And FlexJobs
---
I want you to know that I'm not affiliated with either service. I would not make any commission if you joined MJOL or FlexJobs.
I've been there looking to make money from home. I have a son with autism, and it is a challenge trying to find ways to make money from home.
In the end, I decided this way because I can work at what I do at any time of the day.
If I had to pick from the two, my choice would be Flexjobs.
The reason why I pick Flexjobs is not based on BBB info alone but on two other quality websites that I like.
I love these two websites, and you can find useful info on both sites. The Work At Home Wife offers a lot more work at home jobs than Penny Hoarder.
However, quality info is quality info, Lol.
Also, Flexjobs has an excellent reputation, and a lot of people do like what Flexjobs has to offer.
All In All
Finding work at home positions can be challenging.
I'm not saying that the MJOL affiliate program is the worse thing out there.
The concern I have is that people who are looking to work from home might think that they have to pay a fee if they want to apply for a particular position when that is not the case at all.
I feel that, if people are going to pay a fee to find work at home positions, looking at your options should be an important factor.
If you don't want to pay a fee, you can also just sift through stuff through free online job boards. If for some reason, you come across anything that asks you to pay a fee, you're best next step is to do your research.
What is your take about MJOL Affiliate Program, Tweet me @evelynbaz!
Looking For Ways To Earn From Home?
Check out a list of opportunities!
There are many ways you can earn from home. In this list, you can find other options that can help you make money online. Each opportunity is either earn some extra coins, find work, or start a business. Click the button below to see if any of these options fit your needs.

We earn a commission if you click this link and make a purchase at no additional cost to you.