A lot of people are finding that working from home is a great alternative rather than going to a location.
One option where people can look for jobs from home is through Mommy Jobs Online.
I know that paying a fee for people who are in between jobs is probably out of the question, while some people may not be bothered by a fee.
In this Mommy Jobs Online Review, I'm going to let you know my findings and lay out some tips for you.
Specs About Mommy Jobs Online
---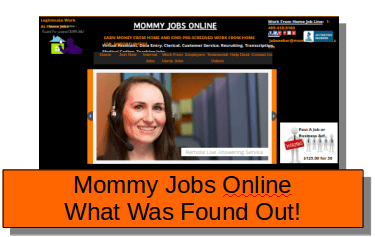 Product Name: Mommy Jobs Online
Year: 2003?
Free Access: No
Price: The starting price is at $85
Website URL: mommyjobsonline.com
BeginAtZero.com Overall Rating: 3/10
---
The Rundown
What is Mommy Jobs Online?
How does it work?
MJOL offers a database of pre-screen work at home jobs.
How much does it cost?
A one time fee of $210 for access to the full database
$85 to get access to specific job criteria.
Who can join?
US
Canada
18 years or older
My Take
I know what it is like to search for jobs from home.
I too at one time paid a small $10 fee for a lifetime membership for jobs that were completed for home.
This was a while back and they did have job listings.
Most of the jobs listed that I saw, I wasn't qualified to apply and a lot of them were outdated.
The good point I want to make about the job listings that I purchased is that the jobs listed that I was searching for were jobs and not so-called jobs that were some sort of business opportunities.
The jobs that were listed were mainly programming jobs, there were some call center jobs, but by far most of the jobs were medical coding and transcribing jobs.
Now that the Internet is growing, more companies are more susceptible to the work at home option.
Still, it is quite a task to find jobs from home, but I believe we are moving in the right directing and more people are working from home than ever.
Now I want to get into MJOL and let you know my findings along with tips that I think may help you.
The Initial Website
---
I normally don't talk about the look and feel of a website, but when I landed on MJOL, the website was very hard to read.
I wear reading glasses now and the black background and Orange writing was quite annoying. I hope they do something about it.
I know it's a rant and nitpicking, but I started getting a headache and had to just leave the site and give my eyes a rest.
What Is Mommy Jobs Online?
---
Mommy Jobs Online offers pre-screened database work at home opportunities for people who are looking for legitimate home-based jobs.
If you read any of my database reviews, I'm not a fan of paying for a database of info.
However, when I looked at some of the job opportunities online, some of these Jobs require that people go to Mommy Jobs Online to start the hiring process.
This made me dig a little deeper because I was curious why so many listings under MJOL required you to go to their website.
I also want to add before we get into the digging is that with Contract World, there are jobs available there too that require people to go through their website to obtain a job.
However, with Contract World, they DO NOT require a fee to sign up and apply for jobs.
There may be training fees, however, you do not have to pay a fee to sign up and look at their job board.
When I looked At Job Opportunities
---
I looked at some of the jobs that required people to apply at MJOL.
I saw a phone number on some of the job listings so I decided to call and I asked why do I have to go through MJOL in order to get hired?
A person said it's required because they need to pre-screen people first before they can hire someone.
I would have to pay an $85 fee first for that specific job criteria.
They also said that MJOL is BBB accredited and has been in business for 14 years and all jobs are pre-screen.
The first initial feeling I got when I finish speaking to the person was that they did a pull for MJOL, meaning they were kind of promoting MJOL.
Okay, that being said, I knew I would have to do some deep digging.
What Are Mommy Jobs Online's Fees?
---
A one time fee of $210 to get access to their whole database for a lifetime.
$85 to get access to specific job criteria.
All I have to say to that is, I got a bargain back in the day, Lol.
MJOL also offers an affiliate program where people can list jobs on job boards to get people to sing up and pay a fee. Here are more details about the MJOL affiliate program.
What I Dug Up
---
One of the first things that I decided to see is how long MJOL has been in business.
---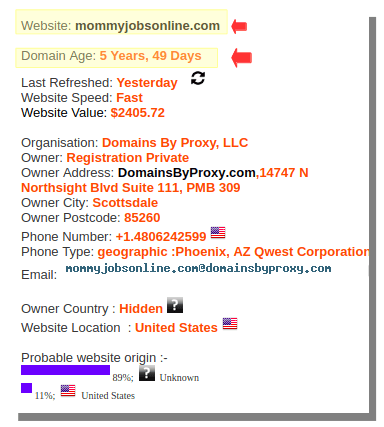 ---
Now I'm not saying MJOL wasn't in business for 14 years, but when I looked up their dot com name and went to the WayBackMachine, both sites coincide with a little over 5 years.
---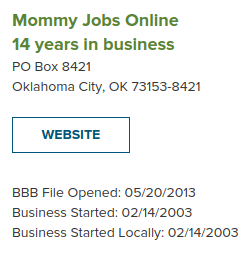 ---
In BBB's Website, it shows that their business started in 2/14/2003.
So what I decided to do is read BBB's Rating Base.
---

---
More or less what it said in the image above is that if BBB doesn't get reliable sources regarding how long a business started, BBB goes by the time a business opened its file.
What I did next was I went to the search engines for info regarding MJOL.
---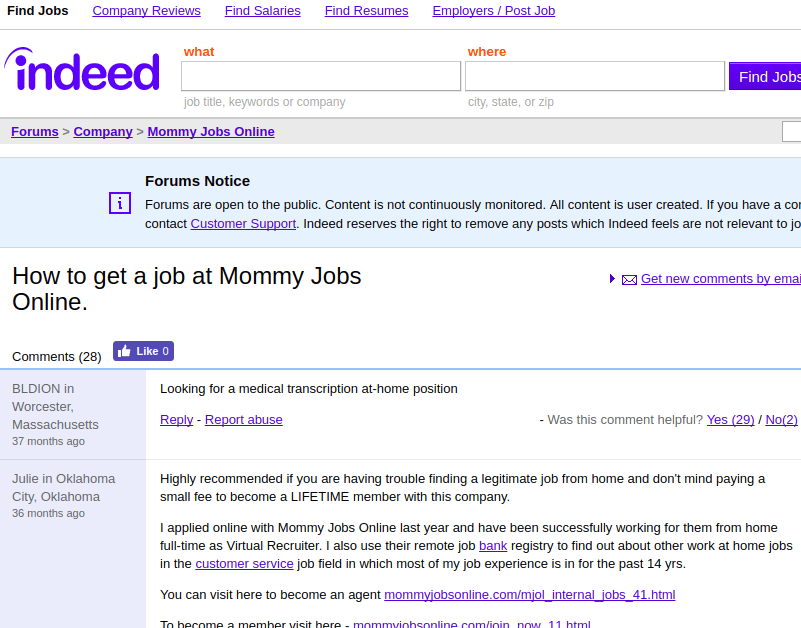 ---
I couldn't find much except I found inside Indeed's website, there was a listing 37 months ago and Indeed's website has been online for 19 years.
We all know that Indeed has been around forever, you will find complaints, raves and all sorts of info about Indeed. That is natural because everyone will have a different experience with a service.
Other than that, their website seemed a bit consistent and the fees were pretty much the same except they offered a yearly fee for $150 four years back.
Why Is The Year So Important To You Evelyn?
---
First off MJOL raves about how they've been in business for 14 years, but that doesn't mean they have been open for 14 years. What was going on 9 years prior, I couldn't answer that.
I'm sure MJOL may have a great explanation, but I couldn't find it online.
I Kept Digging
---
If you Google in Google's search engine "mommy jobs online", Google has a new feature that shows some of the job listings that MJOL offers.
(Note: You can find a number of job listing through this feature and Google will email you alerts for free.
All you would need to do is search for a specific type of job you're looking for login into your Gmail account and you're pretty much set to get job alerts for free.)
I noticed that most of the job listings through MJOL didn't say anywhere within their job description what companies were hiring.
What was displayed was the job title, description, and what equipment is needed for the job.
Then most of the listings would say something to the effect to go to MJOL's website in order to apply.
---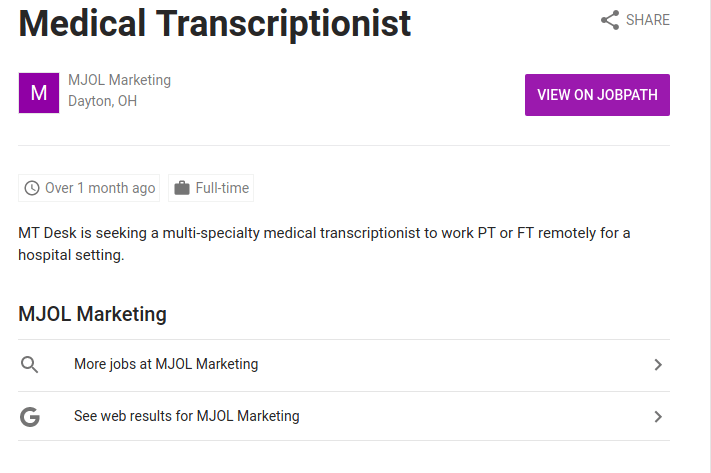 I did find one job listing through MJOL that had a company's name for transcribing, however when I went to the company's website, the results were a 403 so I went to the WayBackMachine again and found that the company is no longer open.

---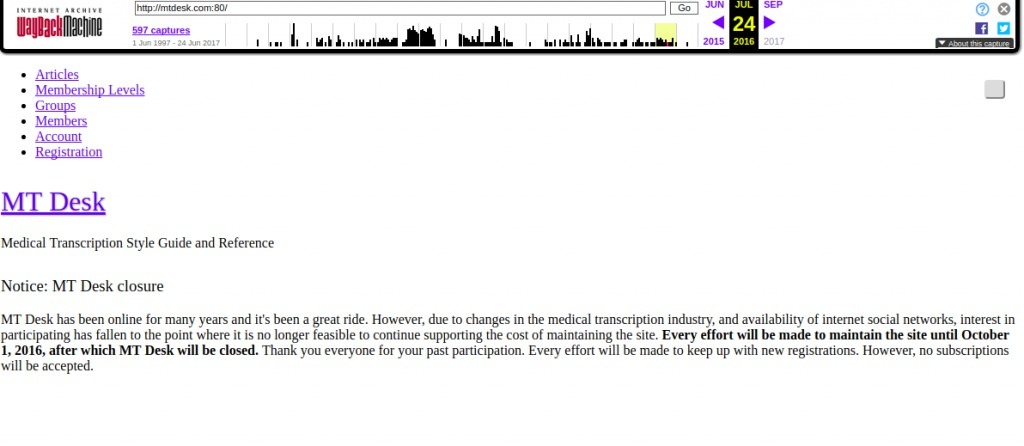 Why Is Researching Company's Name So Important?
---
There are scams out there that will use a business name to scam people out of their money.
In the online world, there are so many works at home "jobs" listings. You want to know who is hiring YOU!
Just like how companies want to screen who they want to hire, you have every darn right to screen who is hiring YOU especially when fees are required to get hired.
Jobs usually don't require a fee when you apply. There is nothing wrong with going to a company's website to see if the business is still open and if they are really hiring people to work from home.
If a company wants you to go through a site like MJOL to get hired then you may be more inclined to pay the $85 fee if you feel it is feasible and did your research.
MJOL's Testimonials
---
First off I want to say that some sites online have obvious testimonials that are not real testimonials. I'm not going to say that MJOL testimonials are fake.
What I will show you is what I noticed on their site. I also want to state that I've said on my site is that people shouldn't take testimonials as a way to join anything.
If the testimonials are real, you will learn about other people's experiences however, we are all unique and we will always have a unique experience when we try anything.
---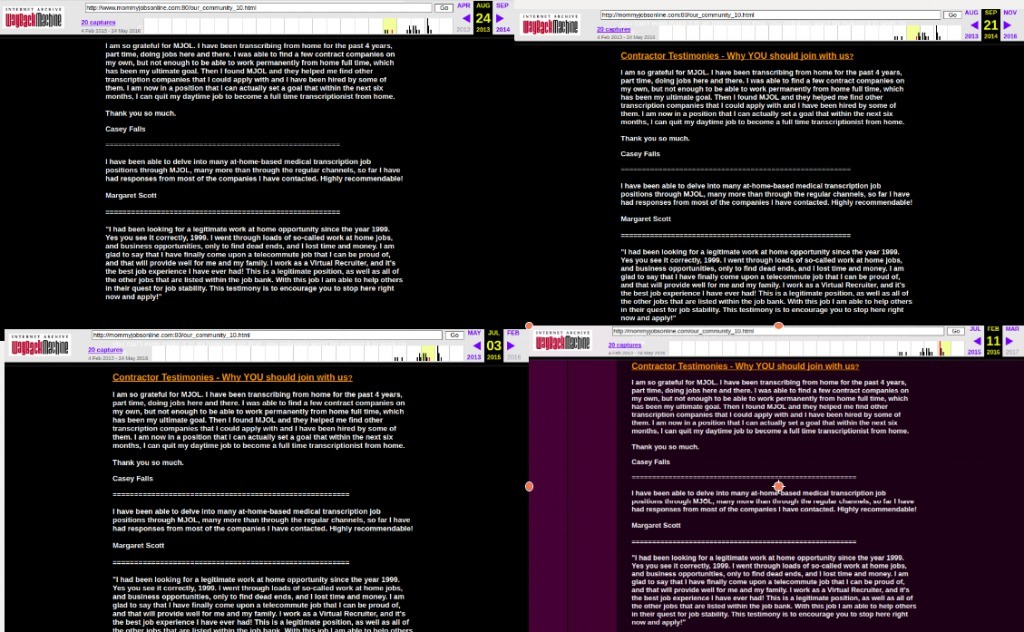 What I noticed, when I went to the WayBackMachine is that for 4 years, their testimonials pretty much stayed the same.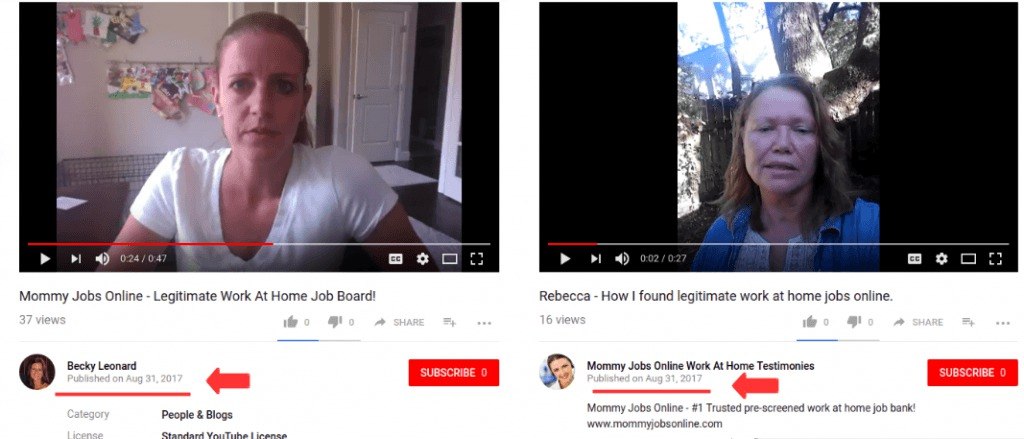 ---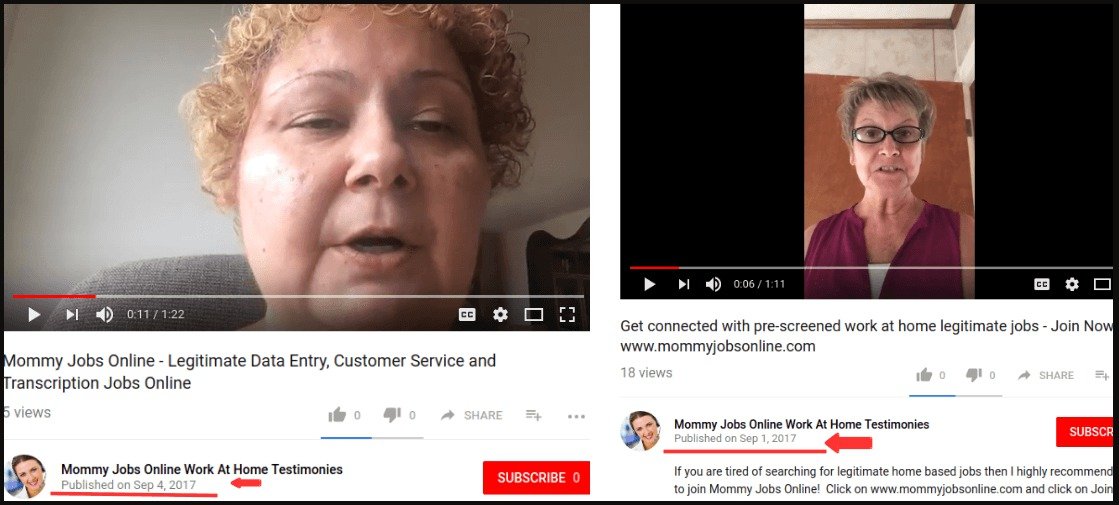 In 2017 MJOL added video testimonials on their website. Two videos were published in August 2017 and Two were in September 2017. We all know that YouTube has been around longer than August of 2017.
I'm bringing this up because if a service has been in business for 14 years, wouldn't there be more added testimonials either videos or written testimonials as the site is growing?
Yeah, you could read what others say if you search online like I did and some comments were good and some comments were not so good.
When I went to the BBB website there was one good review along with complaints.
What Was Said Said Within BBB's Website?
---
When you read people's experiences online you can get a lot of info out of it.
We are not talking about raving testimonials you may read on a website. Testimonials are great don't get me wrong, but other statements whether they are good or bad can give you some info about what you're paying for if a service requires a fee.
It doesn't mean the service is a scam but it can inspire you to do further research to determine if you want to go further with a service.
If you read the statements made inside BBB's website,
---
One person raved about how they got 4 jobs within a 5 month period.
---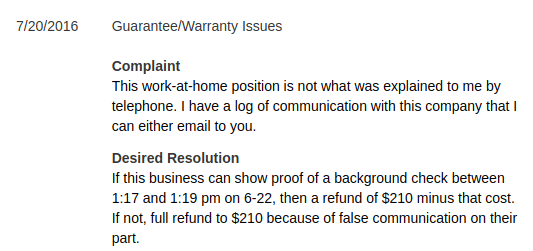 One complaint was how the person corresponded with MJOL regarding how they do their background checks. It appears that the person was guaranteed some sort of good vetting and the person instantly realized after they paid 210 dollars when they went to look through their list and instantly questioned their vetting process.
---

---
Another complaint was regarding their pre-screened info. This person paid 85 dollars expecting a well-vetted list and when the person looked through their listing it wasn't a quality list.
When you read these statements I couldn't help but question their database quality that MJOL offers.
My first initial thought when I landed on their site that you're going to a great place to find quality work at home jobs along with a company wanting quality employees.
Think About This
---

When you see job listings that say people should go to a certain website to apply along with a fee, People are not going to pay 210 or even 85 dollars expecting not to get a good high paying work at home job.
So I can see how people may think that they are purchasing an exclusive list and companies want good quality employees to hire people. That is why people may find the price to be reasonable.
When you read how someone landed 4 jobs within a 5 month period and their site says that people can make more than traditional jobs, why does someone need 3 other jobs within a 5 month period?
Is MJOL A Scam?
---
I wouldn't call it a scam. I personally feel that you can find work at home jobs without paying a fee.
Even though MJOL offer pre-screen jobs, they still have job listings that are outdated. Also like I said earlier when I called the number, they told me that their reason for charging a fee is that they have to pre-screen people along with the jobs they have listed on their website.
That is all nice, but if they spend so much time pre-screening jobs and people, why not screen their database and get rid of job listings that are no longer in business!
What is the use of paying such a high fee of 210 or 85 dollars for a database of job listings that isn't top-notch?
All In All
When you first read the job description, it's natural not to look for a company's name. It's natural to read the job description to see if you fit the bill.
But once you find out where to apply and you don't see a company's name and the description directs you to pay a fee, further research should always be your next step.
When I saw job listing that required me to go to MJOL's website to apply, I thought I was going to give a great review regarding their service.
I was expecting Company's that use MJOL as a way to pre-screened people first before they apply because I assumed that a company wanted valid real people who were serious about working from home.
What I found out is that MJOL is more of a service that you can pay for at a high rate to sift through a number of work at home jobs that are pre-screened and some of these jobs are outdated or no longer in business.
You can easily go here and see if any of these work for you or Google's jobs alert and once you get alerts within the job criteria you're looking for, you can do further research from there.
Paying others to research for you can be a big miss.
Especially when a high fee is required and you get data that is outdated.
What is your take about Mommy Jobs Online, Tweet me @evelynbaz!
Looking For Ways To Earn From Home?
Check out a list of opportunities!
There are many ways you can earn from home. In this list, you can find other options that can help you make money online. Each opportunity is either earn some extra coins, find work, or start a business. Click the button below to see if any of these options fit your needs.