I don't understand why these sites like to play these con games.
I personally believe if a site can't deliver from beginning to end, then why should anyone go any further.
I say this time and time again, where is the trust?
This is how I felt about My Internet Success Coach.
I really hope you take the time to read My MISC aka My Internet Success Coach review before you think about getting started with it.
It's nothing more than a funnel to an MLM business.
Specs About My Internet Success Coach
---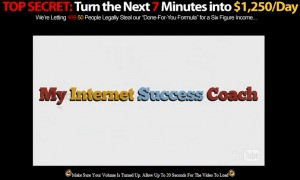 Product Name: My Internet Success Coach
Year: 2014
Free Access: No
Price: $49
Website URL: myinternetsuccesscoach.com
BeginAtZero.com Overall Rating: 0/10
---
The Rundown
What is My Internet Success Coach aka MISC
How does it work?
This system funnels people into an MLM business.
How much does it cost?
Who can join?
My Take
When I watched the almost hour-long video it brought me back to another review I did.
At the beginning of the video, the narrator said not to share the video, when we all know that everyone can view it and that's what they want.
What's up with that? Do they want to make sales or do they want to play with people's minds?
Being that people are out there willing to invest their money to make money why do they make these videos that fib to people?
I'm really concern about it. I personally feel it's not necessary.
We are talking about investments here.
We don't have time for this.
We want to know what's going on and how does their portal work.
If they got something, people might do it, if they don't, people won't.
It's just as simple as that!
The Long Video That Didn't Explain Nothing
---

When I was watching MISC aka My Internet Success Coach's video, in the first few seconds I knew there were going to be broken promises.
It started off with just watching this video you're going to get something for free.
I've heard that con game before and in the end, it doesn't turn out that way.
The video had very similarities to Auto Mobile Code.
These videos didn't explain the business model and how people were going to make all this money by doing nothing.
Then it went on with this rush tactic.
It stated that the MISC video may come down in five minutes.
We know that isn't going to happen.
I don't know why they do that. Is it for drama?
Do they feel that people love drama?
I believe we all like a little drama here and there, but there are a time and place for everything.
When it comes to business and investments, I feel people don't have time for that kind of drama.
What Do They Give?
---

According to MISC, we are supposedly going to get the exact same system that "William Chase" has. This system is supposedly going to make people thousands of dollars for FREE.
The Cost
---
The video did explain that they had some type of money portal similar to an ATM machine.
Of course, when I reached the end of the video, there was nothing for free. In fact, I wasted my time watching the video.
Not only that, they even were asking for money, like they were doing us a favor.

It turns out that they want money. I don't know why the went on with this free pitch when they are asking people for money by pitching in.
I have a problem with that.
Why Is It Our Problem?
---
In that video, they even made it seem like it was our problem that this supposedly "William Chase" spent thousands of dollars on fees to keep his fake portal ATM machine up and running.
It's not our problem. Businesses come with fees and that's MISC's problem, not yours or not mine.
What I Found Out
---
When I went to their disclaimer I found out what was really going on.
I was like no way.
This MISC is nothing more than a funnel.
If you don't know anything about MOBE, it's an MLM business that is very expensive. I did a review on them and buyer beware.
The $49 fee is a contract fee for MOBE.
Why Is It A Con Game?
---
If you watch the video they didn't say anything about MOBE. They made it seem like people were doing business with some sort of portal.
They made it seem like people would only have to work 20 minutes a day and make thousands of dollars. What they really want is for people to be in MISC's MLM team.
It's more or less a lead for the owner of this site. There is no "Portal" The real portal is that you're getting funnel into MOBE.
If you're not into MLM businesses like myself, you'd be pissed off that they didn't disclose that in their video.
They went on and said no up-sells, no ongoing fees, and no surprises.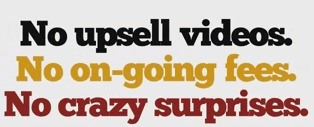 Boy was I surprised and if you don't want surprises either, well let me tell you this.
You will get up-sold and you will have ongoing fees.
With MLM's there are lots of fees and boy does MOBE cost a lot of money. To start making the money that they claim, there is a licensing fee of $1,997 to start making commissions.
There are other fees and you can read that in my MOBE review.
MOBE's Income Disclosure
---

---
In the MISC video, as I said earlier, they made it seem like you only have to work 20 minutes a day. Well, of course, that's a deception because it's going to take work.
If you look at MOBE's average income it's $700 per year and the lowest is $250 per year. Well, don't think you're going to make thousands like that video claimed.
All In All
I always say it's always a good idea to do your research first. I felt that this MISC is just a con game funneling people into another MLM business.
It's always good to read those disclaimers. It's always important to know what you're getting into before you do.
I felt that the video didn't disclose much but a sales pitch of nothing. That video never explained what type of business you would be getting into.
If you don't know what you're getting into then it's best to just move on.
If transparency is what you want? If you want to really have a chance to make money from home? If the MLM thing is not your thing?
Then it's time to check out this site here. It's time to put your credit card away and see what this site is all about.
You can check them out for free if it's not for you then move on.
What is your take about My Internet Success Coach, Tweet me @evelynbaz!

We earn a commission if you click this link and make a purchase at no additional cost to you.