When I came across My Online Business Empire, I wanted to learn more about MOBE.
When I started doing my research and I found out its an MLM type business, I was disappointed.
What was more disappointing is when I found out how much My Online Business Empire Cost.
Read my review and find out much this business will run you.
Specs About My Online Business Empire
---
Product Name: My Online Business Empire
Year: 2011
Free Access: No
Price: Starts At $49
Website URL: mobe.com
BeginAtZero.com Overall Rating: 2/10
---
UPDATE: The FTC took action against MOBE for bilking, click here to read the details.
The Rundown
What Is My Online Business Empire aka MOBE?
How does it work?
You have to join and sell their overpriced products to make a commission.
Is There an Affiliate program?
Who can join?
Anyone 18 years of age or older with a lot of money.
My Take
When I got to MOBE's website and saw their intro video, I thought it was really touching and inspirational.
I wanted to know more and what I will be doing to achieve my 1, 3, or 5 thousand dollar commissions.
There were a lot of videos with Matt Lloyd sharing how he became successful online.
I think I heard that at least twenty times on various videos.
I was trying to see what products he was selling.
I found out its pretty much training products at different levels.
You know I'm not a fan of up-sells because people can get really broke this way.
Why I Don't Like Up-Sells
---
When I go into a store, it really doesn't bother me when they try to up-sell me.
Sometimes I say yes and sometimes I say no.
I understand the concept of up-sells in stores.
They are asking you to buy something so they can make more profits.
Not only that, but they may also be offering me something I want to pay for.
When you're trying to build a business online and they give you some titanium package, you expect it to work.
If that system works, why do they have to have all these other packages?
I mean really, are these up-sells just to keep making them money?
Do you think people really want to give a business more money for more learning materials?
I'll get back into up-sells later. Let's get into MOBE's business model.
MOBE's My Top Tier Business (MTTB)
---
---
Matt says to partner with him and he will give me a portion of his revenue with a couple of steps.
Step one, bring him some leads.
Step two, I make money when he sells something to those leads.
He calls this the MTTB. He will give me 1, 3, or 5 thousand dollars without lifting a finger.
He says that I will make 50% commissions by doing nothing.
As I kept reading, he says I have to do something.
Wait, wasn't I suppose to not lift a finger?
Now he's telling me I have training videos. Let's break this down.
He says I will get,
1, 2 or 3 thousand commissions
I will get a 1 on 1 personal coach
21 step training program
Telephone sales professionals that make sales for me
Customer service
Traffic plan through YouTube, Facebook, and Google
So if I'm paying for all this stuff, why are training videos involved? He said it, he said we don't have to do anything.
When I read this it brought me back to a review I did for iPAS2. Let's get back to MOBE.
All of this will only cost a one-time fee of $49.
How the heck can Matt afford this 1 on 1 coach and a telephone sales professionals with only a one-time fee of $49?
He will also put me in touch with my one on one coach to see if I'm a good fit for MOBE.
I just had to hit the breaks. MOBE wants me to pay them to see if I'm the right fit for them.
Let's recap, did I just read that MOBE wants me to pay them $49 to see if I'm the right fit for them?
How insulting is that?
If I'm not the right fit for MOBE, they will refund me on the spot.
Let's do it this way, why don't I see if MOBE is the right fit for me and not give them a dime.
This $49 fee is also for a Non-Disclose Agreement with access to highly proprietary information.
Sounds like I can get sued. No thanks, that $49 seems like more trouble to me.
NO THANKS! MOBE, you're not the right fit for me.
Money-Back Guarantee
---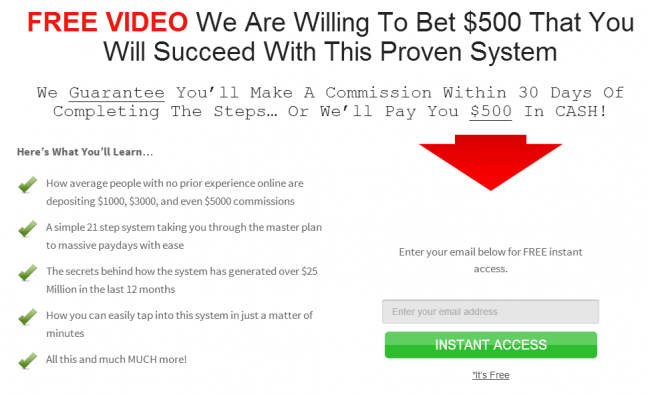 Matt Lloyd says he will give me a 30-day money-back guarantee if I go through the training.
If I don't make a commission within 30 days, Matt will give me $500 via PayPal or check.
There is a catch, if you skip a step or do a step out of order you will forfeit the guarantee.
What does that mean, you may be thinking? I'll give you the answer.
I guarantee you this, there is no $500 guarantee period.
I didn't move on with MOBE as you can see the reasons why.
I know it's gonna cost more than $49 to build a business with them.
I had to do some deep research to find out what does this MOBE really cost.
This is what I discovered.
Let's look at the packages.
Packages
---
Affiliates make a 50% commission on any sales under $500.
Isn't that a scam because he said you can make 1, 3, or 5 thousand dollars if I pay for this contract of $49?

He is really deceiving people with this $49 contract scam.
MOBE License Rights – $1997 That's when you can make the 1, 3, or 5 thousand dollar commission.
Titanium Mastermind – $8,997
Platinum Mastermind – $14,997
What is MOBE's Products?
---
I saw a list of their products and I'm trying to figure out who's buying these products?
IM Revolution $9.95
Instant Info-Product $39.95
MOBE Inner Circle $97 a month
MOBE Elite Earners $97 a month
Done for you Emails $97 a month
Affiliate Bonus Domination $291
How to build a funded proposal 194
They're more senseless products that people really don't want.
I'm trying to figure out why Matt Lloyd is selling $97 a month on emails.
How long does it take to send out emails, we are not talking about snail mail here.
Are people really gonna pay $97 a month for some inner circle or Elite Earners?
Is Matt Lloyd just making up names and putting a price on them?
Back To Up-Sells
---
The only people, who are buying these products, are the people involved in MOBE.
Do you think your friends and families really want to pay $97 a month on "done for your emails?"
At least with some of these MLM businesses, they produce a product such as vitamins, make-up, coffee, or gold.
A product that is tangible that they can sell to people to recoup their membership fees or even make a profit.
Sales Professionals
I've been involved in MLM businesses.
The only people buying these products are the people involved in the company.
So, who are these Sales Professionals calling? The people who paid $49 to MOBE?
You start off as an affiliate let's say you make some money, then the sales professionals are going to call you to reinvest.
Once you reinvest, they are gonna call you again and again.
Who's really making money here? Don't let the hype fool you.
It sounds to me like some sort of PONZI scheme.
It Doesn't Cost Thousands
---
It doesn't cost thousands of dollars to build a business online or from home.
You can make a substantial living by building your OWN business.
It does take time and work, but it starts with a Website.
Even if you buy a premium website for $100 bucks, Business hosting for 3 years runs around $500 bucks and a domain name for tops $12 a year.
Mind you, I'm going with larger numbers. You're looking at $612 to get your business started.
If you wanted to add Aweber or want to build an email list, a grand total would run you around $1,000 bucks give or take a few bucks or even a few hundred bucks a year.
Most people start off paying less than half of this $1,000 to start their own business online.
One Final Note
After reviewing MOBE, I felt like their business model was based on making high commissions by charging people a lot of money.
There is a disclaimer that shows what the average person makes by choosing to build a business with MOBE's business model.

In the image above the average earners makes only around $700 a year.
All these businesses claim they got everything done for you.
The only part that you have to do is bring in the people. That seems to be the hardest part especially if you don't know-how.
All In All
My Online Business Empire is nothing more than a Ponzi scheme that cost people way too much.
For $14,997 you can pretty much are able to buy a car with that.
How many people are you really going to find that is willing to give Matt Lloyd $14,997 in an MLM business?
If you really think about it, how many of the 1% would really invest in MOBE?
If the 1% wouldn't, why would you? If you have the 1% mindset, wouldn't you do what the 1% does and build your OWN business?
Google is a website that has grown into a multi-billion dollar business.
In today's time, it can all start with a website. My #1 Heroic Site will teach you how.
What is your take about My Online Busines Empire, Tweet me @evelynbaz!

We earn a commission if you click this link and make a purchase at no additional cost to you.