If you ran across OnlineFlexJob on the job boards you are probably wondering if it's legit or not.
A lot of these types of so-called jobs tend to use customer service or data entry titles to get a person interested.
A good idea when you see a job listed that you are actually interested in is to go to the actual website to determine if you still are willing to apply or move on.
When I went to OnlineFlexJob's website, I felt right off the bat that there was some sketchy stuff going on which lead me to do further research and it appeared to be a rehash of MyFlexJob.
Once I did my research, I thought I'd let you know my findings, so in this OnlineFlexJob.com review, I will give you the rundown of what I found out.
Specs About Online Flex Job
---

Product Name: Online Flex Job
Year: 2015
Free Access: Yes
Price: Starts at $25
Website URL: onlineflexjob.com
BeginAtZero.com Overall Rating: 2/10
---
The Rundown
What is Online Flex Job AKA OFJ?
It's an affiliate service site.
How does it work?
What OFJ offer is a way to make money by completing offers, surveys, and obtain referrals through their platform.
How much does it cost?
They say it's a few dollars, but in order to get certified, you would have to pay $25 to complete your first offer with MyPcBackup.
Who can join?
18 and older
USA
Canada
UK
Australia
New Zealand
My Take
It doesn't hurt to sift when you come across any job online.
I get it that job boards online are needed to find employment.
The problem that job boards face along with the job seeker, is that a lot of times non-real jobs tend to take advantage of these job board services along with the job seeker.
I always recommend when you see a job available that you are interested in, is to go to their website and start researching there first.
The reason being is that you want to see how transparent any job listing is and you will know what I'm talking about when you read this review.
I also notice that some of these job openings that are in these job boards, don't even have a website and if that is the case, in these modern times, businesses mainly do have websites and if you can't find one, you may want to just move on.
With that being said, I'm going to explain to you why I feel OnlineFlexJob is sketchy and why it is not an actual job and on top of that a rehashed service of MyFlexJob.
Why Is OnlineFlexJobs Not A Job
---
I believe these types of websites know that people are looking for jobs, so they place their ads on job boards seeking people for their so-called opportunity.
With OnlineFlexJob aka (OFJ), their opportunity is for you to become an affiliate for them.
There is nothing wrong with that if a service is great by letting others know and the icing on the cake is that you get compensated for your word of mouth.
There are plenty of people who are affiliates for companies and do make plenty of money utilizing the affiliate opportunities, however, that is not a job.
A job is when you are hired by a company for doing a certain line of work and get paid a salary either weekly, bi-weekly, or monthly for doing the work that is required.
I always like to tell people a key point to determine if you're looking at more of a business opportunity is that you are hired period, no interview no nothing, and there is no check coming in weekly, bi-weekly, or monthly because you sing up.
You would have to use your own abilities to make cash, whether it's through sales, getting sign-ups, or completing certain tasks criteria that are required to get paid.
Why Do They Want You To Become Their Affiliate?
---
---
According to OFJ, their payment system is tied into their affiliate program and it's easier for them to process payments that way.
That reason may be fair enough for people to sign-up and join their service because if their service delivers on what they offer, it might be nice to let people know about their opportunity.
If you look at the image above, they pay you 30 dollars for anyone who applies and gets certified.
What Does OnlineFlexJob Mean By Getting Certified?
---

---
This is where the sketchy comes into play. If you look at the image above, in their Q and A, first it states you don't have to pay anything.
Then it states that in order to get certified you would only have to pay a few dollars and we know a few dollars is two bucks.
You know what really got me is that they said a few dollars in the image above which is not free.
When I researched online, you would have to complete your first offer which is $25 and that will get credited back to your dashboard immediately.
They also use in the Q and A the word "cover" and for me, that word cover means that the certification process is $25.
If you're unemployed and looking for a job, $25 could be a lot of money to shell out when every single penny counts.
Another sketchy point I would like to cover is that they don't go into details in regard to what they mean by getting certified.
Why do people have to get certified and for what?
---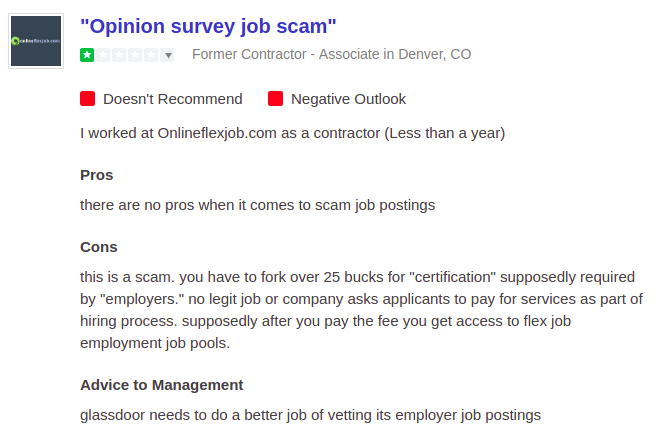 ---
When I researched online, I found a complaint in Glassdoor that states, you have to get certified supposedly by these "fortune 500 companies/employers".
When I dug a little deeper, it turns out that they want you to pay this fee to MyPcBackup.
I started to think about another review I did a few years back and it sounds like a familiar story when I reviewed MyFlexJob.
With MyFlexJob their whole agenda was for people to complete offers and they also stated that fortune 500 companies were looking to hire them.
Also, you have to pay for this MyPCBackup for record-keeping and you will get credited but not in cash.
The money you paid will go into your dashboard and you don't get your money back unless you complete other offers.
I went back into their Q And A and discovered what the duties were.
What Are The Job Duties?
---

---
It says in their Q and A that they usually offer a paid for your opinion system.
In my book, that means completing surveys.
---

---
I also found in their disclaimer that OFJ is not responsible for delays in payments for completing a job or survey, again they stated surveys.
I know they say job, but on their website, they really don't give you any details that sound credible on what OFJ considers a job.
As for inbound call position, that is when a business receives phone calls from concerns a customer has.
For instance, let say you are inquiring about why your cable line is not working properly. You would call customer service to assist you to get your line working properly.
More or less, the company is receiving an inbound call from you regarding your cable line.
Being that OFJ is stating that you get inbound calls, that could mean you will get phone calls from whom, maybe surveys where you would complete a survey over the telephone.
I'm not saying that is what you would be doing, but it sure seems like it is because not much was stated in regards to inbound calls.
As for offers, in the OFJ affiliates dashboard, you get credited $25 for completing your first offer.
Why Am I Expressing Completing Offers?
---
Well, from what I gathered online, to get certified is by you paying $25 for that MyPcBackup.
Okay, that is an offer that you just completed if you get certified.
I feel they are being a little deceptive about that certification process because you can't continue unless you pay the fee.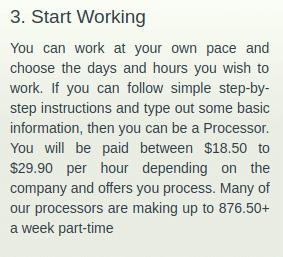 More than likely, OFJ will get compensated by MyPcBackup for getting others to complete this particular offer.
Leading you to find others to complete offers with their affiliate program.
If you look at step 3 it says right there in the image, "depending on the company and offers you process"
If you're unfamiliar with offers, it's where you pretty much tie your credit card info to something like a book club.
You may get two free books, however, if you don't cancel in a certain time frame, you will get charged a monthly fee until you cancel.
Those Fortune 500 Companies
---
When I went to the OFJ site, I noticed the fortune 500 companies.
The image you see above is the exact same image that Forbes used back in 2013 for an article they written about the top 10 companies with the best CRS reputation.
You can actually go here and see it for yourself.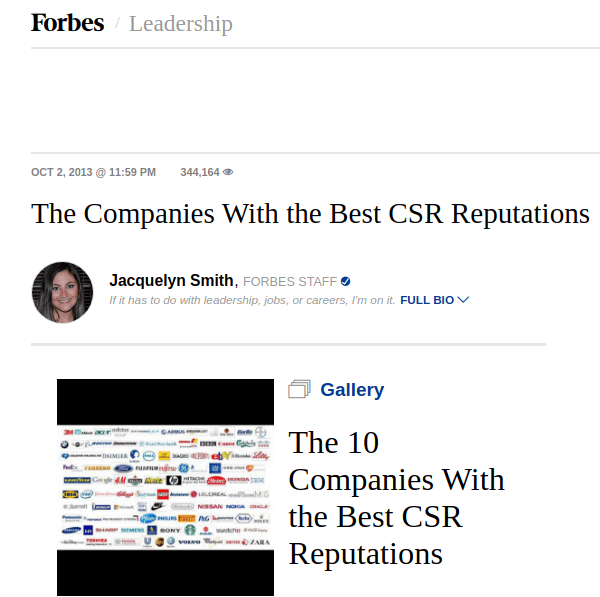 ---
I'm not saying that these fortune 500 companies are not hiring people, but I've completed my share of surveys and fortune 500 companies do utilize market research companies to get customer's opinions.
Just so you know, surveys that you complete are not jobs.
You do get compensated for completing surveys, but they pay is on average $0.50 for around a 20-minute survey.
Your pay is very minimal and surveys are not a way to make a full-time income from home.
Not only that, but you also have to qualify for the survey first before you're even selected to get compensated and that could eat up 10 minutes more of your time.
Time is money and you are lucky if you are able to complete three surveys in one day.
In reality, your lucky if you can complete one survey in a day.
Usually, people who complete surveys on average would complete around two to three surveys a week.
Payout Threshold
---

---
In order to get paid, you would have to accumulate credits.
1 credit equals one dollar.
The minimum credits needed to cash out are 30 credits and that equals $30.
Note: even if you were to make $25 for that certification process for that offer completed with MyPcBackup, you still have to make an additional 5 credits to be able to cash out.
Their Testimonials
---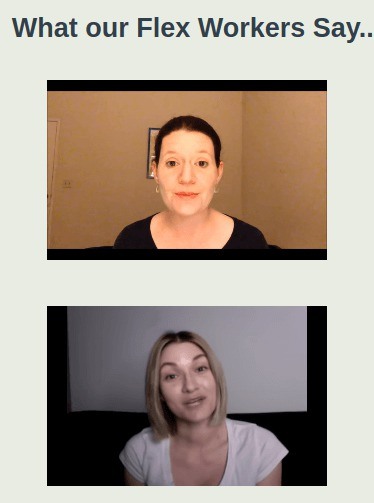 I prefer to read what others say on other websites such as BBB whether it's a good recommendation or a complaint because you are going to find people who have real experiences with a service.
Don't get me wrong, you can get real testimonials on actual websites, however, your experience will always be unique.
Sometimes people like to sugar coat their experience.
Some people may not have been in a particular service that long and just jot down their initial experience, but they haven't really fully emerge themselves into services to give a full-on valid testimonial.
If you watched the videos on OFJ's website, these testimonials don't explain to you anything of value.
When I went to their terms I found this little tidbit.
---
---
If you watched the video both people said pretty much the same thing, it seemed to me like it was scripted.
Warning If You Decide To Register With OnlineFlexJob
---

---
I do want to add that if you decide to start placing your personal info in OnlineFlexJob, they will not delete your account.
For me, seeing so many odd sketchy info, I personally couldn't trust even my first name initial with a site that doesn't seem honest or transparent.
That Brings Me Back To Their Affiliate Program
---
Like I said earlier, there is nothing wrong with recommending a great service and getting compensated for that great service you recommend.
You have to ask yourself, how proud would you be to recommend a service like OnlineFlexJob to others?
I personally recommend services to people and get compensated, but I sure am not going to do that with OnlineFlexjob's affiliate program.
I could easily add a link and I would, if I felt that people were really getting value from what they offer, but I can't do that.
Also, just so you know, it's not just about me getting affiliate sales either.
I also recommend jobs or services to people that I find value in and don't get compensated a dime for recommending it.
If you really want to know how Affiliate Marketing is done properly, you should check out a service called Wealthy Affiliate.
All In All
It is always your decision in what you want to do in the end.
I laid out some points on why I find OnlineFlexJob to be on the sketchy side and is a rehash of MyFlexJob.
I felt that they were not transparent, it's not a job, they say it's free, but in order to get certified you have to pay this $25 fee to complete your first offer, you do not get your money back because the payout threshold is $30 and you would have to find other means to make an additional 5 credits, the testimonials don't seem genuine along with OFJ never ever deleting your info ever.
Also, it's always a good idea to dig deep and do your research when you find anything that you're interested in.
Even job boards explain on their own websites about fake jobs, scams, and other sketchy schemes going on.
If you're looking for a way to make money from home, you may want to check out here and see if any of these that I listed to fit your needs.
What is your take about Online Flex Job, Tweet me @evelynbaz!
Looking For Ways To Earn From Home?
Check out a list of opportunities!
There are many ways you can earn from home. In this list, you can find other options that can help you make money online. Each opportunity is either earn some extra coins, find work, or start a business. Click the button below to see if any of these options fit your needs.