Someone left a comment on my site about PayRefe.
I did not post this comment because I wanted to look into what this PayRefe was about.
When I went to this site, I immediately saw some red flags.
I found out this site is spreading like Wildfire.
People are promoting this site everywhere.
I've seen it on social media, PTC sites, and forums, and someone even placed their affiliate link on my website.
Read My PayRefe review, and I will tell you why it's a scam.
Specs About PayRefe
---

Product Name: PayRefe
Year: 2015
Free Access: Yes
Price: Free
Website URL: payrefe.net
BeginAtZero.com Overall Rating: 0/10
---
The Rundown
What Is PayRefe
How does it work?
Supposedly they will pay you to place your referral link everywhere you can on the net to promote their site.
How much does it cost?
Who can join?
My Take
When you see a site with claims that are too good to be true most likely they are.
I hope people are not wasting their time promoting PayRefe.
They are having people running around on the net promoting their site.
Don't be surprised if you read in my comments area how someone is making thousands of dollars doing this.
People will say anything to keep the scam going.
I just want to give people the rundown on why you should steer clear away from this service.
Update:
PayRefe Is no longer available.
When I First Landed On The Site
---
When I first landed on the site and I saw tasks, I was thinking of tasks people can do like in Mturk.
When I kept fishing around the site, I noticed that they really didn't explain specifically what types of tasks people would be doing.
As I did a little more digging, it turned out to be one task.
What Do They Want You To Do?
---
Mainly what PayRefe wants you to do is promote your referral link that they give you everywhere.
Sounds easy enough, but how can a site not even a year old can guarantee to pay you.
They claim that they will pay you top dollars to do this.
Most social sites will eventually ban people from using their referral links on social sites.
They claim the money will come from their advertisers.
My question is what advertisers? I don't see anywhere that says what advertisers are affiliated with this site.
What Happens If I Place My Info?
---
When you place your info to get started, you get a referral link.
All they do is tell you to place your affiliate link everywhere. Pretty much spam people about this service.
They will give you a $25 sign up bonus. It also lists how much money you have to make in order to cash out.
According to PayRefe, once you hit $300 they will send you your money.
How Do I Get Paid?
---
According to PayRefe, you can get paid many ways
PayPal
Payza
MoneyGram
Check
This allows them not to leave anyone out especially when they say no experience needed. Their payout ratio is quite high too.
I believe that $300 is a high payout ratio. Most service payouts are around $25 to $30.
When you see a high payout ratio you should really be skeptical that it works.
If you look at My Email Mentor and The Email Syndicate, their payout ratio was so high that people didn't get paid.
Red Flag Grammatical Errors
---
Okay, I'm not one to talk about grammatical errors. I have plenty on my site, but these are just some obvious grammatical errors.
Why I say that grammatical errors like these are a red flag is because you don't know who or what country this service is from.
They show U.S. dollars but as you can see above, they didn't even do that right? Lots of those email scams online have similar grammatical errors.
Another Red Flag
---
There are not terms or privacy policy on their site. Obviously this is not a legit business.
Businesses that run legit operations would at least have a Privacy Policy and Terms of Conditions on their site.
Anyone can make up claims that will pay you top dollar.
This is why it's very important to look at a site before you even give out any of your info.
So What Is PayRefe Goal By Doing This?
---
Services like these know that people want to make money online. People tend to give their email addresses and name easily because of their tempting claims.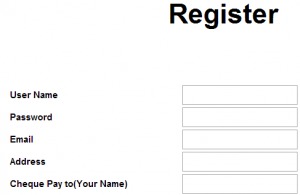 If you look at their register form, where it says pay to, people who think they are going to get paid by this scam are more likely going to give up their valid info.
I'm pretty sure PayRefe has captured a number of people's names and email addresses to sell off to big companies.
If you haven't read about a couple of reviews I did on My Email Mentor and The Email Syndicate, these services claim they have massive amounts of email addresses that they need processing.
Services like these can purchase these email addresses to try and sell people other junk products to make money from the people who placed their email addresses in their get started forms.
Other Services That May Purchase Leads
---
There are plenty of services like Pennies 4 Profits, Inbox Inner Circle and so on that say they have leads for people.
People who have trouble getting leads may buy these leads in hopes that someone will look at their business opportunity.
There Are Opportunities Online
---
There are plenty of good opportunities online, the way to determine if it's legit is by doing your research.
I've always stressed to people look at what they want you to do and if what they want you to do makes sense.
It's also good to look at how long a service has been in business and if there is a fee. Paying a fee doesn't mean it's a scam.
eBay charges a fee and Etsy charges a fee, but the fee should be reasonably priced.
Another thing to consider is if they are asking you to work for them. I will give PayRefe some credit for not asking people for any money upfront.
Even though PayRefe is free to join, there really is no tangible info that really shows why they are legit.
No Owner of the site
No Privacy Policy
No Terms Of Service
Grammatical Errors
Not Enough Info
I've Read Complaints
---
People were saying they had to prove who they are in order to get paid.
People also had to finish a survey to prove who they are. Sounds like they are giving people the runaround.
All In All
I hope people don't waste their time trying to promote this scam. When people say their friend of a friend got paid, then run.
I hear about a friend of a friend all the time, all you have to say to your friend who has a friend of a friend, that's nice. Then please do your research.
There is no transparency about PayRefe that makes it legit.
I also recommend to people DO NOT give out your name or email address. Just stay away from it. You don't know what they are doing with your info.
If you want to know how to make money from home, check out the info here!
What is your take about PayRefe, Tweet me @evelynbaz!
Looking For Ways To Earn From Home?
Check out a list of opportunities!
There are many ways you can earn from home. In this list, you can find other options that can help you make money online. Each opportunity is either earn some extra coins, find work, or start a business. Click the button below to see if any of these options fit your needs.

We earn a commission if you click this link and make a purchase at no additional cost to you.