There are a number of GPT types of sites online.
These types of sites are pretty cool because there are people out there that want to make extra cash by doing tasks that they may like that allow them to earn rewards.
Some sites compensate you via checks, other compensate through PayPal, some rewards you by gift cards, and some sites don't pay at all for the time you spend trying to reach that payout threshold.
In this Points2Shop review, I'm going to cover the good with the bad so you can decide for yourself if Points2hop meets your criteria.
Specs About Points2Shop
---

Product Name: Points2Shop
Year: 2007
Free Access: Yes
Price: cash offers; prices vary
Website URL: points2shop.com
BeginAtZero.com Overall Rating: 6/10
---
My Take
I feel it is very important to research these GPT type sites before you join.
GPT types of sites are free to join and you usually get rewarded when you sign up.
The important part about GPT sites is what is required out of your time because being active with these types of sites is what GPT wants in order to reach the payout threshold.
Each reward you obtain isn't going to be a lot of money, that is why if you want to be a part of sites like these, criteria should be a part of your plan.
Each Of Your Own Criteria Will Be Different
---
You heard that saying to each their own. We live in a colorful world and people categorize their criteria differently.
People who are familiar with GPT sites tend to have certain criteria.
I feel if you are going to be in the making money online arena, your best bet of reaching success is to research and learn the arena.
People will say anything to get you to join even if it's free. It is an arena where you can get paid money by your recommendations, but your recommendations should be products or services you stand behind.
This is why people out there that recommend GPT sites don't recommend all of them and have a certain standard because they know they have to stand behind what they recommend.
So with all that being said, let's look at Points2Shop.
I Want To Start With The Feel I Got With Points2Shop
---
When I looked at their site, it has the InboxDollars feel. You get paid to complete surveys, watch videos, play games, and shop.
Points2Shop has a cool video on their site that explains their service. They even have an area where they show how their site got started and the people behind the scenes.
It grew my trust but I was a bit confused about points and dollars. With most GPT sites, they simplify their platform by cashing out via whatever rules apply to their site.
I like it when sites are a little more straight forward and I like GPT sites that pay via check or PayPal.
The payment options are one of my criteria because I like rules that are pretty simple and I know what I'm getting paid for my time.
So Let's Get Into The Pay
---
I feel people find the pay important because money is your time.
There are two ways you can get paid with Points2Shop. You can get paid by cash or virtual points.
You can earn cash by completing cash offers or referring people to Points2Shop.
All the other ways are by earning these virtual points.
This is how their system works and their domain name really fits exactly what they mean by points to shop.
Now Let's Look At How These Points Work
---

---
You can earn points by watching videos, completing surveys, playing games, and completing offers.
You can convert cash to points, but you can't convert points to cash. If you were to convert your cash to points, you are not able to reverse this action.
The points you earn you are able to redeem through their website.
They give thousands of product options you can shop for through Amazon. If you can't find a product that you like, you can redeem your points by selection gift cards such as an Amazon gift card or game cards.
What About The Cash!
---
Who doesn't like hard-earned cash that goes to your bank account that you can use however you prefer.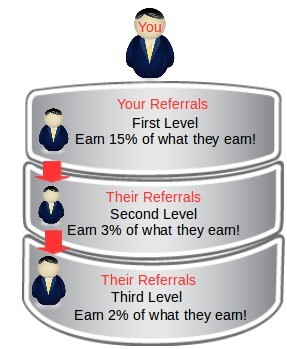 You can complete cash offers and earn cash that way or you can refer people.
The incentive you get by referring people is $0.50 when your referral verify their email address and $0.50 for completing their first cash offers.
You also earn cash on different levels. For example, on your first level, these are people you refer to P2S you earn 15% commissions on what your referrals earn.
The second level is your referrals, referrals. You can earn 3% of commissions from their earnings.
And on the third level, you earn 2% commissions on what your referrals referrers referred to.
I know it might sound confusing and I'm hoping the diagram will help.
How Lucrative Are These Referrals
---

---
I'm going to shed some light because you see numbers and the possibility of making a full-time income by referring people through Points2Shop.
First off, it takes time to build a huge amount of referrals.
Secondly, a good portion of your referrals will not refer people.
Thirdly, that 2% chance of getting paid on your third level will be difficult.
I'm not trying to be a Debbie Downer here, I'm just letting you know the facts.
Most people probably will let their friends know about Points2Shop in social network sites. Some people may join to see what it is about.
A good portion of people won't be active. Some people may be active for a little while but they are going to start to realize that it does take some time to obtain rewards.
These people may feel like it isn't worth their time especially because most of the earnings come from points.
Then you may get lucky with a few referrals who will refer people. But, it goes back to how active their referrals are and how lucky they are with the referrals they get that will refer others and so on and so on.
In other words, it is difficult to obtain great referrals, and any referrals that are not active decreases the cash you can earn.
I know this because I recommend GPT sites to people and they show you how active they are. I do have active referrals and for some reason, many of them don't join them to obtain referrals they are there to earn extra cash.
I don't get it, but I personally wanted to obtain referrals and I learned how to do that through this service here.
How Do Points2Shop Levels Work?
---
They have levels that start as a New User all the way to Promoters.
New User
Bronze
Silver
Gold
Platinum
Elite
Diamond
Legend
Promoters
When I see these levels, it reminds me of MLM levels. They have you complete tasks to reach these levels.
If you are new to P2S (points2shop), everyone obviously starts off as a new user.
For example, to increase your level from a new user to the next level, vote for people who give good advice and complete your first offer.
Okay, I'm not into cash offers especially if these offers are offers I'm not interested in. If you're unfamiliar with completing offers, cash offers require a valid credit card. You can't use a gift card and usually, fees apply.
You have to read the fine print to find out what it would cost you because sometimes you may get recurring charges on your credit card. So it is very important to research these offers before you start the process.
I get it that you can earn cash instead of virtual points by completing cash offers, but the cash you earn may not or should I say…! more than likely, cost you more than the money you earn through cash from P2S.
You shouldn't feel pressured or obligated to move up levels either by paying out fees that you may not want.
Now, if you see an offer that appeals to you and you know the terms with a specific cash offer, then I'm not saying you shouldn't do it, I'm just saying to do your research first that way you're a satisfied customer.
Learn The Terms About GPT Sites
---
There are plenty of GPT sites where people rave about them while others don't. This is why your criteria are very important.
Most of these types of sites are not scams, but your criteria will help you determine if it is worth your time.
A cool place to just read about survey sites or GPT sites is Survey Police. Even though some people will rave about a GPT or survey site, others won't.
The first thing you need to do is learn their terms. A lot of times people don't learn the terms for GPT sites and when things don't go their way, they file a complaint.
Most GPT sites, don't allow more than one account per household. Another complaint people have about GPT sites is that if you don't log in for a certain period of time, you can lose the points or cash you've earned.
Know how you're getting paid and the payout threshold. You cannot cash out before you reach the payout threshold.
I personally rather take a long time to get paid rather than complete cash offers. I feel you have to keep good records of the offers you complete. Also, you have to know when to cancel before you start getting recurring charges for some of these offers.
Obviously, if you want Hulu as an example to stream at home, you know you're gonna get recurring charges and you're purchasing a service that you may want.
You are going to benefit from the cash offer rather than ordering the service and not get rewarded anything if you were going to get that service in the first place.
My suggestion if you're going to ever complete cash offers, select the ones that you want and will use rather than just to make cash from.
Like I said above, these charges are probably going to cost you more than the cash reward you're going to get.
The Digging I Did About Points 2 Shop
---
What you're looking for is very important data that gets resolved. There are many complaints about different types of GPT sites.
This goes back to your criteria. I read that people were getting banned from Point2Shop.
It's not uncommon to read that with many GPT sites. Sometimes people get answers while others been there for years and all of a sudden their banned.
I personally read these complaints just to see how well the actual company response to the complaints.
Some people are trolls and just complain about everything to devalue a service. Then there are genuine complaints that you have to decide for yourself if it's really worth your time.
It's hard to decipher these complaints because of the rules so what I look at is look at how I get paid, the payout threshold, and the referral program.
Another research I do is go to Survey Police because most members there are familiar with Survey Sites and GPT sites. You can get a general idea of how people feel about these types of sites.
---
---
If you look at how Survey Police rate Points 2 Shop, it's number 13 and they don't even have a join now link at this point and time.
That says a lot because it makes you think about how well their referral program is. Your cash payments not shopping payments are based on referrals and cash offers. Now for me, it makes me wonder if their referral program is worth my time.
Does That Mean Points2Shop Doesn't Meet My Criteria?
---
I don't base my criteria just by what Survey Police says, I like to use their service to research.
But, I knew off the bat that Points2Shop wouldn't meet my personal criteria for these reasons…!
Most Earnings Are Point Based
Cash is only earned through referrals and cash offers
No Visa/Master card gift cards are offered through virtual points
I'm not into cash offers, it would take a longer time to reach the payout threshold
I personally don't like the levels Points2Shop offer
This is my personal criteria that I have with GPT sites. That doesn't mean your criteria is the same as mine. Some of you may love the idea to shop on Amazon.
All In All
I wouldn't call Points2Shop a scam.
With most GPT sites, you should learn their rules before you run off and join.
You are just going to be a much happier customer if a service meets your criteria.
I've been a member of InboxDollars for years and I haven't experience the complaints I read about them online.
Actually, they have done a lot of upgrades.
Look at what the service offers.
If you're into completing offers that benefit you and like to shop through Amazon, you may feel that Points2Shop meets your criteria.
What is your take about Points2Shop, Tweet me @evelynbaz!
Looking For Ways To Earn From Home?
Check out a list of opportunities!
There are many ways you can earn from home. In this list, you can find other options that can help you make money online. Each opportunity is either earn some extra coins, find work, or start a business. Click the button below to see if any of these options fit your needs.

We earn a commission if you click this link and make a purchase at no additional cost to you.