Here we go again with another Matrix business opportunity.
One thing I noticed about PTP (Pro Travel Plus) is that people sure like to talk about this spillover.
I'm not a fan of these business models because they are so difficult to actually make money from.
Before people start leaving comments about this spillover on my Pro Travel Plus Review, I just want you to think about the reality of it.
Let's be real here, you need 16,384 people to make that potential $25,708.20.
To get there, you have to be at the top of that pyramid.
Just like there is only one star on top of a Christmas tree.
That top spot that everyone is aiming for brings me to the spillover and what's with this spillover?
Do you think paying and waiting are gonna do it? Read my review so you can decide.
Specs About Pro Travel Plus
---

Product Name: Pro Travel Plus
Year: 2015
Free Access: No
Price: Starts Monthly for $34.95
Website URL: protravelplus.com
BeginAtZero.com Overall Rating: 3/10
---
The Rundown
What is Pro Travel Plus aka PTP?
It's an MLM or Matrix business.
How does it work?
You pretty much recruit people into the matrix and you make a commission on your downline.
How much does it cost?
To be in the matrix it cost $34.95
Monthly $34.95
Every 6 months $200
Yearly $400
Requirements to join?
My Take
You may be wondering what am I talking about the star on the top of the tree.
Well, if you look at any pyramid business everyone wants to be the one at the top.
When you see these scenarios that are presented to you, usually they use you at the top as an example.
Then it goes down to two, developing into a tree. With PTP their matrix goes all the way down to 16,000 plus people.
Of course, there can be more than one lighted star on a tree or pyramid, but it's extremely difficult to get there.
Remember, in order for anyone to make all this money, you have to be at the top.
You and your team will have to recruit over 16,000 people into the matrix for you to make that money.
Let's get into the compensation plan and see if this is even worth your time.
Pre-Enroll
---
PTP's main site doesn't say much. To take a look at anything, they want you to become a pre-enroll.
You start off as a Pre-enrollee. Being a Pre-enrollee isn't a bad idea. This will give you an idea if this is something for you or not.
Some of the pre-enrolees may just want to check things out. It doesn't mean at all that a pre-enrollee will ever want to be a part of PTP (Pro Travel Plus). So if you see a lot of pre-enrollees, take it with a grain of salt.
Comp Plan
---
It cost $34.95 to join on every star level, then you can either pay monthly, every six months or yearly.
Monthly $34.95
Every 6 months $200
Yearly $400
There are 5 different ways to earn with PTP
Comp Plan 1 Powerline Bonus
---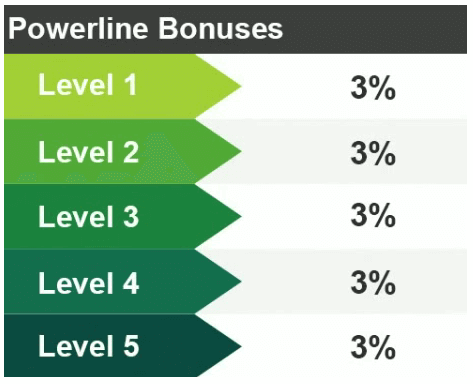 On the Powerline Bonus comp plan, you get paid 5 levels down at a 3% monthly rate of the $34.95 monthly fee.
How it works is on each level you make $1.05. It doesn't matter who brought who in.
This is one of the spillovers you will make money from. It's not a lot of money, but you can make up to $5.25 without doing anything.
Comp Plan 2 Fast Start Bonus
---
---
This where the recruiting comes in. If you recruit people into the business you get paid a bonus commission.
There are four different star levels
---
---
The people who decided to pay a monthly fee is at the one-star level.
The people who decided to pay the 6-month fee is at the two-star level.
The people who decided to go yearly is at the three-star level.
The Three-star elite are people who earned their way through the matrix they have a 500 or more downline.
If you're in the first-star level you get paid the least, second-star middle, 3rd star even more and 4th star is the elite star. The 4th star is the star that is shining bright and the commission rate is the highest.
Fast start bonus pays three-level deep on anyone you recruit into the system.
First-star makes $15 on anyone they personally recruit.
Second-star makes $25 on any member they recruit, plus they make an additional $5 commissions if their recruits, recruits member into PTP.
Three Star makes $30 on any member they recruit, plus an additional $5 if their recruits, recruits people, plus $3 on any of their recruits that recruits other people into PTP.
Comp Plan 3 Coded Infinity Fast Start Overrides
---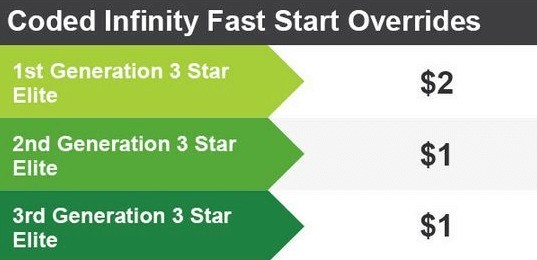 This comp plan is for the 3-star Elite members. They are able to make a $2 commission on every person until they reach another 3-star elite member. Once they reach a 3-star level, you get paid $1 until you reach the next 3-star elite.
Comp Plan 4 Forced Matrix
---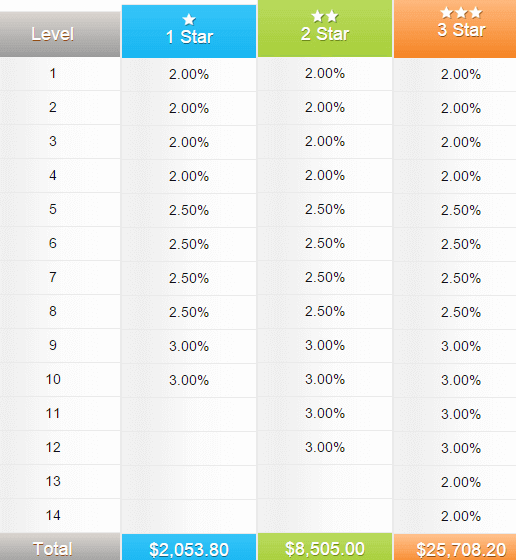 ---
The whole matrix is a 2 by 14 forced matrix depending on what star level you are in.
1 star goes down 2 by 10 possible earnings $2,053.80 monthly
2 star goes down 2 by 12 Possible earnings $8,505.00 monthly
3 star goes down 2 by 14 Possible earnings $24,708.20 monthly
This is another way you can get paid from the spillover. If someone above you needs a spot filled and you happen to be in the right spot, you can get a person under you.
Comp Plan 5 Matching Bonuses
---
---
This is when you earn matching bonuses on the people you enroll into the matrix. An example would be if you enrolled 10 people into the matrix you would earn $1,000.
One of the reasons I steer away from MLM types businesses is because it can get quite complicated on how you will earn and what you have to do to earn. I like to keep things simple.
I usually call Comp Plans Complication Plans because comp plans can get quite confusing with their earning potentials.
PTP's Product
---
The product is mainly discounts on your travel.
What's nice is that they will give you $500 credit towards your traveling. The discounts are all great.
The main problem I have with this service is that there is really no comp plan for the product they offer.
You can't really sell the product without being a part of PTP. Not being able to sell the product without becoming a part of the program, may be viewed as a scam.
I believe the product should be the main focus whenever people get involved in these MLM type businesses.
The reason being is that if you're unable to recruit people into the business, you have a good quality product to sell to people.
If you notice all their comp plans, talk about recruiting. Recruiting is a big red flag that you should think about before you get involved in PTP.
The Spillover
---
Let's talk about the spillover. Spillover is when you get a person under you without you recruiting a person into the business.
PTP uses this term spillover to bring people in. They make it seem like money is going to spill all over you.
What I got from PTP's business plan and the spillover is that the people who paid into the matrix, can just sit there and do nothing. Then the people who bring people in will fall under them.
The Problem With The Spillover
---
The first problem is that if you're on a team with no one doing anything but waiting, you're just going to be paying and waiting for no profits.
---
The second problem is that maybe a few people are bringing people in, but they fall under their line first. It means you will be waiting forever.
---
The third problem is that I don't get how someone brings someone in that's under you will spillover to someone above you.
The matrix fills from left to right. If someone under you is on the left side of the matrix and you're way over on the right side of the matrix and the right side is not filling up, how is it possible that you will get spillover from someone way over on the left side under you?
From my understanding, A new tree is being created by the left side. And that left side is starting to create their own tree. While the right side will be sitting and waiting.
---
The fourth problem, you heard of the season fall, this is when leaves start to fall. This is how I view it for people who are paying and waiting.
When people see no spillover they are going to opt-out. This will cause others to opt-out because they are not making any money and now the tree leaves are decreasing.
---
The fifth problem is that anyone at the bottom of this matrix will not make any money.
Actually once the matrix is filled for someone, why would the top shining star need to get anyone else in. Their matrix is filled, if someone leaves, that's when they will fill it with other members.
So what I'm getting at here is yeah, you may get one or two people under you, but in order to fill the matrix and for you to be the star, you're gonna have to do some work.
In these systems, it's best to get in early. If you want to make good money, you're gonna need to bring people in that fall under you to get this matrix filled. It is a team effort with like-minded people for you to get your potential money.
Other Expenses
---
If you're thinking about doing PTP, you may want to ask your team how do you get people in? Don't think you're going to get these high commissions just sitting and waiting.
If you think about it, the term spillover is the easiest way to recruit people because people are told they don't have to do anything.
When I was in the MLM industry I too paid for advertising on top of my auto-ship payment that I needed to pay on a monthly basis. So ask anyone who approaches you, is this going to cost me additional money and what can I do to advertise PTP?
Don't be surprised if someone tells you yes, it will cost you more out of pocket expenses. It's better to know upfront what you're expenses are going to be rather than being surprised.
Does The Matrix System Work?
---
I'm not going to argue that people don't make money with matrix systems, I'm sure that people do. Here is the reality of it though. Think about the people at the bottom and the one-star at the top.
We are back to the 16,000 plus people at the bottom of the matrix. That's how many people are not making money. The 8,000 additional people are making $1.40 a month. To be a star, you're going to need to build your team.
Not only that, do not ever think that someone will stay there. People WILL OPT-OUT, that is a given fact. Then you're gonna have to fill the spots where people opt-out.
All In All
PTP income potential seems great especially the spillover part. Before you consider doing something like this, think about it. look at the paying vs the Pre-enrollees. Are there 16,000 plus star members already in the matrix?
It's important to look at your options to see if this is a service for you. Also, consider the product. The product should be number one. Can you sell their product without being in the matrix? This is also important because without actually selling a product you're looking into a pyramid scheme.
What about the get in early part? People at the top are the ones that are going to make the money. The 16,000 plus people at the bottom of the matrix are just paying for the Star. Remember, you have to fill the matrix to be the one star. If you feel you can do it, then go for it.
If the pyramid star is not your thing and you'd rather build your own brand and your own business, I highly suggest you check out My #1 Heroic Site. Be your own star and build your own business.
What is your take about Pro Travel Plus, tweet me @evelynbaz!
No Friends And Family
I learned that you don't have to bug your friends and family to make money with your home business.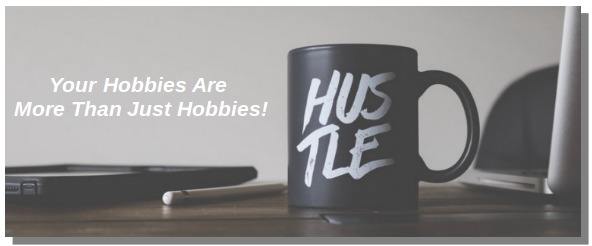 We earn a commission if you click this link and make a purchase at no additional cost to you.