When I came across Profit With Michael online, I decided to watch the video.
The video seemed very honest and interesting.
In the video, they said you didn't need to pay any money, in fact, Michael himself will pay you $100 if you didn't make any money within 48 hours.
I decided to check out Profit with Michael and review this site to see if it's really the wolf in sheep's clothing.
Specs About Profit With Michael
---
Product Name: Profit with Michael
Year: 2012
Price: $44
Free Access: No
Website URL: Profitwithmichael.com
BeginAtZero.com Overall Rating: 2/10
---
The Rundown
What Is Profit With Michael?
How Does It Work?
You supposedly get a website and hosting. They are supposed to teach you how to market your site and make money with your downline.
How Much Does It Cost?
My Take
When I watched the video, it seemed like a nice sheep.
I can see how people would believe what Michael B had to say.
The way Michael B laid everything out, the business seemed to have a very honest approach. They made it seem very easy to make money.
Since you know I love free. When I got to the next step, I watched another video.
I realized it was another disappointment.
So let's reveal this wolf.
I want to point out what I found out and why you should stay clear away from this no Profit With Michael, I mean Profit With Michael.
What Was In The Video
---
In the video, this Michael B says he has this secret that will guarantee you to make $100 in 48 hours.
Michael B says he's just a regular guy and you're one of the lucky ones to land on this site.
He also states that it's really easy and simple to do. In fact, you can make money in your sleep.
Then Mr. B shows his own personal accounts with the commissions he made.
He said he took out his own personal information and I noticed even his name.

Then Mr. B shows a picture of this car he got as a gift.
I thought this was odd and unnecessary. If you look at the picture, where are they?
I mean, two guys are standing next to a car and they look like they are in the middle of the woods.
Are these two guys Werewolves, Lol.
Then Mr. B talks about there're so many scams that mislead people on the internet.
He talks about these rules to look for when making money online.
Rule 1 – The website needs hard cold proof that it works
Rule 2 – Make sure you're not breaking the law
Rule 3 – Never pay for information
Mr. B talks about how important it is not to spam and build a business ethically and legally. He says he'll never sell his online secret methods at a price.
Then he said he took time out of his busy schedule to make time for YOU.
I thought he said we can make this money in our sleep without hardly doing anything?
What busy schedule does Mr. B have if it's really that easy and simple to do?
Then he talks about why he's doing this.
He says if we profit together we'd make more money than doing it separately. So what you get is his online blueprint for free.
Mr. B said if you don't make your first $100 within 48 hours, he will give you $100 right out of his pocket.
He says he's not selling you anything or he doesn't want you to pay him.
Then Mr. B asks you to put your name and email address and go to the next step because you will have access to everything you need to make money online.
What Happened In The Next Step
---
I placed a name and an email address to see what would happen. When I did that, it took me to another video on what I should do next.
Because I entered a name and email address, now I'm a Pre-Enrollee.
What I need to do now is pay a one-time fee of $44, then I'm able to receive my $100 within 48 hours.
In the video, they said that the $44 is paid to the website and hosting company directly.
How this works is that all the Pre-Enrollees are names that haven't activated their account.
Once a Pre-Enrollee pays the one-time fee of $44, their account is activated.
Then someone who already activated their account will receive $100.
Let's Do The Math Here
---
100 – 44 = 56
So they are telling me that I will make $56 right away or within 48 hours.
That sounds good to me!
If everyone is paying $44 and get a profit of $56, how does this business stay afloat? Who is making money here?
That's not all.
Once I receive my $100, now people will be placed under me that paid their $44.
I will now be making $50 every time this happens. Huh?
How do you turn $44 into a $50 profit? That's the magic question.
Profit With Michael's Hosting and Website
---
Another problem I have is what kind of website are they asking me to buy and what kind of hosting am I getting.
These are very valid questions to ask before you give someone your money.
They don't really tell you anything on their website.
The only thing you can go by is what they say on their video and go through their steps.
Profit With Michael's Website
---
If you go to their website and you try to click on Terms of Use, DCMA or Privacy they don't work.
This is a red flag that there is a wolf in the house. There's no contact information or anything.
Mr. B was talking about all this integrity stuff, but you can't really get any information unless you pay for this hosting and website.
I wouldn't give this company anything. Time To Hit The Breaks.
It Is Tim For Further Research
---
The sheep's clothing started to come off. I started to see the wolf.
This is when I stopped. I stopped and ran away like Little Red Riding Hood because:
The math didn't add up
You can't click on any of the links below
We all know that it takes money to make money. This 100 – 44 = 56 just doesn't add up.
What adds up is either they will ask for more money or you are never going to make any money in the first place, period.
Complaints On The Web
---

Of course, I had to find the complaints on the web for you.
And I came across a number of complaints stating that they never got paid or could not get a hold of anyone involved with this company.
Here is another complaint a person had.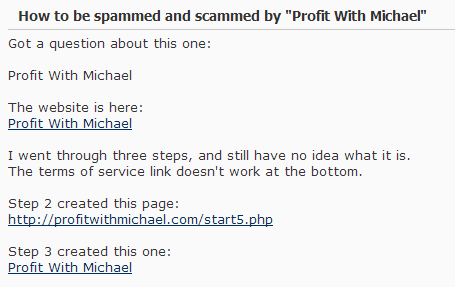 Making Money Online
---
We all know that anyone who wants to makes money online has to go should start with a website.
A website is what makes you money. Even this Mr. B knows this.
Here's my point, If you really want to make money online you do need a domain name, hosting, and a website. And you should build a business with integrity.
You can have your own Affiliate business
Sell your own products
Sell your products on eBay's website
Sell your E-books on your website and more
There are many ways to make money online.
All In All
I call Profit With Michael a wolf in sheep's clothing because they were deceptive from the get-go.
They said you don't have to pay anything, but it turns out you gotta pay $44 for hosting and a website.
Their math doesn't even add up. They try to blindside you with all this integrity stuff.
With all the complaints I read online, I wonder if anyone really made a dime. It sounds like you're in some kind of pyramid type structure business.
I'd rather spend my money on something that really works rather than build a scam business.
You can't even read the privacy policy on their site which is mandatory by law.
What is your take about Profit With Micheal, Tweet me @evelynbaz!
Looking For Ways To Earn From Home?
Check out a list of opportunities!
There are many ways you can earn from home. In this list, you can find other options that can help you make money online. Each opportunity is either earn some extra coins, find work, or start a business. Click the button below to see if any of these options fit your needs.

We earn a commission if you click this link and make a purchase at no additional cost to you.