Prosperity Income Network is another one of those turn-key opportunities that claim you can make a lot of money fast.
The basis of Prosperity Income Network is a business in a box.
They claim that everything gets done for you, so I can see why people would get excited to get started.
If you've read any of my articles, you know I'm going to say BUT, so here we go, but it's essential to understand what you're getting into.
In this Prosperity Income Network review, I'm going to explain why the key turning system may not turn and other important info about their system.
Specs About Prosperity Income Network
---

Product Name: Prosperity Income Network
Year: 2019
Free Access: No
Price: Starts At $597
Website URL: prosperityincomesystem.com
BeginAtZero.com Overall Rating: 3/10
---
My Take
Here we go again with people sending money in the mail. I always feel that you should have your own tracking system in place if people are sending you money in the mail.
Or should I say, in hopes that people send you checks in the mail! If Prosperity Income Network is working out for you, now you have a way of tracking these checks with those FedEx envelopes you're supposed to get in the mail.
Okay, I know I'm a little sarcastic with the statement above, but I couldn't help myself when I learned how Prosperity Income Network works.
So let's get into how Prosperity Income Network works.
What Exactly Is Prosperity Income Network aka PIN?
---
More or less, they say it's an automated system. Everything pretty much is done for you.
You're able to make big-ticket sales
Done for you advertising
Coaches that close the sale for you
Capture pages
Back office with real-time tracking
Notification when a lead is on a sales call
rotating co-op
postcards and letter placements
A back-office tracking system
quick start manual
By joining PIN's system, you're able to make 70% to 80% commissions if you can recruit people into their system.
As you can see, as I said above, I can see why people would get excited about something like Prosperity Income Network.
They make it seem like all you have to do to get started is to send a cashiers check or money order or whatever transaction is approved, and checks will be flowing in the mail.
People can get sold just by their done for your idea alone, but before you do, let's go over the cost.
Prosperity Income Network Comp Plan
---
The money you will send in the mail gets based on what they call either a tier or level suite system.
There are six levels Suites. Each level suites comes with different resources.
Of course, if you start at the bottom level, the less amount of resources you get. Every level gets the co-op rotator and sales closing coaches.
The starter Level: Priced at $500, Admin fee $97 Commissions are 70%, which comes to $350 per recruitment. Level 1 development library access and one position in the co-op rotator.
The Deluxe Level: Priced at $2,000, Admin fee $197 Commissions are 70%, which comes to $1,400 per recruitment. Level 2 development library access and two positions in the co-op rotator.
The Premium Level: Priced at $3,500, Admin fee $297. Commissions are 70% which comes to $2,450 per recruitment. Level 3 development library access and three positions in the co-op rotator.
The Master Level: Priced at $6,000, Admin fee $497 Commissions are 70%, which comes to $4,200 per recruitment. Level 4 development library access and four positions in the co-op rotator.
The Diamond Elite Level: Priced at $12,000, Admin fee $697 Commissions are 70%, which comes to $8,400 per recruitment. Level 5 development library access and five positions in the co-op rotator.
The Executive Elite Level: Priced at $25,000, Admin fee $997 80% Commissions, which comes to $20,000 per recruitment. Level 6 development library access and six positions in the co-op rotator.
The Roll Ups And Pass Ups
There are no pass ups with Prosperity Income Network.
Depending on what tier or level suite you join, you make the commissions for that level. If you participate at level one, the person who signed you up makes $350.
Now that you are in level one, you bring in someone at level three. You make $350, and the remaining 70% commissions roll up to the next person in your line at that level or higher.
The example above applies to all levels except the Executive Elite level, which is level six. If someone wants to send a cashiers check for over $25,000 in the mail, all commissions go to you. Part of the commissions doesn't pass up or roll up to anyone else.
The incentive for sending a stranger over 25 grand is that you make 80% commissions instead of 70%.
There Are A Couple Of Other Incentives
The first incentive is if you don't want to make higher commissions, you can purchase a higher level without paying for the full level.
For instance, if you wanted to move up to the next level from the starter level, you will only have to pay $1,500. I'm assuming that the $197 Admin fee applies.
Unfortunately, they don't disclose that information on their website, which I feel is nontransparent.
The second incentive is if you join a Level 2 or higher, you can get an upgrade to the next level without purchasing that level.
Again they don't disclose the Admin fee if you get that free upgrade. Still, I feel that is very nontransparent on their part and is that you have 48 hours to make this decision.
What Is The Co-op Rotator?
A co-op rotator is where they advertise PIN. Everyone in the system has access to their co-op. If you are at the starter level, your link gets rotated less than any other level.
They claim it's a laser targeted website, claiming that a majority of people are signing up to PIN.
I've been involved in a co-op rotator before. This was before I learned how to obtain referrals on my own. It was a while back, and I paid to be involved in the co-op rotator.
I believe I did it for six months, and my results were that I got one sign up. This sign up didn't do anything at all. So I guess you can say I paid for a dud.
Depending on how many people are involved in Prosperity Income Network and how often your link gets rotated, you might see good results at first, but as more and more people come in, your results may decrease.
It's mainly a stroke of luck in the draw. You might get lucky and earn some of your money back, or you might not get anything for it.
What Is The Purpose Of PIN?
---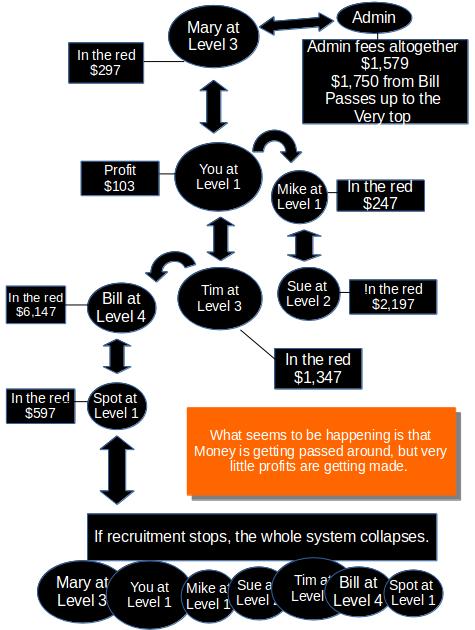 When I saw the advertisement of Prosperity Income Network, my thought was, what is the purpose of this business in a box.
You don't know who owns this service, and do they care about people making money through their system?
They give you the exciting part of what they have to offer, like 70 to 80 percent commissions-co-ops and a call center, which might cause people to join.
They have you believe that everything gets done for you, and all you have to do is send a cashier check through FedEx or whatever approved mailing system, then you will start receiving checks in the mail.
Commissions get based on 70% to 80% depending on what level a person buy-in. The 20% to 30% commissions I'm assuming goes to this call center, whomever these ten people might be.
On top of that, there are admin fees. Money rolls up if you didn't buy a higher level than the person you brought in. If no one purchased the same level that your prospect brought in, obviously, it has to go to the Admin.
It appears that the Admin is making excellent commissions for his or her business in a box.
I couldn't help but think that the Admin is the one with a hands-free automated no selling and no product to sell an automated system. I guess you can say the key is turning for the Admin.
So Are You Saying PIN Is Not A Turn-Key System For Their Members?
---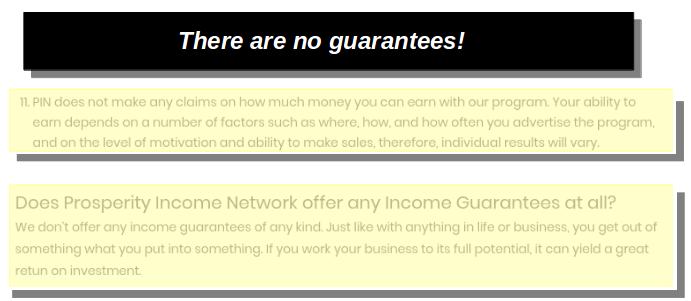 Yep, Prosperity Income Network is not a turn-key system, that is what I'm saying.
You see people on YouTube advertising, claiming it's the best thing since the invention of the wheel.
Even in their Terms and Q and A, they say there is no guarantee you will make any money. It depends on how, when, and where you advertise.
Notice the word YOU and advertise, Lol.
So you're not buying a done for you system. Like I've said before in my website, there are two factors you will need when you join a system or even a legit business opportunity, your cash, and your efforts.
My point here is that you do have to put in the effort. I don't want people thinking that PIN is an easy way to make money online.
Now that I said it is not a turn-key system, that brings me to the Santa letter shop.
The Letter Shop Fulfillment Center
---
If that co-op lottery draw isn't working out for you, and now you're facing trying to get your money back from this high pricing tier system plan, you have the option to pay to have postcards and letters sent out.
For an additional fee, you can have letters and postcards sent out on your behalf.
Okay, for this letter shop fulfillment center, all you need is cash, and they will make an effort to send the postcards and letters for you.
I know I'm being sarcastic again saying Santa letter shop and trying to obtain your money back, but I can't help it. I truly feel people are in a pyramid scheme.
They Say It's Not An MLM, Network Marketing Or Cash Gifting Scheme
---

It is so MLM!
Saying it is not MLM is so very deceptive!
PIN offers roll-up. Each person in the system has people under them. Not everyone supposedly joins at the Starter level.
Each person who joins PIN wants their persona level of people, forming an upline and downline and teams.
It's not Network Marketing because a legit Network Marketing company has a product to sell to the general public.
Their reps make commissions based on the sales of products or services without ever recruiting people into their opportunity.
As for Cash Gifting, it runs a very thin line. They say co-op advertising is part of their product but the co-op gets based on people joining PIN.
By them saying co-op rotator, I feel it's more of a dangling carrot to get people to join.
As for their E-learning bundles products, a product has to be in place to be apart of their system. Each level suite offers more E-learning bundle materials, causing it to be similar to one of those matrix schemes.
More or less, the basis of their "business" is mainly about recruiting people to send checks in the mail.
Why No PayPal Transactions?
---
You have to ask yourself, why not PayPal as another option for these transactions?
PayPal doesn't want to be apart of a pyramid scheme. There isn't a business behind this business in a box.
There are many similar systems out there where PayPal freezes accounts if they don't return the money.
I know many people who personally won't do business with services that don't offer PayPal transactions.
I'm assuming this, but to avoid the complaints people might have if their PayPal accounts get frozen, PIN use the mail.
Price Points Are Very Steep, Is It A Wise Decision?
---
Think about the top level. Sending $25,000 in the mail to a stranger. Think about what you can purchase for $25,000.
I get it that it takes money to make money, but a $25,000 price point is steep for an online system.
If the whole business falls apart, you get left with nothing. You have no inventory or a product to sell to recoup your losses.
Even at the other levels, you get left with nothing. That tells you right there that it is some kind of pyramid scheme.
If you were building a real business even if it's a website, you have something tangible to sell.
Investments should be a wise decision. Even though they claim everything gets done for you, you still have to invest your time trying to recruit people.
Your time investment is just as or even more valuable than price points. All the levels they offer, I feel is quite steep.
All In All
Prosperity Income Network in my book is another pyramid scheme.
They offer ways to recruit people. However, there is no real turn-key system if your efforts are needed to make it work.
You have to ask yourself, are you building a business or apart of a pyramid scheme. If the whole system collapse, you're left with nothing.
If you're lucky enough to make a return on your investment, you're fortunate.
Generally, most people are going to have a hard time recruiting people.
Do you want to go on YouTube recruiting people into a pyramid scheme?
What is your take about Prosperity Income Network, Tweet me @evelynbaz!

We earn a commission if you click this link and make a purchase at no additional cost to you.