Oh boy, those emails! in this email I got they made it seem like I had a job opportunity.
They listed skills I have and I'm pretty sure most people have those skills too.
When I clicked the link it led me to a video of testimonials.
Of course, these testimonials were of people making a lot of money in just a matter of weeks.
Of course, claims like that are most likely too good to be true.
I then when saw Kit Elliott in the video and I was like HO NO!
This led me to do the review on Push Button Profits that funnels people into Traffic Authority.
Specs About Push Button Profits
---
Product Name: Push Button Profits
Year: 2012
Free Access: No
Price: Starts At $47 a month
Website URL: pushbuttonprofits.com
BeginAtZero.com Overall Rating: 3/10
---
The Rundown
What is Push Button Profits aka PBP?
It's an MLM business that funnels to Traffic Authority.
How does it work?
PBP is an MLM business opportunity. How they claim it works is by paying a monthly fee and with a push of a button, people are able to purchase a traffic package that does all the selling and telling for you.
How much does it cost?
Traffic Authorizer – $47 a month
Traffic Academy – $144 a month
Who can join?
My Take
I guess these MLM Businesses need a way to get people to try their opportunity.
A simple email that claims people have an opportunity to get a job may be just the key to funnel people to click a link.
Just because a number of people claim to make money in videos doesn't mean it will happen for you.
I've said in an article I did those testimonials are great, but not to take testimonials as a way to make your decision factor because everyone will have a unique experience.
Let's get into this review so you can decide for yourself if this Push Button Profits aka PBP is worth your time.
The Email I Got
---
I wanted to start with the email because of this where it all began.
As you can see they didn't mention a business opportunity in the email.
To me, it appeared like a way to make money from home by doing a job.
Of course, it's the beginning of the funnel.
A funnel that turned out to be very expensive rather than a job.
As I watched the video there wasn't much on there.
Then when I clicked the link it asked me for more information.
Where Was This Going?
---
I was curious about where this was going. I was also irritated because I hate when I come across stuff like this.
I get irritated mainly because they want info before they give out any.
So far I just got a sneak peek to a cheesy video and no info about a job.
With PBP, they want your name, phone number, and email address.
Once I gave out that info it took me to another video.
The video is about 5 minutes long.
I had to watch the video before I found out what was really going on.
The second video was mainly about how much money people can make by using their system.
They talk about how important traffic is to a starving crowd.
They also stated how people can make money by purchasing their system.
Here is a warning!
I want to warn you right now when you fill out your name, email address, and phone number, this is a way for them to call you and try to convince you to start paying, so Buyer Beware.
What Is Push Button Profits?
---
It's mainly a duplicate content site that really doesn't rank well on the net. The way the system works is by purchasing PBP packages.
PBP offers two packages, Traffic Optimizer, and Traffic Academy.
Traffic Optimizer – $47 a month you get,
Traffic Link creator
Lead capture pages
Traffic Rotator
If you order this package and get referrals, you make $16 a month. If your referral purchases the Traffic Academy, you won't make any commissions on those referrals.
Traffic Academy – $144 a month.
You get everything that traffic optimizer supplies, plus other secrets on how to build traffic.
With Traffic Academy, you're able to make $40 a month on every referral who purchases TA (Traffic Academy) or $16 a month on anyone who purchases Traffic Optimizer.
To Make A Bigger Commission
To make some big cash with BPB, this is where Traffic Authority comes to play.
They offer different types of traffic levels that you can purchase. If others purchase these traffic packages, you make a commission from them.
How Does Traffic Authority Work?
---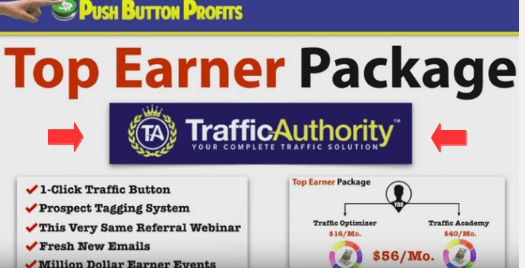 ---
Mainly what you do is purchase a traffic package. Once you select and purchase a traffic package, you pay for the clicks you get to your PBP site.
Cost Of Traffic
Basic $220 Clicks 170 to 190
Bronze $440 Clicks 350 to 380
Silver $660 Clicks 510 to 570
Gold $1,097 Clicks 850 to 950
Platinum $2,197 Clicks 1,700 to 1,900
Titanium $4,297 Clicks 3,400 to 3,800
Diamond $8,397 Clicks 8,100 to 8,400
How The Clicks Work
---
I call these clicks a risky business. If someone decides to click on your site that's it. It's a click that is used up even if someone doesn't do anything except click!
If someone decides to fill out the info, they are considered a prospect.
If someone decides to join and pay, you can make a commission on the levels you purchased.
You can also earn commissions with these clicks. Let me give you an example, if you decided to purchase the Basic Traffic Package, you can make commissions on the Bronze Traffic Package only.
You will not make commissions on any levels unless you purchase those higher traffic packages.
How it works is if someone you referred decides to purchase a Diamond Traffic Package that costs over $8,000 and you don't have over $8,000 to spare on some clicks, you will not make that commissions, it will go to your upline.
Now The MLM Side
---
If your referrals purchase traffic packages, you make a commission on your downline. Your downline is people who you referred to PBP.
PBP uses the platinum package as an example. If your referral makes a commission on the platinum package through Traffic Authority, you also make $500 from that one sale.
Think About This
---
Before you get all excited about all this money you can make, I want you to think about how I got to do this review.
It was through an email about a job. Some people are jobless and are looking to earn money. What makes you think people have money to spend using these high ticketed traffic packages.
I understand it takes money to make money. I've invested in business opportunities that didn't work and ONE that does.
---
---
When I looked at Traffic Authority's Income Disclosure, people are not making all this money as they claim.
You can read the info for yourself on their disclaimer. The average income earner makes between $500 to $2000 a year.
I would hate to see people spend their last dollar on something that is just over-inflated.
What Do I Know About Traffic?
---
I agree that you do need the traffic to your business to make money. If you have a store in the middle of nowhere, you won't make a dime.
When starting off online, people need to understand about SEO. SEO is mainly free traffic. This should be the starting point of every business online.
Build from the ground up and then you can decide if you want to pay for traffic.
I do both, but most of my traffic comes through free traffic. I wouldn't recommend anyone pay for their traffic if you don't know how the service is obtaining their traffic.
I personally feel you're putting too much of your trust on these paying traffic.
Let's say you pay for traffic and you see people have signed up, now they are what they call prospects. These people haven't paid a dime for anything.
Maybe these prospects were a little curious, their phone numbers, names and email address could be wrong. Just because you got a prospect, doesn't mean that you make money.
I'm being real here. If you look at Kit Elliott, I did a couple of reviews and he's involved with The Email Syndicate and Runs The Click Agency.
---
---
This Push Button stuff is just a way for these top people in these MLM systems to make money.
I Get irritated when I see stuff like this online. I've been there trying to make money from home.
I get irritated because I already know people are going to put out a lot of money and not see the results they expected from stuff like these lead capture page claims.
This is why I started my site. I know people are out there struggling to make ends meet.
Some people may want their own business online. Even with a business online, it's going to take work.
Pushing a button and paying for traffic is something I just don't recommend.
If you're looking for a job and I'm talking about real jobs you can look here, I'm updating that page as I go, but I have a few Real Jobs listed and will keep updating it as I go. The jobs that I have listed may work out for you and for others it may not.
No job is perfect, but in my heart, I feel that people shouldn't have to pay to find a job. I've been down this road and got emails and blah, blah, blah info. There is a difference to invest in a business and actually working for someone and again, working for someone should be free.
If you're looking to start a business from home, then check out My #1 Heroic Site. I've been involved in the MLM businesses and it's not as easy as these sales pitches claim.
All In All
Money can be made online respectfully. It takes time and works to get there, but you can make money online if you put in the effort.
If you don't want to pay for these high ticketed products, you're going to have to find a way to market that PBP stock website.
Building a business online does start with a website. If you want to learn how to properly do it, check out My #1 Heroic Site.
You start off with a free website, hosting, and 10 free lessons.
This way you can see if it's right for you. If it's not, then just move on.
What is your take about Push Button Profits, Tweet me @evelynbaz!