I came across this site on the net.
The site stated you're eligible to quit your job.
It states that you can start making $541 a day from home.
They ask you to watch a short video and it's 100% legit.
I had to review Quit Your Jobs because I felt they were deceptive on their marketing tactics.
I don't want to see anyone running out quitting their jobs because of what some site states.
This is just plain ridiculous the way these sites like to put these crazy claims on the net.
If you came across this site, I'm sorry.
I know I didn't put this mess out there, but WOW is all I can say. Let me give you the rundown on what is really going on here.
Specs About Quit Your Jobs
---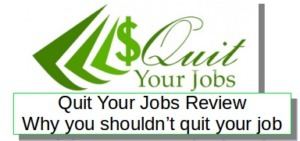 Product Name: Quit Your Jobs
Year: 2015
Free Access: Yes
Price: Starts with a $200 Deposit
Website URL: quityourjobs.net
BeginAtZero.com Overall Rating: 0/10
---
The Rundown
What is Quit Your Jobs aka QYJ?
It's a binary and trading program.
How does it work?
QYJ lures people in by using a job tactic, but it's online trading and binary options.
How Much Does It Cost?
They don't state how much it cost. What they do state is a small deposit. In the video, they said these actors each started with $200.
Who can do this?
Anyone 18 years or older.
Anyone outside the U.S.
My Take
When I first ran across this site, I thought it was about jobs.
Then when I was reviewing everything on the site, it turns out it was about binary trading.
I think a lot of other people probably thought the same thing when they first came across this site.
There was another site that had deceptive claims that I reviewed not too long ago.
I did a little research on these online binary trading sites.
I'm not into this stuff, but I can see how some people may get lured into something like this.
I've read how they can be addicting and almost like gambling.
Binary trading made me want to dig a little deeper because I don't want to see people in a slew of a mess after they decided to try something new.
QYJ Landing Page
---
When I saw the site, I thought it was going to be one of those database type sites where they list jobs for people. I also thought it was maybe some program that hires people to work at home. Boy, was I wrong!
When I watched the video, they talked about how it was like winning the lottery. I understand how people can get sucked in because I had that feeling when I was con into one of those MLM businesses. They pretty much told me how much money I "could make" with their comp plan, but the reality was it was just a scenario.
This is what they are doing on this site. On the video, it goes on to ask if you're tired of your job blah, blah, blah stuff.
Of course, there are millions of people tired of their jobs and want to find a simple way to make good money from home. Who wouldn't want that? When you hear those things, that's a red flag because we all can relate.
They state this will turn your world upside down forever. I can relate to how exciting changing your life is. Shoot, I want my world turned upside down too. I don't want people to get too excited because of some hyped-up video. The hype is hype!
Then they went on in the video and said it's really free. I had to place an email in there to get instant access and it took me to another page.
The Next Page
---
There was another video that was a little longer. It was a video that explained more blah, blah info.
This guy in the video says he's been a trader for over 10 years. That's nice, but how do we know that? Then he shows some screenshots of some money he made in trading. We don't know if that's real either.
The biggest red flag I found in the video was from the 4 students. They were supposedly going to make some money with this trading system. They all started at $200. The first Actor Paul made over $700.
The other three students, they didn't even tell you in the video how much money they made. The guy asked them to show how much money they made on the screen and what's so funny about it was that I couldn't even see it. When I saw this, I questioned why did they even bother.
At the end of the video, they said it was 100% FREE. What you get for FREE is access to the trading site at OptionRally. We'll get into OptionRally a little later. I wanted to cover what else is on this site.
More Red Flags
---
So I went to read what else is on this site. It also states a small investment. I don't know what kind of small investment they are talking about. What could be a small investment to them can be a large investment to someone else.
I'm assuming it's $200 or more because of the video they showed with the 4 students that started off at $200.
I noticed at the bottom of the site, QYJ has a U.S. Government Required Disclaimer that you should be aware of and take seriously.
I read it and I'm hoping this would turn people away. I thought it was a little odd that QYJ would have a U.S. disclaimer, but when they list the countries, U.S. wasn't even listed on their list.
What I found out was that binary trading companies that are not regulated or supervised by the CFTC, NFA, SEC, and FINRA can be considered unlawful.
Like I stated before, I don't know too much about binary trading, but what I learned from the government's websites is that you should be extremely careful.
What Is OptionRally?
---
Once I place all my info on this site, it took me to OptionRally. This is a trading site.
I also came across so many complaints about OptionRally. The main complaint was that people couldn't get their money.
---
Here is another complaint!
I went to the SEC site and on the SEC report, there were 3 main reasons why people made complaints about binary trading.
Can't get your money
Identity theft
Manipulating the software
You can read about it here to get more details on how the system works and the three main complaints people have. I think it's a must-read if you're thinking about getting involved in Binary Trading.
What Does The CFTC Say?
---
The CFTC says on their site that you should be careful of these scams. The CFTC says these types of investments are very risky and can be an outright fraud.
Brokers by law must be properly licensed or registered with a Federal financial regulator or a self-regulatory organization.
All In All
I know there's a lot of deception online and it's very important to do your research before you get involved in anything. I know they made it sound like people won the lottery, but with any business or opportunity, it takes time and work.
I learned how to generate an income from home. It does take time and work, but the possibilities are endless if you're interested in learning how you can check out My #1 Heroic Site.
What is your take about Quit Your Jobs, Tweet me @evelynbaz!