I decided to write a review about Rain Money because of my findings with other similar systems.
I noticed with the other service they had the same testimonials but used different images.
In this Rain Money Review, I'm going to share my findings and why you should avoid it because it won't make it rain money.
I also was taken aback about how young teens were promoting this system.
Specs About Rain Money
---
Product Name: Rain Money
Year: 2019
Free Access: Yes
Price: Free
Website URL: rainmoney.co
BeginAtZero.com Overall Rating: 1/10
---
My Take
There are excellent opportunities out there to make money from home. Then some opportunities should be avoided.
I recommend that people find out what exactly are they asking you to do to make money from home.
If any system is based on recruiting people without any substance to make money, I recommend people avoid it.
Why Should People Avoid Recruiting Based Systems?
---
The motives of what a site wants from you should be your primary concern.
If people are recruiting people to be in a professional industry is one thing, but to refer people and get paid based on that, won't last.
If you are familiar with the Email Processing System or Copy And Paste Ads, the way their system works is by placing ads in classified sites where a lot of these classified sites, don't even want these types of ads on their website.
If you manage to do that, you get paid based on people joining. It's a difficult system to build, especially when you place ads online and they get taken down.
Not only that, but you're also not building a business, you're just recruiting people. The money stops when you stop recruiting.
In the end, there are so many people you can recruit.
What Is Rain Money
---
Rain money is a system where you recruit people. They claim you get paid,
create a YouTube video $50
download App make $10
refer friends make $10
Like I said in a prior review I did, there isn't a fee to join. So Rain Money claim they are paying people a great deal of money by getting people to carry out the list above.
Just because people see money in their dashboard, it's like video game points; it doesn't mean it's dollars until the money gets to their bank account.
Rain Money Uses A $25 Sign Up Bonus
---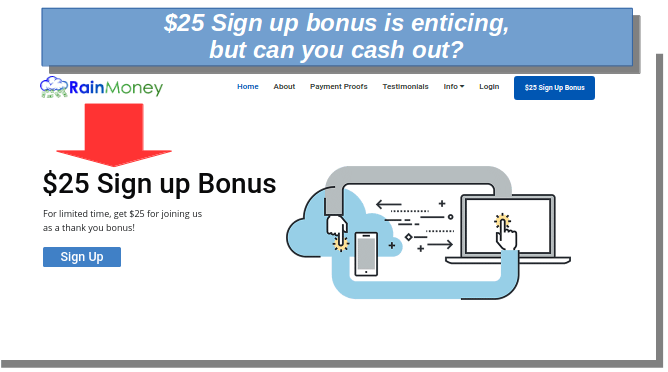 ---
The way Rain Money entices people to sign up by giving them a $25 video game points. I went to their Q and A page.
How long does it gets paid? Instead of indicating how long it takes, they say the minimum age to join, which is 13 years old.
Under how do I get paid, it says when you are ready to get paid, simply request your payment in the member's area.
Anyone who has joined a service that is free and gives you a signup bonus, know first hand you are not going to be able to cash out just because you joined.
They always have a payout threshold and requires that you do the needed tasks before you can even cash out.
If Rain Money really claims you can cash out because you're ready, everyone will promote this service.
Rain Money Has Many Similar Systems
---
There are a lot of the same types of systems circulating online. Referral Pay and Viral dollars are similar types of systems.
Their business model is identical to Rain Money.
create a YouTube video $50
complete surveys $25
download App $10
get paid per click $2
refer friends make $10
These numbers look great, and people may work to get others to join, but when it's time to cash out, that is another story.
There is no way any service out there will pay anyone $2 per click.
There aren't surveys out there that pay you $25 to complete surveys. Most surveys pay in cents or top $3.
Something like, PineCone pays people $3 to complete a survey. The way it works is by PineCone sending you an email. There isn't a qualifying process, you complete the survey, and you get paid.
You will not get surveys sent to you every single day. You might get a survey once a month or twice a month.
Surveys are not going to get you to full-time income status. It's extra money from home.
There are sites out there that use surveys that claim people get paid $25 to complete one survey. It is a shady way to lure people in by using the word survey
No site out there will pay you the kind of money the Rain Money claims except repeated systems like Rain Money.
The Video Testimonial That Is Concerning
---
In the working videos, these are young kids. If you were to go into a time machine and take yourself back to when you were 13 years old, you see the numbers Rain Money displays on their site plus a dashboard showing you numbers; you can't help but get excited to believe these types of systems.
So youthful teens have no reason not to believe a system like Rain Money.
Then there is one video that someone took down. I'm assuming this, but the person probably realized that no money was able to get cashed out, so they took their video down.
As For The Written Testimonials
---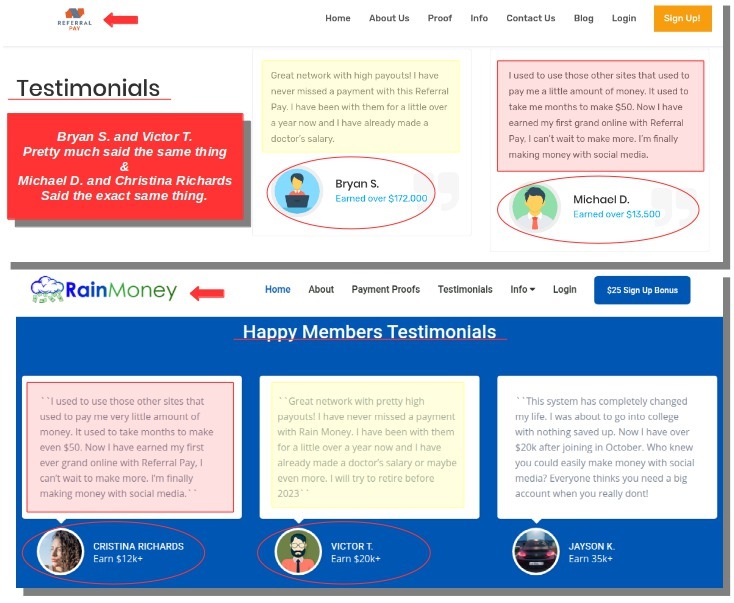 I showed this in my Referral Pay review, and I'm going to add it here.
These testimonials are fake. They added images and used the same written testimonials that indicate they made all this money.
Christina Richards and Victor T. from Rain Money pretty much have the same written testimonial as Bryan S. and Michael D.
It all looks good if you're looking at it with trust.
However, research should be done, primarily when the gist of the system is recruiting, inviting, or referring people with overinflated money that can get made quickly.
So Are You Calling Rain Money A Scam?
---
Yes, there is not a fee to sign up, how are they going to pay you the money they claim. You're promoting Rain Money, and in return, people are not getting anything out of it.
All In All
There are plenty of these Recruiting our system sites circulating online.
They claim you can make a lot of money based on getting people to join.
There is no real substance on how are they making money to pay you the money they claim.
They use fake testimonials and have young teens promote their service on YouTube, which I find troubling.
What is your take about Rain Money, Tweet me @evelynbaz!
Looking For Ways To Earn From Home?
Check out a list of opportunities!
There are many ways you can earn from home. In this list, you can find other options that can help you make money online. Each opportunity is either earn some extra coins, find work, or start a business. Click the button below to see if any of these options fit your needs.