My computer is essential to me, and having a registry cleaner like CCleaner keeps my computer running smoothly.
You know I like the free, and CCleaner has a free and a pro version that you can download.
If you're looking to clean your registry and you want one that works, then CCleaner is a great registry cleaner to use.
My Surprise
---
I was surprised when I went to my friend's house and they had no antivirus or registry cleaner on their computer.
It was a PC that was in their family room that their children mainly used.
I was over her house one day and we were looking at videos I noticed that her computer was running soo slow.
I asked her why it was running so slow and she told me she didn't know.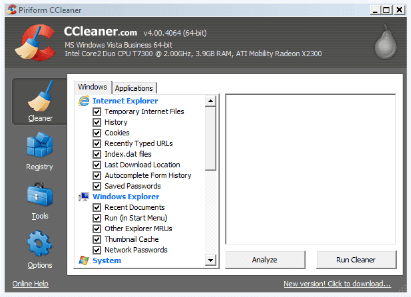 Me always having that need for speed especially when it comes to my gadgets, I checked it out.
I told her it could be because she had a build-up of data on her computer that needed to be cleaned.
I installed CCleaner and Malwarebytes on her computer. CClearner did its job and Malwarebytes had over 56 Malware on her computer.
After I cleaned it and restarted her computer, it was running at a much faster speed.
I also showed her how easy it was to maintain her family room computer and how surprised I was that her computer didn't go out of commission.
I decided to write an article about this because I know there are other folks out there like my friend.
I want to get the word out that there are free and inexpensive programs that will keep your computer running longer and faster.
I still have my old Windows XP that I had bought on black Friday at Best Buy and I think I got it in 2007.
It was a long time ago and I really can't remember the exact year I purchased it.
Now that Microsoft isn't going to support XP's anymore I don't know what will happen in the future. I know one thing though! I will continue using my antivirus and registry cleaners on my Old Betsy.
What Do The Experts Think?
---
A lot of experts say if you're going to use a registry cleaner, they recommend one is CCleaner because it doesn't over clean.
For me, I've been using a registry cleaner for years and I haven't had a problem.
I'm not a so-called "expert" and know everything about computers, but thanks to my son, I've had my own run-ins with computers.
My Computer Run-ins
---
If you read the about me page, you know I have a child with special needs.
He loves to play on the computer.
He's broken his laptop screen, hard drive, did liquid damage, and so on.
I've literately ordered a laptop screen on Amazon and replaced it myself.
I just can't be running out buying my son a computer every three months, so I've learned to fix them myself.
I do know a little here and there and when you're starting off making money online you want your computer to run as efficiently as possible.
Just so you know, my personal computer is off-limits to my children.
They have their own computer to mess with and they ain't yes I said ain't, messing with mine.
My Suggestion
---
I'm suggesting a registry cleaner because it does make a difference with your computer speed.
If you're not into AVG's registry cleaner or any of their products, CCleaner runs just as good if not better.
It runs pretty fast and will get rid of the crap that adds up on your computer.
Who Should Use CCleaner?
---
It is for anyone who has a problem with speed on their computer or wants to keep their computer running quickly and smoothly.
If you use Linux, you don't need CCleaner because their processors don't hold data like that.
Does CCleaner Have Other Features?
---
Yes, CCleaner offers other features like as,
cleans your registry
It has an uninstaller
Startup
File finder
System Restore
Drive Wiper
All of these features doesn't mean you have to use them unless you know what you're doing.
I don't want to scare you, I'm just letting you know what the features are.
The features I suggest you use are the windows and application cleaner.
The Start-up is good to check to see if there is something starting up on your computer that you don't want to use.
Other than that, I suggest you leave the others alone.
All In All
I personally use CCleaner on my computer. I like it because it's quick to use and does clean my registry and other junk without a problem.
I use mine daily, usually, after I've done all my work on my computer.
Just so you know, I don't get anything out of promoting this product. It's free to download and use.
CCleaner is free to download and you can download it from the company that offers CCleaner Piriform.
What is your take about CCleaner, Tweet me @evelynbaz!
Plant, Water, and Believe!
Keep faith in what you're doing.
Inspiration can be a turning point in your life. Click the link below if you need a little kick in the butt to start your journey.

We earn a commission if you click this link and make a purchase at no additional cost to you.