OMG, it was about six months ago when my friend told me about a phone call scare she got from Social Security.
She is the same friend who got a mail about that pink postcard scam.
She told me they wanted the last four digits of her SSN and pretty much all the info they could get out of her.
I said to my friend it is a scam, and it is odd that Social Security is calling you out of the blue.
Then I read how the FTC wants people to spread the word about social security scams.
I guess it's pretty bad out there.
The only way we are going to nip this scam in the bud is to report social security scams and spread the word.
Knowledge is power, and the more we inform our neighbors about these crooks, the less likely they will continue to harass innocent people out of their money and info.
Spread The Word
---
I wanted to start by saying I usually don't write about info like this. I tend to write content about making money online.
I also write reviews in the make money online filed whether I feel it is a scam or not.
When I read about the FTC wanting people to spread the word about the social security scam, I felt it was necessary.
I wanted to start with a quote by the FTC.
"Getting calls saying your Social Security number is suspended because of suspicious activity? It's a scam. The Social Security Administration (SSA) is not calling you, no matter what your caller ID says.

To spread the word about this growing scam, the Consumer Financial Protection Bureau created this fraud prevention placemat in consultation with the FTC and SSA:"
Below is the image of what the FTC indicates.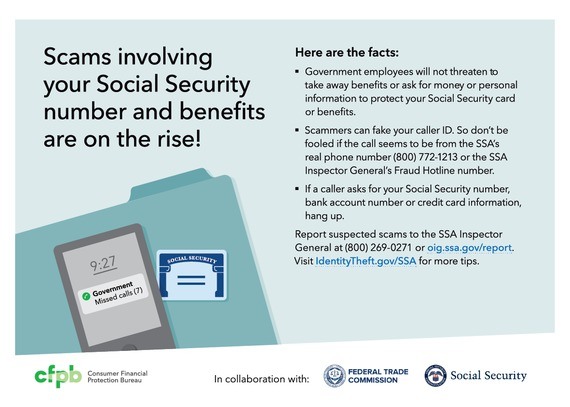 According To The FTC
---
35,000 people reported the scam and around $10,000,000.00 lost.
When I read ten million dollars lost to this scam, I was shocked.
I was shocked because I didn't realize so many people fall for this scheme.
Okay, as citizens, we have to help each other out here. It doesn't matter about a specific political party, race, gender, or where you live.
We always come together when something terrible happens, and we have to help each other out here.
There is a threat going on here, and I genuinely feel it's a threat.
It may not be shocking like a mass shooting as we would see on the news, but they got citizens SSN and phone numbers.
Not only that, but they are also calling people threatening them out of their money like it is a ransom.
Know That These Robocalls Are Scams
---
Scammers know how to spoof phone numbers that make it appear on your caller ID that it is from a place like social security.
Even my friend told me when she got that scam call and when she looked at her caller ID, it showed Social Security's number, and that is why she answered her phone.
What Are These Scammers Saying To Make People Give Them Money?
When these robocalls occur, they mainly have a threatening or alarming message such as,
SSN suspended
Suspicious activities
A crime took place with your SSN
Your bank account is going to get seized
These scammer's goal is for the call receiver to press 1 so they can get them to the next step.
If they press 1, they will get a live scammer on the phone.
Because of those threatening reasons that I listed above, it grabs some people's attention and gets them into panic mode.
Now someone who's reasoning thought process is obscured because of the threat will have a conversation with the scammer.
They are giving out info that they shouldn't try and resolve a lie.
When my friend got the call, she said they sounded like they were from another country like India and wanted to confirm her last four digits of her SSN.
She told me that they didn't ask for money, but she gave them that info, and then they hung up.
My first thought is that they might be after her benefits or confirm their number and info for future scams.
These Scammers Even Ask For Money
---
Besides just obtaining or confirming personal data, these scammers may ask for money.
As you know, a lot of companies outsource their call centers to other countries. So, people may feel comfortable talking to someone that isn't from their homeland.
From my understanding, Social Security doesn't outsource to other countries.
More importantly, social security wouldn't ask you to wire them money or send a gift card.
If Social Security wanted your money they would either, take it out of your bank account, then your bank will send you a letter.
Another reason why Social Security might inform people if they owe money is that they overpaid someone.
Usually, it comes in the form of a letter.
They usually will ask you to pay the money back. If people don't pay them back, they may garnish your social security.
People are sending money to scammers, believing a lie when there isn't a problem with your social security number or benefits.
What Should You Do If You Get A Scam Robocall
---
My advice is to let it go to voicemail. Don't answer the call then listen to the message.
More than likely, it is a scam, and you can delete the message.
If you do answer the phone and press one, don't give out any personal data at all. Say something like; I believe you have the wrong number and hang up.
If the threatening phone call you received is keeping you up at night, call social security yourself, and explain the situation to them.
Know that social security wait time can be more than an hour-long.
You should plug in your cellphone and put it on speaker while you do other things.
You can explain to a social security agent precisely what happened and the data you gave out if God forbid you did.
Also, the FTC listed some tips on their website that you can review.
Mainly in a nutshell what they listed is,
You don't have to verify your SSN to anyone who calls you unexpectedly
FTC indicates that anyone who calls you claiming to be from social security and threatens to seize your benefits will never ask you to wire, send cash, or load money on a gift card. The FTC even said every time on their website.
Never give any part of your SSN, credit card, and bank info to anyone who contacts you.
You can take it a step further and file a complaint here!
A Cool Feature That The FTC Started
---
There is a website that you can look at about the National DNC Registry and Robocalls.
It shows some cool charts and information that FTC gathered about the DNC Registry and robocalls.
The FTC did this to be more transparent in regard to the DNC and unwanted telemarketing/robocalls. It is a pretty cool website where you can click and learn about complaints in each state.
They list topics such as,
drop call or no message
reducing debt
imposters
medical and prescriptions
vacation and timeshares
energy
home improvement
tech support
sweepstakes
money making
home security
warranty plans
According to the list above, people in each state file complaints and the number one complaint about each state might be a little different.
I made screenshots of two states so you can get a clear picture of my reference.
I selected the #1 state in regards to national ranking based on the 100k population, and that is New Jersey.
I selected California because it is a big state and entirely on the other side of Jersey. As you can see, according to the FTC, California is ranked #22.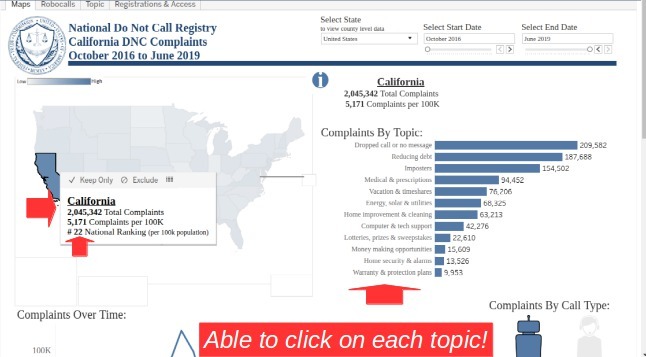 It's a cool site to gather data about the DNC and robocalls. If you look at Jersey, they made a lot of complaints about dropped calls and reducing debt.
So if you live in that state and you receive calls about reducing debt, it might be a scam, or you can further research who called you before you give out any personal data.
You can get more info here about why the FTC made the new interactive public web page.
If you want to go straight to the new interactive public web page, all you have to do is click here.
There is a lot of info you can gather, more so than what I listed above.
All In All
We all have cellphones these days, and robocalls seem to be a problem for all of us.
I can't precisely say how these scammers get your phone number and your info, but what I do know is that there are sites that sell your info.
It is a good idea to read any privacy policy page before you sign up and find out if your data is going to get sold.
If you look at the review I did about Opinion City; it is quite alarming what got stated in their terms.
Sometimes hackers hack into sites that store essential data about you. They may even sell your data to other scammers.
It's essential to put your guard up and don't be so open when you get these calls. Question these calls first and if you don't feel comfortable, hang up or just let it go to voicemail.
Don't give out your data to anyone who contacts you. You can also report these scams to the FTC.
What is your take about these social security scams, Tweet me @evelynbaz!
Plant, Water, and Believe!
Keep faith in what you're doing.
Inspiration can be a turning point in your life. Click the link below if you need a little kick in the butt to start your journey.

We earn a commission if you click this link and make a purchase at no additional cost to you.