Sometimes I think it's just best to keep searching when you look for work at home jobs.
I somehow found a job listing from Responsive Media that offers "jobs" to people.
I do question if these job listings are real because when I researched their info online, I really couldn't find a good reason for anyone to apply at all.
So I'm sure some of you out there are concerned if these job listings are real and if it is worth your time.
If that's you, keep reading and you can decide for yourself if Responsive Media is right for you.
Let's Look At The Job Listing
---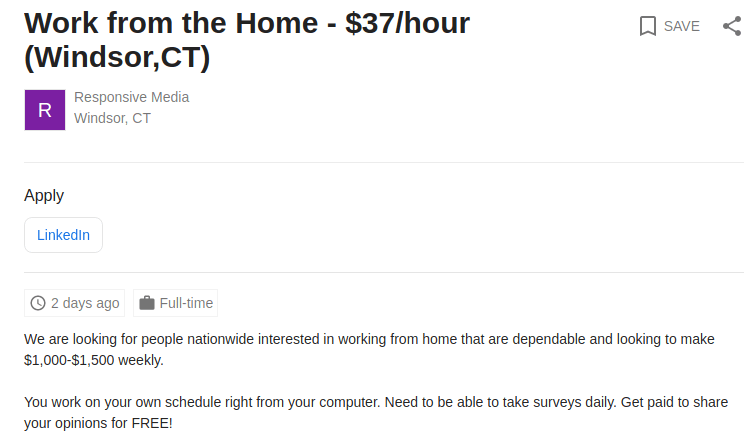 ---
One of the ways that job listings tend to get people interested in what they have to offer is by placing the pay where it is very visual.
It says at the top $37 an hour.
As you can see in the image above, it also says $1,000 to $1,500 nationwide. Then it says you work your own schedule taking surveys.
With a listing like that, it may grab people's attention. In the review I did regarding First Rate Response, I listed some red flags to look for when you read an ad online with a high pay wage.
I just want to state right now before we get further into this article, I've been looking for work at home jobs for many years and there are just some red flags out there that will help you spot these so-called jobs.
What Are The Red Flags In Responsive Media?
---
First Red Flag
The first red flag is the pay. The pay is what many people are looking for to work from home independently.
Second Red Flag
The word Nationwide is a second red flag. Nationwide is a red flag because Responsive Media wants everyone and anyone to apply.
Third Red Flag
In the ad it said, need to be able to take surveys daily. I know for a fact that surveys don't pay $37 dollars an hour.
I'm very familiar with surveys and have joined quite a few. When you look at an ad like that, anytime you see a pay rate like $37 an hour, you should look at what the requirements are to see if the pay matches what the job listing is listed for.
As for surveys nationwide, Surveys tend to select a certain demographic when a company wants data on a particular product or service.
To give you an example, it could be a particular store. Some areas may not even have a particular store in their demographics so why would a market research company select a demographic that doesn't even have that particular store in their area.
Also, a survey could be a product like skis, not everyone skis so there are going to be a number of people who do not qualify for the survey.
Not only that, but the companies also are not going to spend money with a market research company just for the heck of it.
Company's want data with relevant users and honest answers. Unfortunately, that requires before you even qualify for a survey is a series of questions to see if you qualify and that can take up to 15 minutes without pay.
What Happens If I Qualify For A Survey
---
Now here is another Debbie Downer, if you do qualify and complete the survey, you may get compensated $0.50 sometimes $0.75 depending on the length of the survey.
The pay for surveys is not as high as what these so-called job listings like to sate regarding surveys.
Another Debbie Downer is that surveys can take time to complete.
You could spend 15 minutes qualifying for the survey, just to get a response that you don't qualify. Then you try another survey that you think you will qualify for and get the same response, you don't qualify.
In fact, you could spend your whole day trying to complete surveys and not qualify for a single survey.
That is not cool because you spend your whole day trying and get compensated nothing for it.
I'm not calling survey scams, the paid time and pay ratio is quite low for surveys, but you will qualify for surveys and it takes time to accumulate points.
To give you a general idea, you may get compensated $10 every three months.
From my experience with completing surveys, surveys are a way for people to make extra money in their spare time and contribute their thought regarding products and services.
Very Important Task That You Should Do
---
When you apply for jobs online, you need to screen the company that you are going to give your info to.
You have every darn right to find out if a company is really hiring people to work from home or what other types of opportunity the company is offering you.
Knowing what you are going to get into will save you time when you consider the offer you read when you land on a work at home opportunity.
Your best starting point after reading a job description is to find the company that is hiring you.
Normally you can find careers on their website and it's usually located at the bottom of their website.
You can click on that career link at the bottom of their website and see for yourself the actual job description and other opportunities a company may be hiring for.
I would take it further if you are still on the fence and take the time to send an email or find a phone number if it's listed and ask questions.
Why Do I Think People Should Skip Responsive Media
---
---
---
When I researched further, there wasn't really a company to screen. I couldn't even find a website.
What happened was the ad said to go to Linkedin to give your email address.
I personally feel. When you can not even Google the company, why waste your time? I wouldn't even toy with the idea of giving out my email address.
The reason being is that their ad was deceptive.
By you placing your email address to something like that, more than likely you're asking to get spam you and who knows what their intent is in regards to your email address.
You could end up being on some sort of phishing scam list, start getting email scams, more or less if they are not transparent with your why you even bother.
Company's That Are Really Hiring People
---
Company's that are looking for qualified applicants are very transparent.
There is no reason why a company that is hiring people would make it so difficult for people to research them.
Actually, real company's that are hiring people are quite impressed by people who take the time to research their business.
All In All
There are jobs out there that are completely from home.
You just have to find that needle in a haystack.
Unfortunately, there are a lot of job descriptions out there that make what appears to be a job not really a job.
What it boils down to is taking the time to screen who is behind the ad. If you can not even find a website, it's time to move on.
I've been looking for jobs from home for many years.
Here are some tips to spot a work at home job scam to help you when you find a promising job listing.
Here is some info in regards to online survey jobs that you must check out.
Just so you know not everything will be perfect, but you may find something that fits your needs.
What is your take about Responsive Media Jobs, Tweet me @evelynbaz!
Looking For Ways To Earn From Home?
Check out a list of opportunities!
There are many ways you can earn from home. In this list, you can find other options that can help you make money online. Each opportunity is either earn some extra coins, find work, or start a business. Click the button below to see if any of these options fit your needs.