The way I found out about Second Income Centers is through a job board yesterday.
As I was eyeing their job listing, red flags already popped up in my mind causing me to dig a little deeper.
The reason why I'm writing this article is that I want people to notice these red flags right away and be leerier.
In this Second Income Centers review, I'm going to show you the warning signs.
With that said, I want to cover the warning signs.
Specs About Second Income Centers
---
Product Name: Second Income Centers
Year: ?
Free Access: Yes
Price: ?
Website URL: ?
BeginAtZero.com Overall Rating: 0/10
---
My Take
In today's time, we are all connected online.
There is a massive amount of scams going on about anything you can think of.
To give you an example, people get these threatening phone calls about their taxes, mortgages, social security benefits, and so on.
People have communicated to me in my own personal life asking me for advice.
It seems like scammers have escalated even more these days.
Until something is done, I personally wouldn't openly give out my info without doing extensive research.
Believe it or not, a lot of jobs that are hiring people to work from home, really don't like to place ads online because of the number of applicants they get.
Because of the extreme amount of applicants it causes a company to take extreme measures to avoid getting these massive amounts of applicants.
Unfortunately, scammers know that they are gonna get a massive response so what they do is place an appealing ad in the job boards knowing that they will get responses.
So you being a job seeker it is really up to you to know what to look for when you see an appealing job listing online.
Let Us Start With The Job Listing
---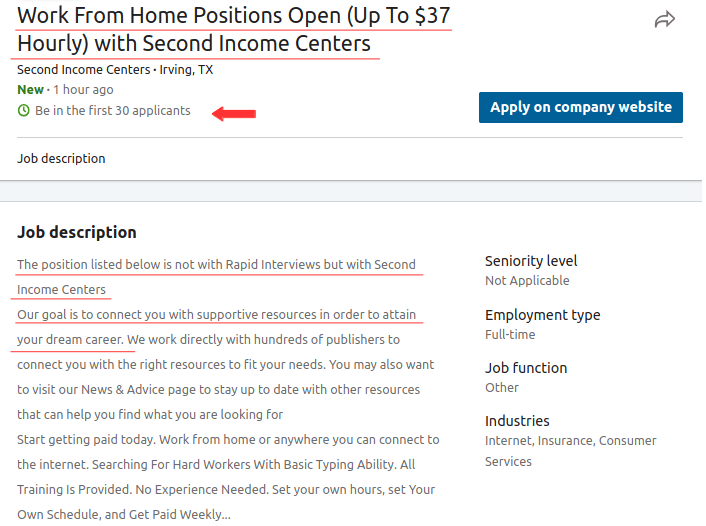 ---
At the top of the job listing, you will see work from home positions open. It's in bold letter and is appealing to the eye.
Next, they show what you can make, It says up to $37 hourly.
Naturally, we probably will just see the $37 hourly and don't really noticed the up to part.
The warning signs is that wage and the up to because most works at home jobs don't pay that much.
Then it says to be the first 30 applicants. The first 30 applicants are a way to get you to hurry and apply as we all know.
Most employment seekers want the most qualified applicant. Usually, once they find the right person or people, they are done.
The Job Description Is Very Odd
---
The job description isn't even a job. Most "fake jobs" are listed under data entry or completing surveys. This one really didn't list a job, more or less they sound like another place where they will connect you with work at home opportunities.
When I clicked on apply on the company website, it took me to rapid interviews.
If you look at the top, according to the job ad, it even states Second Income Centers.
When I Googled Second Income Centers
---
There were no websites for second income centers, but there was a website for the Second Income Center.
If you don't know this already, domain names are very specific in regards to how it is listed. secondincomecenter and secondincomecenters are two different domain names.
When I looked up secondincomecenter, that domain name was taken however secondincomecenters available to purchase.
So What Do You Mean By The Domain Names Is Not Available?
---
Either the job listing was referring to Second Income Center or they were referring to Second Income Centers which has a nonexisting website.
I've run across a few job listings that were work at home opportunities that didn't even have a website. If you do come across a job opportunity to work from home that doesn't have a website, why bother wasting your time!
Usually, any work at home opportunity needs to have a website where you can log into and complete whatever job they want you to complete.
But What If It Is Second Income Center?
---
If you go back to that "job description" this part I'm going to quote,
"Our goal is to connect you with supportive resources in order to attain your dream career."
When I went to the second income center's website, their website content seemed to fit exactly what this "job description" listed.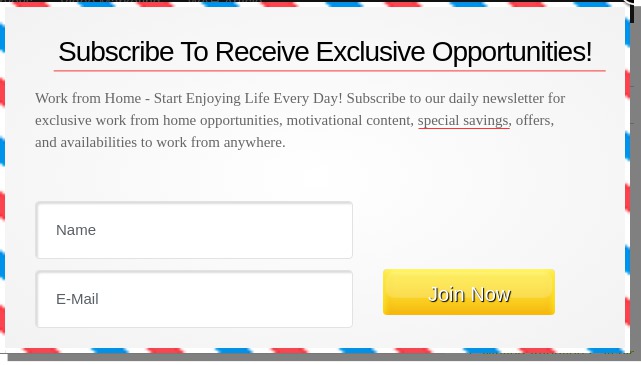 Also, the first thing that happened was a pop-up to subscribe. It turned out to be an annoyance because whenever I tried to click on anything, that subscribes pop up just kept coming up.
For me, that is an aggressive tactic to get your email info. If any website takes that measure and you are trying to get details about who they are, it makes me do the exact opposite.
I did something unusual because I'm a website owner myself and sometimes scam sites like to steal web owner's original written content to sell their scams.
Apparently, that is exactly what Second Income Center is doing, they are stealing website owners written content and posting it on their own website for their own personal gain.
The two websites are,
homebusinesszen.com
hjohnmejia.com
If you look at both images, you can see exactly what I'm referring to.
---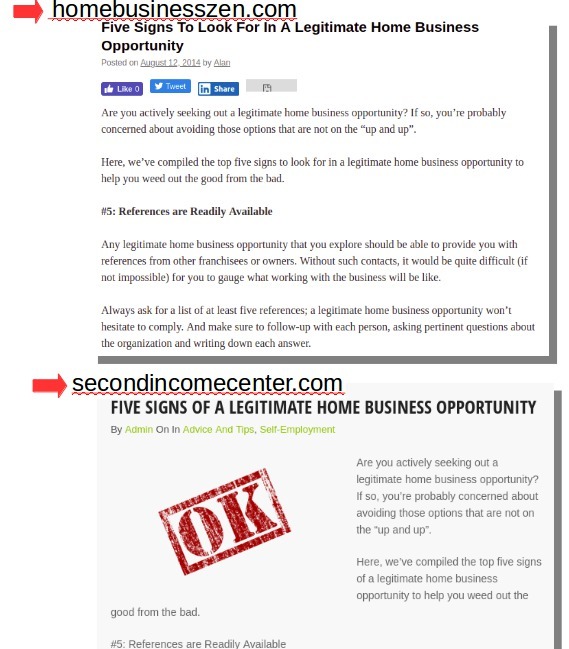 ---
The images above as you can see Second Income center didn't even write their own original content, they just stole content and posted it on their website. I used two examples because one example probably could be the opposite.
For me right there I wouldn't even go any further. Also, They don't even have an about us or about me page.
In my book, if you have the resource and a place to help people find work at home opportunities that pay up $37 hourly, why not have your own original content?
What Is Second Income Center's Agenda?
Obviously, that aggressive move with the pop-up to subscribe to receive exclusive opportunities is their agenda.
Most likely, you're gonna get emails to receive opportunities that are more than likely going to cost you money.
I went to their privacy page and it says in there that there are some instances where they collect credit card info for individual purchases.

Their other agenda is that they sell your info. It also indicates that in their privacy page.
Another Strange Thing I Found
---
I noticed that if you wanted to unsubscribe to receive their opportunities they listed an address. Being that they stole content from other web owner's sites, SIC could have just listed an address.
So it shows other listings that have the exact same address, but different business names and phone numbers.
The Reality Of Work At Home Opportunities
---
Jobs from home are there. A sure sign that it's a real opportunity is that the pay is not going to be $37 an hour. Most jobs from home start around on average $10 per hour.
A lot of times work at home pay may have a unique pay system depending on the job. Unless a job caters to work from home as an independent contractor like TTEC or ContractWorld, they may list their jobs in very exclusive areas on the web.
All In All
Work at home opportunities is out there. The problem is that there so many scams out there that make it really difficult for people.
A sure sign that you can look for is the pay wage. A higher-paying job with no experience is a sure sign something is up.
Another red flag is if there is no website, you're supposed to work from home, you gotta login somewhere and if that is not an option, your best bet is to move on.
A website like Secure Income Center at first glance may look okay but a good task to do is to look at their privacy page and see exactly what is going on.
You can find out a lot of info there to make a decision.
What is your take about Second Income Centers, Tweet me @evelynbaz!
Looking For Ways To Earn From Home?
Check out a list of opportunities!
There are many ways you can earn from home. In this list, you can find other options that can help you make money online. Each opportunity is either earn some extra coins, find work, or start a business. Click the button below to see if any of these options fit your needs.

We earn a commission if you click this link and make a purchase at no additional cost to you.