I know I know here is Evelyn writing about her concerns regarding another service online that is supposed to help you make money by posting links all over the Internet.
I know it sounds exciting just to get paid a good amount of cash posting links.
However, before you get too excited about this Secure Job Position Review, I'm letting you know now that I heard this one before, so buyer beware.
Specs About Secure Job Position
---
Product Name: Secure Job Position
Year: 2017
Free Access: No
Price: $97
Website URL: securejobposition.com
BeginAtZero.com Overall Rating: 2/10
---
The Rundown
What is Secure Job Position?
How does it work?
You land on a page that tells a story and you are supposed to make a great deal of money by posting links online.
How much does it cost?
It starts off at $97, but if you X-out you will get down sold at a reduced rate of $57.
Requirements to join?
My Take
The Advertorial stories continue to go on.
If you landed on the Secure Job Position page, you saw the video with a mother of two who found a way to work from home.
If you saw the video on the page, it was a channel 10 news report and it may make you excited to know that there is a possible way to make money from home.
The video is legit however, websites can place these types of videos on their site to legitimize what they are trying to sell you.
If you watched the short video, you would have noticed that the work at home mother said to do your research.
I've recently written an article regarding another advertorial and it speaks volumes so with that being said, let me explain what is going on and what I researched.
The Kelly Simmons Advertorial Story
---
Kelly Simmons' name is used quite frequently online and there are many other advertorial sites that use her name.
I've recently found an odd discovery that I will get into a little later within this review, but before we cover all that, I want you to know that I too was looking for work at home opportunities.
When I was looking for work at home opportunities, I've also read stories like Secure Job Position. One of the red flags that I tend to read is certain terms that we all can relate to.
Terms That We Can Relate To
---
---
When you look at the image above, we know that if you're looking to be your own boss and want to make a living completely from home, your requirements will relate to the do and don't wants.
Heck, I relate to what this advertorial story is saying because who doesn't want a job or even a business where the earnings are made quickly and you work as little as possible along with making a lot of money.
Is Posting Links Lucrative?
---
---
In the ad as you see in the image above, they sure make it seem easy and quite lucrative to post links everywhere and get paid $15 each time you follow their simple steps.
Sign up
Get Access
Create A Website
I know first hand that it doesn't really work that way.
I know someone who works for a company in the image above and they do not do that.
Company's that want to post their ads in places like Facebook or online, hires an agency to do their marketing for them.
Companies are not going to pay someone $15 for each link they post on a website or online.
$15 is quite expensive to post links that don't guarantee any sales.
Companies are in business because they are selling a product or service and the way they make money is through sales.
If sales are not being made a company couldn't afford to pay people to post links at $15 a pop.
Of course, the company's have an advertising budget, and they are not going to have Jo Blow posting links everywhere and pay them to do that.
Now, you can become an affiliate and obtain links that you can post on your website, but in order to make commissions, you would have to make sales and that doesn't happen just because you get a link and post it on your website.
If it was that easy, I would be doing that today and I would tell everyone how I do it.
I have a website here that you are reading right now and if it were that easy, wouldn't you see,
Netflix
Gap
Home Depot
OAKLEY
Blockbusters?
On my site, as for Blockbusters, they have been closed since 2014, WTF! What are these people trying to sell you?
Anyways, I want to get into some of the details of what is going on with this advertorial story.
Who Is Kelly Simmons?
---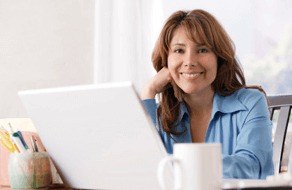 Like I just said earlier, Kelly Simmons' name has been used a lot online. There are plenty of different stock photos circulating online that uses Kelly Simmons' name.
As you can see I researched the image that was used for Secure Job Position's advertorial and you can see right here that this Kelly Simmons' is a stock photo.
Also, I found some interesting details.
What So Interesting Evelyn?
---
When I was looking at the testimonial video near the bottom of Secure Job Position's advertorial, I came across something interesting.
Okay, I look and research a lot online and when I came across a lady named Deborah Robertson from Covington GA, I knew I saw here before.
Before I reveal what she's doing, I'm not bashing her for the service she stands behind.
I personally don't stand behind and I personally wouldn't recommend the service she recommends. I'm just letting you know what I came across through my research.
Deborah Robertson recommends MOBE and I seen her on YouTube before.
I don't know where this Secure Job Position service leads to as I read how some people said Secure Job Position leads to MOBE.
The service that I'm familiar with where you will see Kelly Simmons's name and this linking opportunity is through a service called WAH EDU.
I don't know if they use the same domain name and change the content inside or what, but I did find some odd discoveries.
The Odd Discoveries
---
I wrote a blog about the odd discoveries I found prior to writing this article and there are a number of these types of advertorials circulating online.
You can look at the similarities here regarding the odd discoveries.
I even found an advertorial page that leads to MOBE as well.
What I Did Next
---
I went to the fine print and noticed that they had their contact info listed. When I researched their contact info, BBB came up.
As you can see from the images above, they both have the same phone number and address. The clear detail that was stated by BBB and I'm going to quote them,
"There is no substitute for closely examining any offer which promises or guarantees income from work-at-home programs. If it sounds too good to be true, chances are it's a scam. Consider it a warning sign if a worker must buy something in order to start the program."
Mainly what advertorials are is a story. A story that they use to make it appear that you are obtaining a job by posting links as an independent contractor.
Even if you were an independent contractor, fees should not apply. The difference between an independent contractor and someone who is hired to work for a company is that taxes are taken out of your paycheck.
It Even States Within Secure Jobs Position Disclaimer
---
If you read their disclaimer it says right there, and I'm going to quote parts of it,
" This is a paid advertisement. This website is not affiliated with any newspaper publication or online news resource"

"This website is compensated for clicks and/or referrals that result in sales of the product(s) featured on this website"

"The creator of The Secure Job Position is using a pen name. This story is based upon the real-life adaption of the parties involved and may have also been modified"

"The Company reserves the rights to the name and any uses of it as affiliated with the product"
All In All
What seems exciting may not be exciting after all. I've seen these types of ads before and their main goal is to sell you a story that leads the site getting compensated for referrals and clicks and in the end, it's entirely up to you in what you want to do.
I feel that transparency is important along with knowing who you are doing business with.
It is possible to make money by becoming an affiliate for large Company's however, there is a proper way to do that.
In order to make money from home if you are wanting to be your own boss, it is by doing the work. Work is required when you are building a business or working for someone even if it's at home.
What is your take about Secure Job Position, Tweet me @evelynbaz!
Looking For Ways To Earn From Home?
Check out a list of opportunities!
There are many ways you can earn from home. In this list, you can find other options that can help you make money online. Each opportunity is either earn some extra coins, find work, or start a business. Click the button below to see if any of these options fit your needs.