Here's another site that I found to be deceptive on what they were trying to get people to do.
Their headline alone made it seem like millions will be made.
All you have to do is install mysterious software and in a matter of minutes, your money will grow.
I want you to read my Self-Made Millionaire System Review because becoming this "Beta Tester" is just bait to get people to open their wallets and start losing their money in Binary Trading.
Specs About Self-Made
---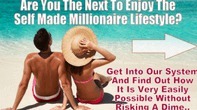 Product Name: Self-Made Millionaire System
Year: 2014
Free Access: Yes
Price: Starts at $250
Website URL: selfmademillionaire.co
BeginAtZero.com Overall Rating: 0/10
---
The Rundown
What Is Self-Made Millionaire System aka SMMS?
It's a service that provides you with software.
How does it work?
SMMS offers this fake $500 to test their software. Then they encourage people to deposit their money into Regal Options.
How much does it cost?
SMMS says it's free, but you will have to deposit $250 or more in order to make money.
Requirements to join.
Anyone 18 years or older.
I recommend No one
My Take
I reviewed a number of sites that bait people to try binary trading.
Most of these sites make ridiculous claims about some "software" that doesn't even exist.
This supposedly accurate software is supposed to give people an accurate prediction of these binary trading sites.
This is not the case and SMMS is no different.
I always recommend to people to just stay away from Binary Trading.
These trading sites are very addicting and is viewed as no different from gambling.
I just want you to know, I did not purchase this stuff, join this stuff nor do I intend to. I know this is just a scam.
I'm sure you guys are wondering why I think SMMS is a scam.
Well, let's go over a few things and If you're not satisfied with what I'm going to explain in this review, all I can say is that I did warn you.
Let's get into the site's info.
Hurry
---

---
First off, let's get into how SMMS tries to rush you. On their site, it says hurry this offer is valid till today.
This is just baiting to get you in quickly because if you think about it, you just might change your mind.
There is no need to rush. If you're looking into a life-changing system, it's important to look at what you're getting into.
The time may tick away, but don't worry, if you go back to SMMS site the time will start again.
Nothing To Pay At All
---

---
We all like free. I myself advocate looking into a service that offers a free version before you pay.
What's so deceptive about what SMMS is doing, is on their site it states nothing to pay at all.
When you find nothing to pay at all, this means you shouldn't have to pay at all. Of course, this isn't the case.
It is just another bait to get you to do the next step.
Click On These Buttons
---

---
When you see images like these, please click on them. If they don't work, this means that SMMS placed these images on their site to make it look legit. You should be able to click on these buttons and it should take you to the site, such as BBB.
It also happened to be another review I wrote that is very similar to this one and it's called The Millionaires Maker.
Benefit Of The Doubt
---
So maybe you gave them the benefit of the doubt and placed your email address to get access to the $500.
If you did put in your info, you didn't get access to your $500.
What you got access to was a little more enticing information.
---

---
This sign here is just bait. Especially when they use the words Fastest, Profitable, Predictable, and Millionaire in green.
These words are very tempting and what we all want. Millions made quickly without any doubts. That is what everyone is looking for. This is just baiting to keep you going.
Video
---
Of course, the video didn't explain much. They just talked about how much money you can make. Then they say it's risk-free.
---

---
Then the video goes on and says, but you must fund your account in order to blah, blah, blah. This is when you should hit the breaks. of course, they want your money.
Bait And Switch
---
This $500 Beta tester is nothing but bait to get you to fill out your info and for you to start trading. The fake $500 you get goes towards nothing.
The bait and switch are for you to deposit your hard-earned money into Regal Options.
Where Is The Trust?
---
I want to ask you this, where is the trust? The ad and the video told us everything we wanted to hear.
Absolutely free
Become a Self-Made Millionaire
Free $500
When you do what they ask, what they want is to get you to deposit $250 and start trading at Regal Options. That was SMMS's whole goal from the get-go.
But They Have Testimonials
---
These testimonials all look like your neighbors. These are people that look like people you trust. There's nothing wrong with these images.
The only problem I have is that these images came up on another site.
Self-Made Millionaire Software Website
---

---
Sure Cash App Website
---

As you can see, all the names are the same. One of the images has a different picture, but the same name.
I found Ariela Silverman's image on another site with a different name, but the exact same image. So I'm going to ask you again, where is the trust?
Should you trust a site that made it seem like you're going to become a millionaire based on them not being upfront with you?
Where is this software? There are so many Websites with different stories about some software that can predict the outcome of these trading sites. I'm telling you now, there is no software.
All In All
I know these claims are enticing. They make it seem like we won the lottery and our lives are going to change instantly.
Obviously this is not true. You gotta be careful because these claims may change your life, but not in a good way.
You don't know who these people are or what their intentions are. Don't fall for the bait and be a beta tester.
There are ways to make money from home, but it takes time and work.
What is your take about Self Made Millionaire, Tweet me @evelynbaz!

We earn a commission if you click this link and make a purchase at no additional cost to you.