When I checked out Shopping Jobs.com, I thought their site was going to be entirely about mystery/secret shopping.
When I started to dig into what SJ's (Shopping Jobs) site was about, I got taken aback that it wasn't a site catered to mystery/secret shopping.
In this review, I'm going to let you know what the real mystery is about with shopping jobs.com so you can decide for yourself if SJ is for you.
So, let's get started.
Specs About Shopping Jobs
---
Product Name: Shopping Jobs
Year: 2001
Free Access: Yes
Price: Cost is based on offers
Website URL: shoppingjobs.com
BeginAtZero.com Overall Rating: 3/10
---
The Rundown
What is Shopping Jobs aka SJ?
SJ is a membership site that compensates its members.
How do Shopping Jobs work?
SJ states it's a site that compensates you for testing products and services.
How much does it cost?
Who can join?
Anyone 18 years or older and lives in the United States.
My Take
A dot com name doesn't really have to pertain to what a site is about.
I know it kind of seems deceptive when you read a dot com name that says shopping jobs and it turns out it's not all about secret/mystery shopping.
Before joining a site even if it's free, researching the info is a great idea.
I know for me, I don't want to spend my time trying a service out that isn't what it really pertains to be.
So let me give you the rundown on what I discovered.
A Dot Com Name
---
People hear about services through word of mouth, through an email, or just by researching for services on the Internet to see if it's a good fit for them.
We all know what the words shopping and jobs mean and when you put those two words together, you kind of think you're going to get paid for shopping.
Well, that's what I thought when I read SJ's dot com name, but being that I have done a number of reviews, I just dig first before I even think about joining anything even if it's free.
Where Did I Start Digging?
---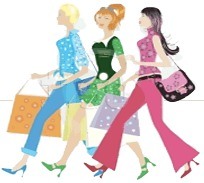 The first task that I did was just read their site and watched a video embedded on SJ's site about mystery shopping that was broadcast on ABC.
Note, ABC broadcast that episode and there were no endorsements about people joining SJ to get started in the mystery/secret shopping field.
For me when I watched that ABC's video and glanced at their site, I felt that SJ was all about mystery shopping. I also saw an image of women holding bags, like they were getting paid to shop, Lol.
What Is Mystery/Secret Shopping?
---
I'm sure you all pretty much know the field especially if you watched that ABC video embedded on SJ's site.
I was a Mystery/Secret Shopper back in the day and it's actually quite fun. Yes, there are actual companies that will hire people to the Mystery/Secret shop.
Mainly what happens if a company decides to select you as a Mystery/Secret shopper, the company will contact you with an assignment. The company will give directions on what the company wants you to do.
Once you go to the assigned store and complete your written report, you get compensated for completing your assignment.
That is pretty much how Mystery/Secret shopping works.
When I Joined SJ
---
Shopping Jobs made it seem easy to join by just placing my:
Name
Email Address
Zip Code
Gender
Once I completed those 4 simple questions, I couldn't join unless I completed another set of questions such as:
First and last name
Email Address
Phone Number
Date of birth
Password
Address
I wanted to add at the top of these questions, SJ had a beauty system offer that could be completed for ten bucks.
When I noticed this offer for 10 bucks plus all the info SJ wanted me to complete, I decided to dig a little more to find out what this site was really about.
I did the digging because completing offers and mystery/secret shopping are different.
You may have to pay a fee, sometimes it's a shipping fee or sometimes offers are completely free, it just depends on the types of offer you're doing.
The most important point I want to make about offers is that you must read all the terms before you even think about completing a single offer.
A good sign to look out for, if an offer wants your credit card info, know that if you don't completely read the terms and cancel when you should, you are more or less giving that company permission to charge your credit card.
Yes, a simple shipping fee or a dollar trial can turn out to be more like 70 bucks within 14 days. Please research each offer before you complete them.
What Did I Do Next
---
---
I read their Q and A and Terms to see what was really going on. When I read their terms, I noticed that in their terms it said you would need to sign up, get approved for some sort of membership or free trial when applicable.
I didn't read much about mystery/secret shopping in SJ's site. That was a red flag for me. I then went to their Q and A section to get a better idea of what is going on.
SJ's first question in their Q and A section was, what is shopping Jobs? When I read the answer, I didn't really read anything that completely said it was about mystery/secret shopping.
The first sentence Said in quotes "ShoppingJobs is an Internet site that compensates its members to test out products, services and give feedback on those tested"
If you watched the video on SJ's site and are familiar with mystery shopping, then you know how mystery shopping works.
From what I read in the first sentence in the Q and A section of SJ's site, it is looking more like completing offers.
I Checked Out That Beauty System
---
When I clicked on the link at the top, it turns out to be an offer. It's an offer from Stages Of Beauty and yes you pay $4.99 for the shipping fee, then if you do not cancel within 18 days, you will be charged $69.99.
I Decided To Dig More
---
I went on the net (Internet) and read people's experiences with SJ. I noticed that more people seemed to have trouble getting paid by SJ.
I also read that SJ is more of a place where you will sign up for offers or pretend to apply for something like auto insurance.
The problem with these types of activities is that it's tough to get compensated from sites like SJ.
Companies are in the money-making business, so you gotta look at these offers as another way for companies to make money.
What can happen is that once these third party companies realize they are not getting paid subscribers for these offers, money tends to decrease in your SJ account and it may take quite some time to get paid if ever.
For me, after doing my research about SJ, I decided it's not worth my time.
Why Isn't SJ Worth My Time?
---
Well, SJ isn't completely about Mystery/Secret shopping. They are more like a site similar to Inboxdollars or FusionCash.
InboxDollars and FusionCash allow you to make money in various ways such as:
Watching Videos
Emails
Shopping
Completing offers
Completing surveys
Now, I do FusionCash and Inboxdollars and I Do Not spend my time completing paying offers and surveys because surveys can be time-consuming, and paying offers can end up costing more money if you are not good at being organized to complete these offers.
Now I know for sure InboxDollars and FusionCash will pay you because I've gotten paid by these two sites plenty of times.
I also do not recommend anyone that uses sites like FusionCash and InboxDollars to complete paying offers.
Also sites like Inboxdollars and Fusioncash, you do get compensated without ever completing a paying offer. When I read SJ's terms, I really didn't feel comfortable with their terms.
I also feel like there are plenty of other sites out there that people can do that don't require any offers to be completed to get compensated.
Another point that I want to add is that I personally feel that SJ was a little deceptive when they added that ABC video about mystery/secret shopping.
One last point is that a lot of times with sites like SJ, the money you've made tends to decrease because some of those their party sites may not compensate SJ, meaning you don't get compensated either and it could lead to wasting your time.
Now, If you want to join Shopping Jobs, that's entirely up to you, but for me, I just decided to move on.
All In All
There is a big difference between mystery/secret shopping and completing offers. By becoming a mystery/secret shopper you are evaluating the store, the product, and the customer service plus you get compensated for your work.
As for offers, you can get free products and get compensated if you are good at keeping records and researching.
If you read the fine print above, it could take weeks to get credited for some of these offers.
Not only that, but you also may not get compensated or it may take six to eight weeks for you to get credited.
If one of these third-party sites decides to decline on paying SJ, you don't get compensated which leads to you ending up spending a lot of time trying to complete offers for nothing.
I personally do not recommend that people complete offers because people can really end up spending more time trying to cancel these offers. If you're not careful, you could end getting those surprising charges.
What is your take about Shopping Jobs.com, Tweet me @evelynbaz!
Looking For Ways To Earn From Home?
Check out a list of opportunities!
There are many ways you can earn from home. In this list, you can find other options that can help you make money online. Each opportunity is either earn some extra coins, find work, or start a business. Click the button below to see if any of these options fit your needs.