There is no big secret about this Take Surveys for Cash. The secret is just another ploy to get your money.
I've come across these scams, and there's nothing new about it.
I am writing about this one because I come across similar sites that offer are the same thing.
These types of services get rehashed, causing people to shell out money that they don't need to at all. Let us go over why you shouldn't be shelling out a dime.
I mean, not one penny and not even your email address.
Take the time to read my Take Surveys For Cash review, and I will tell you why there is no need to pay.
Specs About Take Surveys For Cash
---

Product: Take Surveys For Cash
Year: 2011
Free Access: No
Price: $39
Website URL: takesurveysforcash.com
BeginAtZero.com Overall Rating: 0/10
---
The Rundown
What Are Take Surveys For Cash aka TSFC?
It's a database service site.
How does it work?
This service is supposed to teach people how to gain access to high paying surveys.
How Much does it cost?
It starts off at $39, but I've seen as low as $1.99
Who can join?
My Take
There are plenty of sites out there that are the same but have different wording.
I've repeated time and time if surveys were paying like these sites claim we'd all be doing them. Surveys do pay, but nothing like what these sites claim.
What you will be paying for is some database info that you can Google on your own.
I've done reviews on similar services, such as,
Now we got TSFC to add to the list.
I know it won't stop here.
These sites all look the same, it's all the same, and there's nothing new about them.
Why Do They Rehash These Sites?
---
One of the main reasons these sites get rehashed is because surveys seem like the easiest way to make money from home.
By doing surveys, all a person has to do is answer a few questions, and they get paid.
Who wouldn't want some easy money?
I've been looking and reviewing these sites, and I'm sorry to disappoint people, but there is no easy way out.
What these sites will do is put these ridiculous claims on their websites so the site owners can make some easy money.
They don't care if people get ripped off because it's a quick buck.
Then when people realize that no money will get made like what the site claims, then they will rehash a new version.
The Blatant Lying Ad
---
When I read, "discover a weird trick," I knew this guy was lying.
There is no trick.
Jason White is playing Harry Potter games.
That's all the trickery he's doing.
I'm sure Jason White doesn't exist.
What's more, appalling is that he's making up stories so you can buy this (beep).
I don't want to sound harsh, but there are no surveys out there that pay what he says because I've been doing surveys for years and trust me, there is nothing new or high paying about answering a few questions.
---

---
Where Is Jason White's Face?
Whoever this is ain't even showing his face.
Then in the video, he's opening a check in some room.
I don't know about you, but to me, it doesn't even look like a home.
I don't know where this Jason does his surveys, but he did say he does surveys from home.
Where is he opening this check at?
It looks like some sort of cafeteria for me but it sure isn't Starbucks.
There Is No Secret
---

---
Surveys have been around longer than the Internet, and of course, if there were a secret to making some big-time money from answering questions, we'd all know about it by now.
Jason claims that these companies trust him, and whoever is on his "team."
Like I said earlier, I've been doing surveys for a long time, and the way to answer them correctly is by giving your honest opinion. That's the secret right there.
Jason Doesn't Display The Survey Companies
---
I noticed in the video, the only survey company that he shows us is Survey Savvy. Survey Savvy has a two-tier incentive program.
If this so-called Jason refers people to Survey Savvy he will get paid money by his active members.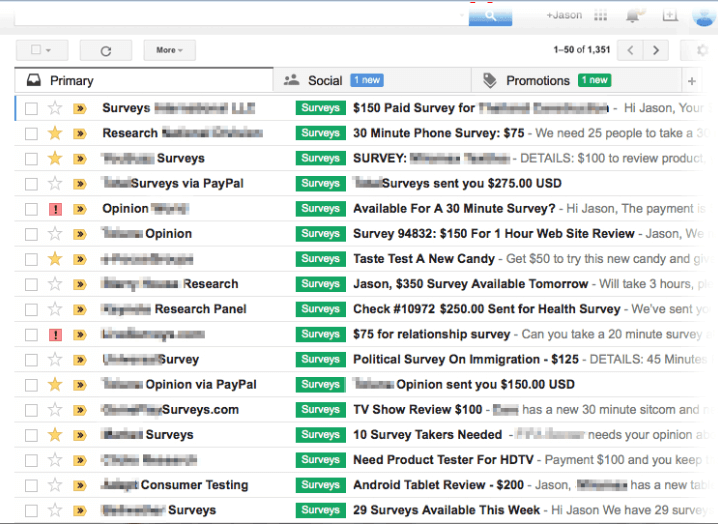 You can go and join Survey Savvy on your own and sign up there. All you have to do is Google it. Other Market Research companies may not allow such a mess on his site. That's why he doesn't display them because they know he's making extremely exaggerated claims.
The Most Blatant Saying That Got Me Upset
---
---
He said he helped make his friends and family millions by doing surveys. I've been doing surveys and yes you can make extra cash doing them. It's been proven time and time again, but millions come on.
Surveys are great for extra cash and rewards. Surveys can eat up a lot of your time. There are surveys that can take from an hour to finish to sometimes 5 minutes and the pay ratio is nothing like what this so-called "Jason" is claiming.
Explanation For Charging
---
---
Why does he have to explain why he's charging people. What bothers me is his reasons are not good enough.
Processing FEE
Advertising and Employees
Finding The Highest Paying Surveys
Let's break this down. We are talking about a name and email address, how hard is that to set up? As for advertising, it's a Clickbank product, anyone could advertise on Clickbank. Yes, Clickbank charges a fee, but what employees does he need?
This fake "Jason" should already know what the high paying surveys are since he's the one who has the "secret" and trust with the survey sites.
The Cost
---
TSFC has different rates. I've seen the prices at $39 and $1.99, and that's a big difference. If this is such a big secret, why is there such a big difference in prices?
---

---
But I Still Want To Try It
---
If I wasn't convinced and you have to try it, which I know some of you out there are inclined to do. Take Surveys For Cash is a Clickbank product, so make sure you keep your receipt, pay through PayPal, and give an email that you rarely use. I also suggest you try it out for $1.99.
These types of products usually have up-sells. What happens is that they will tell you about other money-making crap.
My Experiences With Surveys
---
I've been completing surveys for years. I do make some extra cash with them. I decided to pick the ones I like and enjoy and the ones that don't eat up my time.
Being that surveys are time-consuming and can eat a lot of your time, I decided to seek out other ways to make some extra cash online.
I discovered I can make some good money with a website. That's how I found this service that helped me. They taught me how to build a business from home. I've been doing this for over 4 years now and am making revenue from what I learned.
All In All
You can type in paid surveys in your favorite search engine. You will find a list of them, and you can sign up for FREE.
There is no need to pay $39 or even $1.99.
If you're looking for ways to make money from home, check out this list.
If you're interested in learning how to build a business from home utilizing surveys, I suggest you check out this article.
What is your take about Take Surveys For Cash, Tweet me @evelynbaz!
Looking For Ways To Earn From Home?
Check out a list of opportunities!
There are many ways you can earn from home. In this list, you can find other options that can help you make money online. Each opportunity is either earn some extra coins, find work, or start a business. Click the button below to see if any of these options fit your needs.

We earn a commission if you click this link and make a purchase at no additional cost to you.