There are just some people out there that know how to teach!
Your skills are much needed by helping individuals learn from you, and that is awesome.
When I learned about Teachable, I was impressed with what they offer, along with the future for this service.
Teachable is a great way to start your tutorials and get paid to do it!
In this Teachable review, I'm going to cover what this service is all about, so if you have that need to teach, keep reading because this is another way you can put a price tag on your skills.
Specs About Teachable
---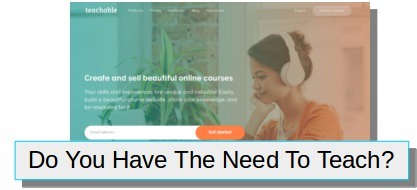 Product Name: Teachable
Year: 2014
Free Access: Yes
Price: Varies
Website URL: teachable.com
BeginAtZero.com Overall Rating: 8/10
---
My Take
---
As you know, I'm all about letting others know about services or products out there that can help people run businesses completely from home.
Teachable is another platform that you can use to your advantage.
If you are knowledgeable in any field, then you can use a platform like Teachable to create courses.
It's a service that I like because they have different plans from free to business.
They give the freedom for people to use their platform to grow their brand.
But before we cover all the goodies that come with teachable, let's start with what their service is all about.
What Is Teachable?
---
Teachable is a platform that allows instructors to implement their knowledge in a school-like setting.
You have the ability to help helps individuals get keen on any particular subject.
When I learned about their service OMG, my mind started to think of all kinds of courses that people can create.
Courses like…!
Learning a new language
Health and fitness
Cool cooking tips
Scrapbooking
Art classes
Sewing
Party planning
Photography
Music
Gardening
Bible Study Courses
These are just examples I listed above.
If you have a skill or knowledge in any field, you can help others by creating courses.
I can't help myself Lol, here are a few more courses like…!
I could see parents like me that have a child with special needs help other parents use picture exchange strategies to help their nonverbal children communicate.
Math and English tutoring courses that help children who are struggling in those areas at school.
Another one I thought of was in the health and fitness area. We all have some kind of fitness equipment in our home that we don't use.
Anyone who is willing to pull out their yoga mat, weights, or equipment such as, Total Gym or Bowflex can easily upload fitness classes.
People who haven't started using those types of equipment now have a reason to.
They can take classes by pulling out that dusty equipment and start using them instead of it sitting in an area in their home as a clothes hanger collecting dust.
As you can see, everyone can benefit from a service like Teachable.
How Much Does It Cost To Start Courses?
---
---
What is cool about Teachable is that you can start courses for free. All you have to do is enter your name, email address, and the name of your school that you want to create.
Then you have an unlimited amount of courses that you can create. If you charge a fee for your courses, Teachable will take a percentage for every course you sell and you keep the rest.
As for their other plans…!
Monthly Plans
Basic $39 per month
Professional $99 per month
Business $499 per month
A lot of people like annual payments because they get it at a discounted rate. The savings for the yearly plans are quite good.
Annual Plans
Basic $348 annually discount equals $29 per month
Professional $948 annually discount equals $79 per month
Business $5,985 annually discount equals $399 per month
Now, I found a video that I really like.
This person really did an excellent job explaining the benefits of Teachable.
She even compared a similar service called Udemy along with price points that you will find beneficial.
Whatever plan you decided to use is up to you.
Teachable Downloadable Guides
---
If you are new to making money through courses, Teachable also provide guides that can help you start off on the right foot.
The Ultimate Guide to Launching Your Online Course
Download the "7-Steps to Launch Your Own Profitable Online Course" Cheatsheet!
Teachable's Ultimate Email Marketing Guide (Examples + Templates)
List Building 101 Guide: How to Rapidly Build an Email List
These guides will help you market your courses so you can obtain more students.
Other Marketing Strategies That Can Help Rake In More Revenue
---
I always recommend that people start off with a website and branch out. There are some individuals who may already have a website and some of you are just getting started.
The reason why I recommend a website is because that is your home base. A website is where people can find your brand.
There are many ways you can branch out after you have a website in place.
To give you examples, you are able to add an autoresponder to build your email list and you can market your classes on your own website that directs them to your courses on Teachable's platform.
A service like Wealthy Affiliate will help you expand your viewers. They have excellent training courses that you can utilize.
Their training techniques are for affiliate marketing, however being that your courses are your subject or should I say your niche, you can easily direct users who read your website to your courses.
Believe me, if you follow the excellent training courses that Wealthy Affiliate provides, you can obtain great traffic on your website through SEO alone.
I'm Starting From Scratch, How Long Is It Going To Take To See Results?
---
Actually, I'm not going to sugar coat anything just to convince you to join anything.
You are building a business and with any business you build, it is going to take time to grow. People have this misconception in regard to the Internet and their growth.
There are some people who think that once you publish your first anything the whole world is going to see it right away. That is a misconception.
With any seed you plant, YOU have to water it to make it grow. That means you have to consistently work at it.
If you can continue to do that, results will come. Your results will be gradual growth. It could take six months or longer to see your first revenue.
It took me six months to see my first revenue and with consistency, I saw a gradual growth.
Other Pretty Cool Info That You Want To Know
---
Note: Some of these features are only available on certain plans.
You own all your data and if you were to leave teachable you can move your info to wherever you see fit.
You can purchase your own domain name and use it on Teachable's website or you can use their free domain name (yourschool.teachable.com).
Teachable handles all the transaction fees so you don't have to worry about all that stuff.
You are able to decide what price point you want for each class you create.
If you have affiliates promoting your courses, Teachable can handle all the payments for you.
Support is available if you have questions.
Teachable can handle payments you don't need a separate payment processor.
You can use coupon codes for your courses.
Teachable offers drip content for your courses.
They have webinars to help you set up courses from time to time.
You can add quizzes to your courses.
The Bad Side To Teachable
---
With all this raving I did about Teachable, you're probably wondering about the bad side.
The biggest complaint that instructors have is that with Udemy, people can search for courses on their website. Teachable doesn't have that feature leading instructors to market their own courses.
All In All
If you have the need to teach, Teachable is able to allow you to create courses and make money doing it through their platform.
They offer different price points depending on your individual needs.
There are some cool features that you don't have to worry about like payment processing.
The downside to teachable is that instructors do have to market their courses themselves. Even though you can get free guides, you may want to consider your own website that can help you grow your individual school.
If you are ready to begin using the Teachable platform, I recommend you start here!
What is your take about Teachable, Tweet me @evelynbaz!

We earn a commission if you click this link and make a purchase at no additional cost to you.