I was chatting with a friend of mine and the person told me about a pink postcard they got in the mail.
Luckily my friend watched the news and found out that these postcards that are being sent out were a scam.
What my friend did was ripped up the postcard and threw it away.
I don't blame my friend for taking the action of throwing that postcard away, but I told my friend, What! if you could obtain the postcard, I would be happy to blog about the scam.
On my website, I normally don't blog about these types of scams, but I felt it was too close to home.
If my friend got the card, I'm sure there are a ton of people getting the same junk in the mail.
Luckily, my friend was able to retrieve the postcard.
I do apologize for it being torn, but you can get the general idea of what this scam is all about.
What Was On This Pink Postcard
---
Apparently, it came from a place called The Center For Back Pain.
The card stated that my friend was eligible for a back pain support system.
When I read the "back pain support system", that sounded a little shady to me.
No massages no nothing, just some sort of support. My back hurts sometimes too and a massage sounds more legit than some sort of support system, Lol.
The postcard really didn't have much transparency on who these people are. The postcard didn't have a website or even a return address.
The postcard did have a phone number and some sort of release code, but for me, a telephone number isn't much and some sort of release code really doesn't mean anything.
If you look at the Hospira review I did, they also emailed people with some bogus code.
Sometimes scams use some sort of code number to make what they are doing appear legit.
What I Did
---
I decided to look online to see what was out there once I was able to look at my friend's postcard.
When I Googled "The Center for Back Pain Scam", there were a number of results warning people about the scam.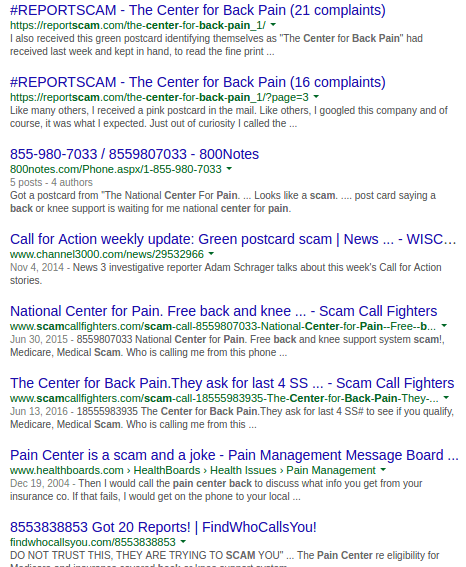 ---
It turns out that these scammers are sending different color postcards along with different phone numbers.
I read a comment where someone got the exact same color postcard as my friend, plus the phone number was the same.

It's always a good idea to do some research first when you receive some sort of mail that interests you.
What Is The Scam
---
I thought that AARP wrote a great article about how these scams work.
Apparently from what I research, what seems to be going on is that these scammers are either looking to fraud Medicare or do some sort of identity theft.
These scammers could be doing both so please don't be so open in giving out any personal info about yourself especially over the phone.
What Should You Do
---
I believe you should research first to see what is going on.
Once you find out that what you got is really not legit, spread the word is not a bad idea.
You can do something simple like leaving a comment on a website that pertains to the fraud.
You can report the scam to Medicare. They have a website just for Medicare fraud.
You don't want to contact anyone that isn't really transparent with you when they want you to contact them and here is why,
By you calling that number, you are actually giving these scammers some info about you.
Believe it or not, even your phone number could be of value to them.
Yes, it may only be a simple telephone number that they were able to obtain, but a simple phone number can be researched.
Not only that, these scammers know that they are getting results in what they are doing by you contacting them.
I want you to think about it like this, one spark can lead to a fire.
What I mean by this spark is that if a number of people are contacting and giving these scammers info, by obtaining your info you are giving them exactly what they want.
The spark just ignited the flame and now more people are more likely going to get these postcards in the mail until people get hip to their game.
These scams could be selling your info, even your phone number to some sort of research company. You may not have authorized anyone to sell your info, but why would they care!
Anyone who tends to fraud people really don't care about the law.
How To Best Defend Yourself
---
The best way to defend yourself is to avoid contacting them.
Avoid giving out any info that these scammers want you to do in return.
Let these scammers waste their time and money sending out these postcards without any return info. If they get no response, the scammers get nothing.
The no response defense is actually throwing water on the flame.
There Are A Number Of Postcard Scams
---
I've done a review of the business opportunity postcard.
It turns out that there are a number of these types of postcards being sent to people.
Don't be surprised if you receive postcards such as,
Sweepstakes Scam
Business Opportunities Scam
Travel Scam
Medical Scam
Gas Scams
Gift Card Scam
Benefits Scam
Each postcard agenda may not be exactly the same, but the goal is for the scammers to make money one way or another.
All In All
It's always a good idea to have your guard up when you receive something that seems a little appealing.
Your best defense is to avoid responding to these scams.
I know that it can be tempting, but doing your research without contacting them is really helping not only you out but your neighbors.
Spread the word, is also another good defense. If you let others know what is going on, people are more likely not going to respond if they know it's a scam.
What is your take about The Center For Back Pain Postcards, Tweet me @evelynbaz!
Plant, Water, and Believe!
Keep faith in what you're doing.
Inspiration can be a turning point in your life. Click the link below if you need a little kick in the butt to start your journey.

We earn a commission if you click this link and make a purchase at no additional cost to you.