The Millionaire Maker is a remake of a review I did not too long ago.
It's the same program where they want people to do Binary Trading.
Binary Trading is all over the net.
If this is your first time coming across it, don't be surprised if you see another ad soon.
Before you think about venturing into something like this, don't believe you are going to make the kind of money what theses Binary Trading software offers claim.
It is additional bait to get beta testers.
A lot of people have lost a lot of money quickly.
I'm talking about in the thousands.
I guess that's why you see a lot of marketers trying to get people to do Binary Trading.
Please take the time to read my The Millionaires Maker review before you venture into this.
I want you to think about it.
I hate to read stories about how people lost so much money at the drop of a hat.
Specs About The Millionaires Maker
---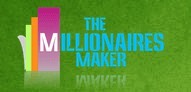 Product Name: The Millionaires Maker
Year: 2015
Free Access: Yes
Price: Starting price $250
Website URL: themillionairesmaker.com
BeginAtZero.com Overall Rating: 0/10
---
The Rundown
What is The Millionaires Maker aka TMM?
It's a service that provides you with predictable software for Binary Trading.
How does it work?
The software supposedly predicts the outcome of a trade. It is supposed to increase your chances of making money rapidly.
How much does it cost?
Requirements to join?
Anyone 18 years or older
Globally
My Take
When I saw this offer it looks extremely similar to another review I did about Self-Made Millionaire, even the ad is very similar.
I'm assuming that these ads are coming from the same marketers, but I could be wrong.
If you never heard of Binary Trading before, it's where you make a prediction on the market.
If you think about the roulette table where you place a bet on black or red, that's pretty much what you're doing with Binary Trading.
You get a 50/50 shot of predicting the correct answer.
How To Get Started?
---
What they do is try to get people to become a beta tester.
Being a beta tester for this program you don't risk anything until you start investing your own money.
Binary Trading minimum deposits are between $200 to $250.
From there, you have the option to predict what the outcome would be.
Binary Trading Is Risky
---
I came across a video that was preaching what I've been preaching.
Okay, I looked at the date of the video and he started first, Lol.
My words can only go so far, just listen to the video and then think about it.
Don't mess around with giving your most sensitive info to people you don't know.
Can You Make Money With Binary Trading?
---
Of course, you can, just like when you bet on the red and black on a roulette table, you gotta 50/50 shot.
Here's the thing, if you're thinking about trying Binary Trading learn about how it works first.
I suggest people don't just dive right into it without knowing what you're getting into because you can lose a lot of money quickly.
People say there are strategies to Binary Trading but, Just like what was stated in that video above, people can lose a lot of money.
I want you to think about this too, people have strategies when they gamble too.
If you play Blackjack, you're not going to hit on 17 or higher unless you know how to count cards.
Everyone has their own strategies, but there is luck involved as well.
What Am I Getting At
---
No software online can predict your trading.
What would help is to learn strategies to figure out if trading is even worth your time?
Another point I want people to consider is the addiction aspect of Binary Trading.
Being that it's very similar to gambling, people can get addicted and end up in financial ruin.
When You Come Across A Site Like TMM
---
When you come across sites like TMM aka The Millionaires Maker, it's good to look for red flags. Here are some red flags!
---
When you see as seen on, you can't even click them, most sites that were featured on anything will allow you to click the logo and it will take you to the featured article or video.
Giving out your phone number is not a good idea.
This can lead to phone calls.
Getting phone calls can lead to up-sells and brokers telling you money-making stories like blah, blah, blah.
They also claim it's easy and you don't have to put in a lot of time.
All you need is 30 minutes a day. I'm going to state this, yes you can make money in 30 minutes, but they didn't tell you that you can also lose money in 30 minutes just as fast.
They even state in their disclaimer that it takes hard work.
Do you think 30 minutes a day will cut it?
The testimonials are examples, but not really realistic results are what they are saying more or less.
These ads make it seem like people would be making lots of money very quickly, but it takes time and work.
When you see images like these, click on them.
If they don't work it's bogus.
Where is the trust when these buttons that don't work?
All In All
Making money from home takes time and work. There is no easy way out. I've stated this numerous times in my reviews, if these systems work, we'd all be doing it.
It's entirely up to you if you want to join something like this, but I really recommend doing your research and finding services that have an honest approach from the get-go.
If Binary Trading is not your thing, I would suggest you check out what a hero site looks like.
This is a service that has been helping people build their own business online for over 11 years now. You can check them out without even giving out your Credit Info and phone number.
What is your take about The Millionaires Maker, Tweet me @evelynbaz!