The Now Lifestyle is an MLM business designed around the health and wellness industry.
You are not just purchasing vitamins or diet pill supplements, their product is structured around more in a health, fitness, and lifestyle regimen.
If you look at the business part of Now Lifestyle, they offer a way to make money from home.
So now you are not just getting a health and wellness regimen, you have the option to make money with your own home business.
In this Now Lifestyle review, I will cover their confusing price points, comp plan, concerns, along with can it lift your lifestyle.
Specs About Now Lifestyle
---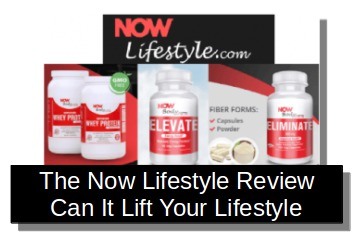 Product Name: Now Lifestyle
Year: 2015
Free Access: Yes
Price: Starts off at $19.97
Website URL: nowlifestyle.net
BeginAtZero.com Overall Rating: 5/10
---
My Take
I want to start off by saying, I'm not into the whole MLM thing because of the downline thing, the confusing comp plan thing, and how you need to be in a good team thing.
I feel that making money through a business should be as simplistic as possible. In other words, I get paid an amount of money for the sales I obtain.
I feel that it gets more confusing when you need to get 3 so-and-so and if those 3 so-and-so pays a certain amount of money within a short amount of time then I could make this amount of money.
Then if that 3 so-and-so each get 3 so-and-so and pays a certain amount of money within a short time period, then you could make this amount of money.
And it goes on and on until you reach the entire world. Not only that, but teams are also involved in the MLM or network marketing field that limits the number of people you can recruit. So those 3 so-and-so diminishes the opportunity.
Now that we covered why I'm not into the MLM thing, it doesn't mean you're afraid of the challenge.
NLS (Now Lifestyle) might be an opportunity that got you amped up so we will get right into what is involved.
Now Lifestyle's Healthy And Wellness Products
---

---
Protein Powder vanilla and chocolate flavor
Elevate energy booster
Eliminate natural fiber
Your own workout video library
Customized nutrition plan
Diet plan and coaching
Education on exercise and Nutrition
Accountability plan
Now Lifestyle Marketing Tools
Autoresponders
Lead Capture pages
Video templates
Email system
Done For You Reseller Program
Lead Capture system
Banner Ads
Sale page
Email
Blog articles
Conference room invite system
Bi-Weekly live training
As you can see, you are getting not just health products to recruit and sell, you're getting everything needed to recruit and sell even a health routine.
With any business you're building, investments are needed. So we will now cover the investments.
How Much Is This Going To Cost?
---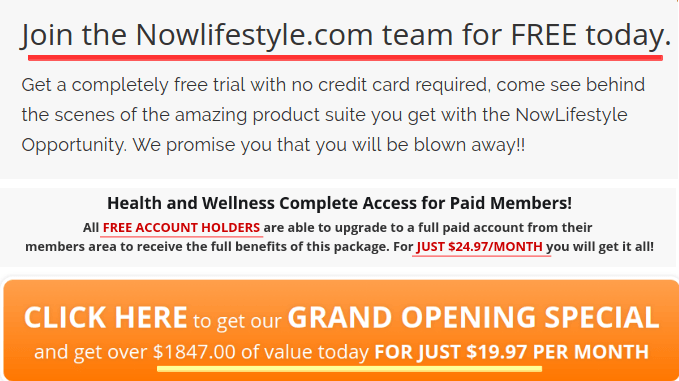 ---
I must say I was a bit confused about the price points because there are specials going on.
One part of their website I see a free trial. Then there is another part of their website that says the grand opening sale value at $1,847.00 for $19.97 a month. Finally, on another page of their website, I found out that they charge $24.97 a month.
In other words, you can start off for free. Then when you arrive inside their member's area you have that option to pay the $24.97 a month fee. I'm assuming that the $19.97 monthly fee is for the reseller rights.
For anyone who might be interested, the price is confusing because it is an MLM business and the price points go hand in hand in regards to the comp plan which we will get in to next.
It gets confusing because you want to know what you are getting paid if you decide to sell products and recruit others into the system before you join even if it's free to get started.
I think it is great to check out services for free.
I get it that people want to help people in the health industry and knowing what the fees are in a more laid out fashion is only going to help everyone.
With CTFO, it is free to join, however, they also show their prices for their products and how their comp plans work in a more simple layout.
People want the math to add up because comp plans in the MLM industry are difficult to explain and it complicates everything even further when there are no solid prices.
Now It's Time For If So-And-So AKA The Comp Plan
---
The Now Lifestyle has three parts to their comp plan.
Membership Subscription
Binary Compensation plan
NowLifeStyle University
Membership subscriptions and direct sales comp plan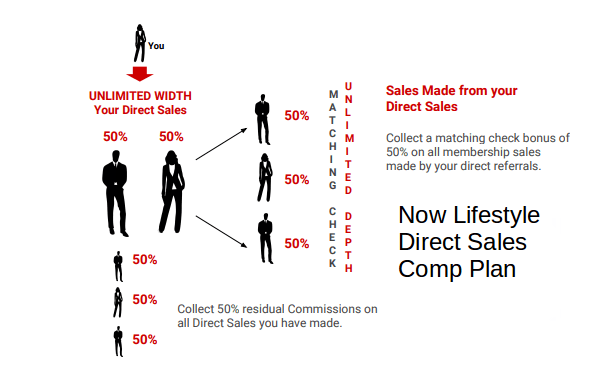 The way Now Lifestyle comp plan work if you purchase the reseller program, you get 50% commissions on direct sales. If you are able to recruit new members, you make 50% commissions on direct referrals.
Again, I don't know the price points, since specials and free is going on so it's based on a scenario.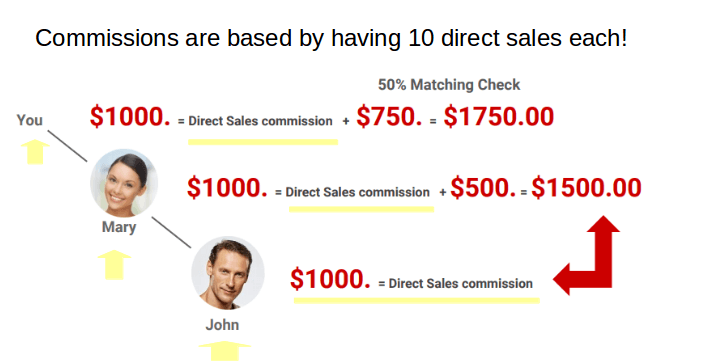 As you can see in the image above, they use a $1000 scenario based on 10 direct sales.
Binary Comp Plan

The binary tree is based on you getting two people in. You are at the top and two people below you. One person to your left and another one to your right.
There are some rules to qualify and get paid. It's based on active members in the binary system.
You have to at least enroll one new member a month up to 6 members. On a good note, if you can get them in all at once and you are done.
In addition, if you obtain additional members they recommend that you place each new member in their system in the outer right and left leg. The people you recruit place their new members in the empty spaces.
If you get more members into the Binary Matrix Tree, it can end up spilling over and people can make free commissions without placing members into the Binary Matrix Tree.
If one person drops out, you must replace that member in order to get paid the following month.
This Binary matrix plan starts off by paying a low rate, but as your tree grows, there is supposed to be potential to make a substantial amount of money if you are able to maintain your tree.
The Final Comp plan is Now Lifestyle University
There are additional fees for other training materials.
Email marketing mastery: price $497
Nowbody Certification: price $2997
Now Lifestyle seminar retreat: price $14,997
If you were to sell the email marketing mastery, you make 50% commission on each sale and 5% commissions on the first tier.
Nowbody Certification pays 50% commission on each sale and 5% commissions on your first and second tier.
Now Lifestyle seminar retreat pays 50% commission on each sale and 5% commission on your first and second tier.
The mastery package is all three Now lifestyle University. It doesn't say you get a discount if you were to purchase all three packages at once.
If you add up all three NLSU together, you're looking at $18,491 out of your pocket.
I know no one wants to drop nearly 20 grand and get nothing for what they pay for. What you are paying for is…!
Email Marking Mastery: The course teaches the fundamentals of email marketing and how to be an effective email marketer.
Nowbody Certification will help you get certified as a trainer with Now Lifestyles.
Now Lifestyle is a retreat to Cabo San Lucas. You will pay for a 7-day training course along with guest speakers.
---

---
They also recommend that you purchase all three in order to get paid. If you don't purchase all three and you recruit someone who does, the commission will pass you and will go to your upline whomever that might be.
Can Now Lifestyle Lift Your Life?
---
Even though I'm not into the whole MLM thing, I'm not saying that a health regimen and a way to make income won't lift your life. Of Course, it can if it gets you in a better position than you were in before.
I will even Amen a statement that the owner Joel Therien made on his website and I'm going to quote him.
Amen To This Statement!
"Our outer shell, is a direct reflection of who we are internal. Nowlifestyle.com is about fixing that outer shell and spiritual inner being through positive re-enforcement, education, exercise, and being surrounded by people who lift you up rather than bring you down."
If you get lifted up and feel you're in a great positive position then Now Lifestyle is lifting your life.
But I do have some concerns. I don't want to be the Debbie Downer here, but I feel that people should be informed.
My Concerns
---
I have two concerns. The first concern is the price for the New Lifestyle University.
$18,491 is pretty steep. I get it that you are getting a vacation and other products and services, but people should not feel pressured into purchasing costly products and services.
I personally feel when they say if you don't purchase the NLSU, sales made goes to your upline.
I want you to think about how many people are really going to pay $18,491. I recommend NOT putting yourself in debt because it takes time and effort to build a business.
Not only that, but you do also the hard work getting people to pay and I really feel it is unfair for members to miss out on commissions based on seller rights.
So what they are saying is that you can sell it, sure sell NLSU's packages, you have the right to sell it, but since you didn't buy, YOU don't make the money!
---
My second concern is that Joel Therien is the owner of Pure Leverage, GVO, and Now Lifestyle.
My concerns are based on my finding and reviews I've done in the past.
If you find value and you're doing great with Now Lifestyle then I'm happy for you. So I'm just going to get right to it.
When I wrote my review in regards to The Email Syndicate, people who wrote comments on my site indicated that Joel Therien from GVO is involved.
Some people found that Joel Therien is a great guy and was surprised to have anything to do with The Email Syndicate.
---
---
I don't know if GVO still has ties with The Email Syndicate, but from what I found today, it appears to be so.
If you are unfamiliar with GVO they are mainly a hosting company and offer other products such as email marketing tools.
If you look at the image above, it shows right there that GVO has ties with The Email Syndicate.
As For The Email Syndicate, they haven't paid anyone that I came across.
The Email Syndicate business model, in a nutshell, is that they pay people to process emails.
If you look at this info here that is public record, it doesn't say that Joel owns The Email Syndicate but I'm assuming he has ties with TES.
Why Is The Email Syndicate A Concern?
---
It is a concern because anyone who joined The Email Syndicate may feel duped by Joel Therien because of their ties. You may come across people as potential clients who felt they have given enough money to GVO.
Being that people didn't get paid through The Email Syndicate and paid a monthly fee to GVO, anything that Joel has to offer may not be trustworthy to them.
I can't say that Joel resolved the issue, but like I just said, it appears they still have ties to this day.
If you have concerns and since you are able to join Now Lifestyle for free without placing your credit card, it doesn't hurt to ask.
All In All
I like the fact that people are able to check out anything for free.
I do find that Now Lifestyle should lay out their prices in a more structured manner because MLM/Network Marketing comp plans are based on price points.
Some people would like to know about prices before they place any info about themselves.
Not only that, anyone who lands on their opportunity and wants to look at their website for themselves will get a clear picture of prices and opportunities.
Also, you can end up shelling out nearly 20 grand along with a monthly fee and people don't know this because it's not on their website.
I was involved in my share of network marketing/MLM and you can have all the marketing tools you want, some people like me are just going to say NO or make those yeah but excuses.
I've also been inside the social media platform as well to get potential sales in the MLM industry. My advice to you is to find a GOOD Team. It will help with those spillovers and help you get involved with like-minded people.
What is your take about Now Lifestyle, Tweet me @evelynbaz!
No Friends And Family
I learned that you don't have to bug your friends and family to make money with your home business.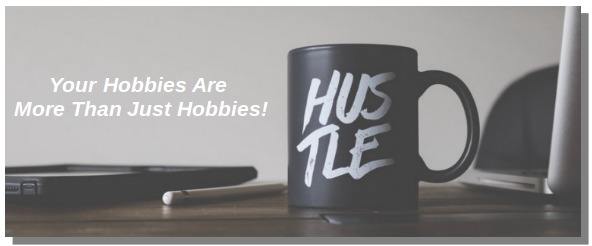 We earn a commission if you click this link and make a purchase at no additional cost to you.