When I looked into SFE it has that familiar feel in regards to those high ticketed sales tier business models.
I get it that the larger amount of money you make the bigger your bank account can get.
I see why people may gear towards those high ticketed sales.
You get that one lucky sale then you have a nice commission.
I want you to know that I'm not against high ticketed sales at all and that is why people sell expensive homes and cars for a living.
However, real estate agents and car salesmen have products to sell.
So, in this Six Figure Empire review, I'm going to cover their comp plan, sales funnels, concerning info and what does momma gotta do with it.
Specs About Six Figure Empire
---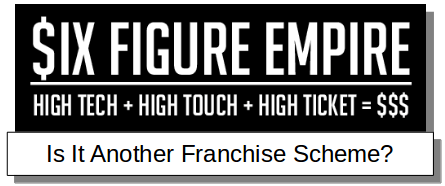 Product Name: Six Figure Empire
Year: 2016
Free Access: No
Price: Varies, Monthly fee starts at $29.97
Website URL: sixfigureempire.com
BeginAtZero.com Overall Rating: 4/10
---
My Take
In the digital world, we come across a lot of ways to make money from home.
Making money from home is a reality for a lot of people. It's a great way to be with your family and bring home the bacon.
I always say this that the investments you make shouldn't be taken lightly especially when it's gearing towards high ticketed products that they want you to get in on.
There were similar high ticketed systems out there that the FTC has taken action against.
The reason the FTC took action against those services because of what really goes on after people join these types of opportunities.
So with that being said, we will get right to this.
What Is The Six Figure Empire?
---
Six-Figure Empire is a service that includes digital marketing tools to get you to sell the exact same system.
So in other words, you use one of their marketing level tools like placing ads in classified sites and if someone invest in the system, you make a commission.
Then the person who joined through you will get the exact same system to try and do the exact same thing.
The Six Figure Empire Price Tag
---
Being that it is a hight ticketed sales system it is not an inexpensive price tag and all sales are final, there are no refunds.
$29.97 a month for the licensing fee.
There are levels that you are able to purchase at a one time fee.
Level 1 is a phone funnel priced at $1,250
Level 2 is the fishing pond priced at $3,750
Level 3 is M.T.V.S. priced at $6,250
You Are In The System
---
That is how their system is designed, their system is designed to get you to pay for that monthly fee and one of their levels.
It is one of those tier business models similar to MOBE and Digital Altitude that the FTC has taken action against.
If you are just start off and pay the $29.97 a month, you won't be able to make money with their system. The $29.97 a month is for their licensing fee.
Each Level offers what they call an automated system. So if you were to put your name, phone number, and email into their system, you are in their system. You will receive a text message, an email, and a phone call.
I get it that we all are put into a system when we place our info. You just gotta know that some systems sell your info and cause unwanted robocalls and spam.
What Are You Paying For If You Purchase One Of The Levels
---
You are able to purchase leads through their lead zone.
20 1 page funnel cost $30
50 1 page funnel cost $65
100 1 page funnel cost $99
The Phone Funnel priced at $1,250 is where you are able to use an SMS communication. It is a texting funnel.
The one they call the popular funnel is the Fishing Pond. You get access to leads. This one again costs. $3,750.
Biz Opp leads
email leads
aged leads
genealogy leads
payday loan leads
survey leads
mobile leads
What is shocking is they have a lead system that uses a list from people who joined Digital Altitude.
If you don't know what Digital Altitude is, it's a top tier business model that pretty much copied MOBE's system.
Like I just said, both systems the FTC has taken action against.
I don't know about you, but if I spent a lot of money on the Digital Altitude system that the FTC has taken action against, and when someone contacts me with a similar system asking me to join, I would be like hell to the NOOOO!!!
People paid a lot of money trying to make money using Digital Altitude's system yet someone from Six Figure Empire has the audacity to ask someone to join another top tier system and risk losing more money!
I guess all I can say to that is to each their own.
The other lead system is called the M.T.V.S. stands for a massive transformation value system.
There are a number of videos and audios that are supposed to help you make big-time money through social media.
So if you were to pay for one of these levels, you make commissions on the level you purchased.
If you didn't purchase that level, you don't make the commissions.
So now let's get into their comp plan.
The Six Figure Empire Comp Plan
---
You are able to receive payments the way you like. If you want someone to Western Union you $5,000, you can.
Me being the type of person who believes in good quality receipts, I recommend you have a paper trail.
I believe before you join any opportunity, you shouldn't take it lightly and it should be a serious decision.
Also, even though there are no refunds that don't mean you can't get a refund.
By stating a refund, I also am not guaranteeing you a refund by using a good quality paper trail like a credit card or PayPal transaction, however, good quality paper trails help your case.
Not only that, if for some reason something were to happen, if you use a credit card transaction, but the credit card company may also help you get your money back, so that is the info you should know!
Once you send that cash through Western Union, you are gonna have a heck of a time trying to obtain a refund.
I want to make what I just said clear because sometimes people do things where people are explaining to them what they should do and it sounded reasonable at the time, like using western union to make a "business" transaction…!
However, if they used their credit card and the charges are over $50, the credit card company will help you dispute the charges.
Again I wanted to state the western union info because it's part of their comp plan in a transaction form.
Their comp plan design is pretty simple. It is the most simple comp plan design I came across.
It's an 80/20 comp plan.
So the way their comp plan works is two levels deep. So it's you and the people you bring into the system.
If you were to bring a person into their system and the person you brought into the system makes a commission on let's use their popular level the fishing pond at $3,750, the person you brought in make $3,000 and you being the upline makes a $750 commission.
That is pretty much how their comp plan works.
As long as you keep raking in people and the people you rake in keep raking in people, money can be made.
What Does Momma Gotta Do With It, Evelyn!
---
As you can see, The Six Figure Empire is a pricey system.
They also have another sales funnel called The Fearless Momma 2.0. At this level, you can get in at $250.
What the Fearless Momma system does is funnel people into the Six Figure Empire. So more or less what momma gotta do with it…!
It is a lower-priced sales funnel.
The way this system work is similar to the Six Figure Empire. If you don't want to level up, you don't have to. You won't make the Six Figure Empire commissions unless you pay for the pricey Six Figure Empire systems.
What You Get for The Fearless Momma 2.0.
---
You get access to 7 modules. One of the ways The Fearless Momma likes to use is placing ads in Craigslist and they recommend you do that.
If you look at the image above, Craigslist layout what violates their terms. You're gonna get flagged if you get caught placing ads in Craigslist.
Why even use Craigslist platform when they prohibit services like The Fearless Momma.
Also, unlike the way Six Figure Empire's comp plan works, 100% commissions go to you which is great.
The concerning part about this whole system, in general, is that there are no products sold outside their system. You have to join the system in order to make money.
Here Is What You Should Consider
---
There are a lot of systems out there that say it's all done for you. The only thing you have to do besides opening your wallet is to market their system.
Despite the fact that they have leads ready for you to start marketing, they have tools for you to use to market because of course, the leads you buy may not be sufficient.
As you can see, you probably ran across Six Figure Empire or The Fearless Momma 2.0 through Craigslist which is prohibited, read a website or saw a YouTube video.
Meaning that maybe this high ticketed level may not be that great and worth the price tag you're paying for, it's a way to obtain more people into their list.
A Franchise Fraud Scheme
---

---
Now that you got the gist of what Six Figure Empire and The Fearless Momma 2.0 is about, you're looking at one of those franchise fraud schemes.
I've written a review about one of those 1Up type systems call the 25 dollar 1Up.
To get the gist of what a franchise fraud scheme is, it's a referral system that they have in place that mainly markets their system.
The profits are not earned through sales of products to the general public but based on selling the whole entire system to people and make profits from it.
All In All
There are many systems out there that have a "product" however, you have to join the system in order to make money with their system.
You are not allowed to sell products outside their system causing people to end up in some type of franchise scheme.
If you look at what The Six Figure Empire has to offer, take into consideration what you will be doing.
If you were thinking of getting involved, you should not make your decision lightly. You should look at all of your options.
Even though people make money with their system, the big winner is the owner because he gets a recurring income from the people who are trying to rake people in.
What is your take about The Six Figure Empire, Tweet me @evelynbaz!

We earn a commission if you click this link and make a purchase at no additional cost to you.