When I reviewed Total Takeover, I've seen videos where people were saying this is the system that will change how people will be doing business online.
Total Takeover business model is nothing new. It's an MLM business.
For $89.95 a month, they have a comp plan that seems reasonable.
When I reviewed what Total Takeover had to offer, to my surprise, I didn't think it will take over your wallet.
I wanted to review this because all these systems are the same.
You find people, recruit them into your downline, and everyone pays, and no money got made.
Will Total Takeover take over the net? In my opinion, I don't think so let me explain why.
Specs About Total Takeover
---

Product Name: Total Takeover
Year: 2014
Free Access: No
Price: $89.95 monthly
Website URL: totaltakeover.com
BeginAtZero.com Overall Rating: 5/10
---
The Rundown
What is Total Takeover aka TTO?
It's an MLM and Matrix business.
How does it work?
TTO is an MLM and Matrix business model that provides motivational training. They also provide services that will help you find more leads to generate more people into TTO.
How much does it cost?
Who can join?
Globally
18 years or older
My Take
These types of systems always stress to get in early, or you won't be making any money.
I don't understand why anyone would want to be involved in the get in the early motto.
What about the people who got in late?
Are these just sales tactics or should you be worried if you got in too late?
In my opinion, when it comes to an MLM business the earlier you're in the more money you can make from your downline.
But there's a catch to that, and that is being on a good team.
I've been researching businesses and services and what I mainly find online is a plethora of businesses and services adding an MLM structure to a product.
I've seen them with
Websites
Hosting
Email Marketing
Vitamins
Beauty Products
Coffee
Alcohol
Gold
Electronics
Domain Names
Affiliate Programs
Clean Products
Motivational
You name it they got it. If you want to be involved in an MLM business, it shouldn't be hard to find one.
I'm not a big fan of downlines and MLM type business models.
Some of them last for years, while others go out of business.
That's what happens to The Total TakeOver by Matthew McMills.
Total TakeOver and The Total TakeOver are two different businesses.
One is over and one is just in pre-launch.
We won't get into details about the failing TTO, it's all about what's launched.
Why I Don't Like MLM
---
If you don't know, I've tried my share of MLM businesses.
I'm sure you ran across some too.
I wrote an article about why MLM is not for me and some of the reasons why.
To give you a quick rundown on why I'm not a fan.
Compensation plans get complicated.
Sometimes they have these strange rules.
Sometimes if you miss something then you don't get paid.
If you have an inactive downline It can collapse.
I'm more into the REAL affiliate programs, where you make a commission if someone pays for something. Keep it simple is my motto. Let's get back to this Total TakeOver program.
What Is TTO
---
TTO is still in pre-launch, what I gathered from the information on their website, is that it's an MLM downline and matrix system. They have 2 comp plans. One is a typical downline and the other is a 2 X 10 Matrix system. You get paid on both plans at the same time. The cost is $89.95 a month.
What you get are materials that are supposed to help people gain more leads to your business. They provide you with
Capture Pages
2 Step Marketing System
Contact Manager
A Training University
Megastar Of Marketing Audio Magazines
The Free
---
TTO has a free membership. I like the fact that they offer a free version since they are in pre-launch. I don't know if it will stay free for long, but it's a way to check out TTO and see what they offer.
There are a lot of members in TTO that are free. There's nothing wrong with checking things out. A lot of the free members probably will sit in limbo or decide it's not for them.
Just because you see or hear about a long list of people, doesn't mean that these members will be in your downline. We all know for a fact that some of these people will not pay the monthly fee, period.
I understand they said to get in before it's too late, but I feel there nothing wrong with waiting. You getting in before it's too late should be another red flag because who knows how far down the barrel your position may be.
In my opinion, when you get involved in these MLM businesses, being on a good team is very important.
Another red flag I noticed with TTO when someone signs up for the free version is that they ask for your phone number.

I found that to be a red flag because you may start getting phone calls that you may not want.
I know for myself when I was involved in the MLM Industry, giving my phone number was one of my first mistakes.
When you get that phone call, this brings a more personal relationship to whoever is calling you. These people who may call you are probably good at what they do.
They probably have good sales tactics to get you to pay when you're not ready. Think about that before you consider trying TTO for FREE.
How Does TTO's Comp Plan Work?
---
The only monthly fee I came across with TTO is $89.95 a month. This comp plan is not going to take over your wallet like some of these other MLM businesses like to charge people.
How it works can get a little complicated, especially if you're new to how the MLM business comp plans work.
On their website, they do state their compensation plan. TTO has 2 comp plans going at the same time.
The first comp plan
First-person, you make $45.
The second person you make $20 and $25 goes to your upline
Third-person you make $45
The fourth person you make $20 and $25 goes to your uplineOnce you have two people that get paid to your upline, the remaining people you bring in as paying members, you get $45.
If one of your downline drops out that was getting a commission on your upline, then one of your $45 signups changes from $45 a month to $20 a month. The remaining $25 goes to your upline.
I hope I didn't confuse you. This is how it can be with the MLM industry. You gotta know what you are getting paid before you join something. I think it's very important to understand how a comp plan works before you decide to pay for any business.
The Second Comp Plan
With TTO, there is no additional cost to be in this matrix system. This matrix system is a 2 X 10 matrix.
You get paid if 2 members in your downline are paying members. You make $2 on the first level. Once you get 2 other members in the matrix, you move up and will be making $4. It keeps going up by 2's until you hit the 10th level.
You have to understand that the people you bring in have to be in your team to be able to make a monthly commission in their matrix system.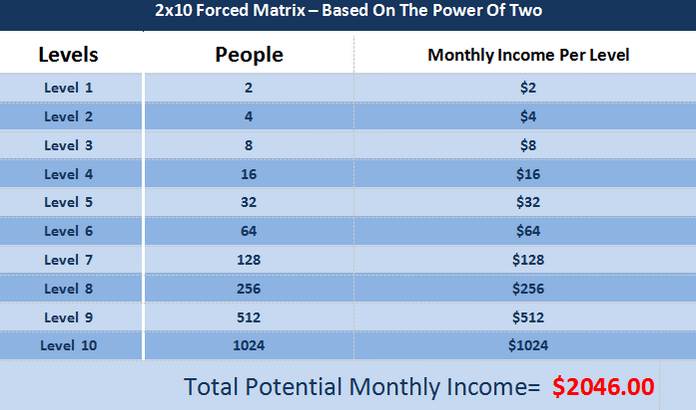 Pro And Cons Of TTO
---
Pros
TTO had some good points
Not Expensive
Free Signups
Training
Cons
What I don't like about TTO
It's an MLM business
They ask for your phone number
Their marketing strategies may not be the best
A lot of free members sitting in limbo
Will TTO Be The Next Takeover?
---
Recruiting people into a business to make money is considered a pyramid scheme.
Nope, these types of matrix business models come and go in the online world. Even though it doesn't break your wallet to get started, it will be very difficult to build.
You also have to be on a great team in order to actually achieve the goals that their comp plan indicated.
All In All
There are just so many companies out there attaching an MLM business to everything. I have seen it all the time when I review services out there on the net. Sometimes MLM businesses are open about the MLM structure, while other times some hide it.
Some people believe in the MLM Industry. If you believe in it, then you should be with a company that you are proud to represent plus the product you're promoting should be the most important part.
I myself am not a fan of it. That's me and there are others out there like myself that will agree. I guess we can say we can agree to disagree.
If you're interested in building a business from home that has no MLM or Matrix structure attached to it, then highly suggest you check out My #1 Heroic Site. I've been with this company for over a year now and this company has been going strong for over 11 years.
What is your take about Total Takeover, Tweet me @evelynbaz!
Looking For Ways To Earn From Home?
Check out a list of opportunities!
There are many ways you can earn from home. In this list, you can find other options that can help you make money online. Each opportunity is either earn some extra coins, find work, or start a business. Click the button below to see if any of these options fit your needs.

We earn a commission if you click this link and make a purchase at no additional cost to you.