If you saw the flashy video similar to others that I reviewed online, did you noticed that they didn't really explain the service that they wanted you to get involved with?
If you hadn't seen the video, the video is mainly a hype you up video.
There are similar types of videos out there floating in the online world that uses the same platform with different messages.
In this UDC System review, I will cover what you should do when you come to a page that doesn't really explain the service they want you to join and the service that is behind UDC System.
Specs About UDC System
---
Product Name: UDC System
Year: 2017
Free Access: No
Price: Starts at $97
Website URL: udcsystem.com
BeginAtZero.com Overall Rating: 2/10
---
The Rundown
What is UDC System?
How does it work?
In order for you to get access to the opportunity, you would have to place your email address and it will lead you to the service that they want you to join. (More or less it's a sales funnel page).
How much does it cost?
To get access is free, however, where they want you to spend your money starts off at $97.
Who can join?
My Take
I just want to say first off, as I was watching the beginning of the video there was music playing.
The music seemed to me kind of like those hypnotic type music.
You know, the type of music that hypes you up and makes you want to take action?
What I mean by the hypnotic part, it all depends on what is on that screen right in front of you as the music is playing.
With UDC System's video, they flashed money and it makes you want money.
What Is UDC System?
---
UDCS stands for the Ultimate Dot Com System. It is is a way to funnel you to a service online. If you landed on the site, it's nothing more than a page with a video that covers an opportunity.
In order to try the opportunity, you would have to enter your email address to get access to see where it would lead you.
What Did The Video Cover?
---
The video starts off with testimonials showing the money people are making within a matter of days or weeks and thanking their coach Mark for helping them (and hypnotic music was playing).
They show a number of screenshots that flashed numbers with dollar signs of thousands among thousands of dollars being made (and hypnotic music was playing).
The video also goes on to say it's an exclusive video. Well, that's all grand, but as I said, the video didn't cover the service you would be a part of.
Anyway, what the video covered was how you would only spend only 35 minutes a day to make that big-time lottery money.
The video claimed that you can make high commissions selling digital products with a 20 step program that requires you to sign a contract.
What I Recommend You Do
---
I always recommend before you ever place your email address on these pages,
X-out and see what happens.
Normally what happens is that you see a pop up that says to wait.
Select stay and see what happens. Then go to the disclaimer and see what you can find out.
I personally feel if you come to a site that really isn't going to name the service that they want you to join, you should have your guard up.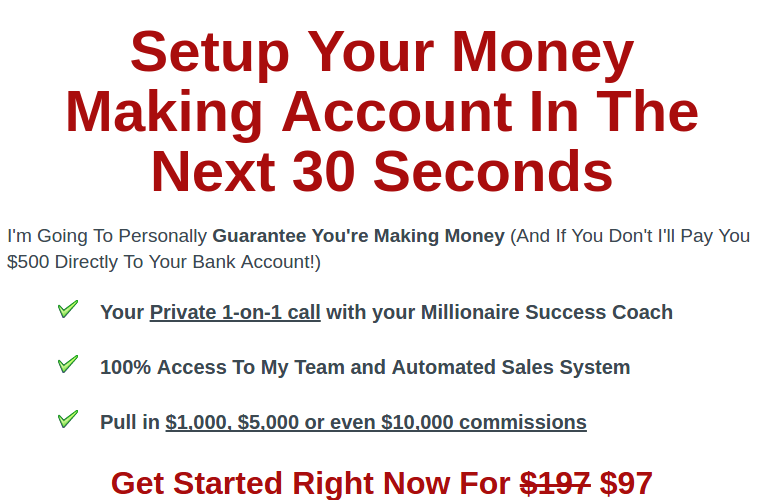 When I X-Out
---
It turns out that the service that they want you to join is MOBE. It was in the Contact Us area and they showed an address as well.
If you did a little digging like me, you'd noticed that the address is a virtual office space.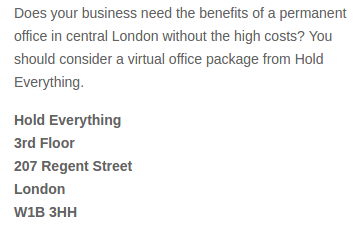 Being that most online businesses are virtual, virtual office space is another alternative to obtain an address.
In my opinion, it's not a bad thing, but it all depends on the intent of the use of virtual office space.
I don't want to give virtual office spaces a bad name, you have to use your own judgment based on what it's intended for.
If you're using a virtual office to hide some sort of money laundering crime then that's a bad thing.
Just like with anything you come across, there's good intentions and bad intentions when an opportunity arises.
Going Back To The Video
---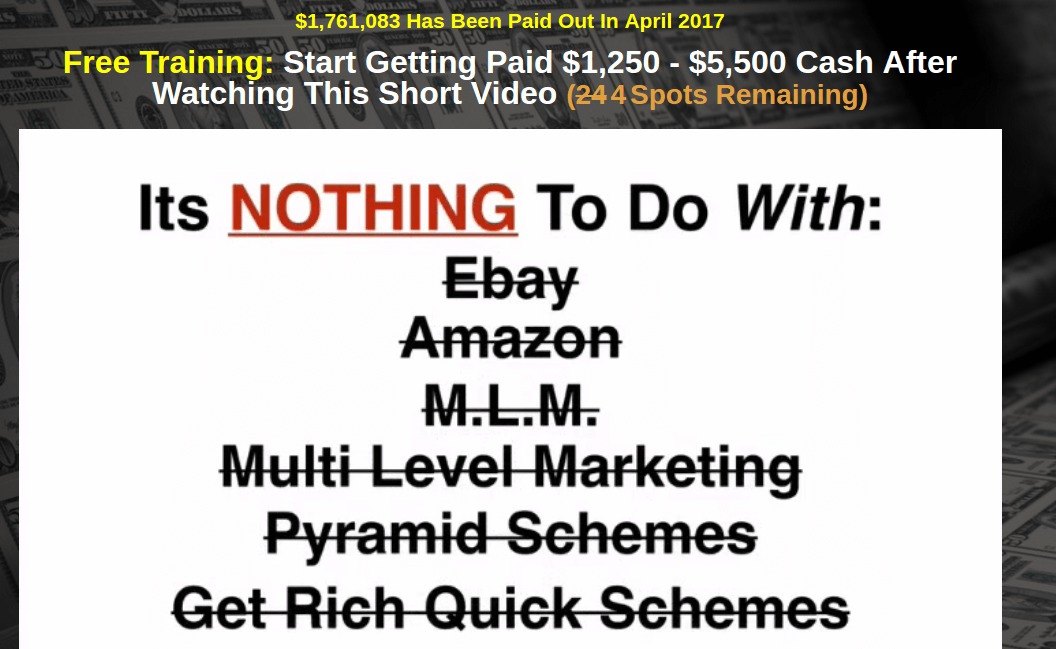 Going back to the video, it explains what you wouldn't be doing,
No eBay
No Amazon
No MLM
No Multi-Level Marketing
No Pyramid Schemes
No Get Rich Quick Schemes
When I saw that I was like wait! Okay, if you saw the video,
The testimonials did say that they were making lots of money within days, weeks, or months.
If you're unfamiliar with MOBE, it's a tier type business that allows you to get paid in two different ways.
One is direct sales of their digital products. The other way is by making 5 percent commissions from your sponsors depending on what level you paid for.
Let's get into MOBE's comp plan so you get an idea of what I'm talking about.
MOBE's Comp Plan
---
Okay, before I do my best to break this down, have you ever seen that show Kitchen Nightmare with Chef Ramsay?
If you hadn't, in a nutshell, a restaurant is nearly bankrupt and Chef Ramsay helps restore restaurants to earn money.
In some of the episodes, some of these restaurants have mega menus. They just have so many food choices on their menu that people appear to be reading books and seem to spend a great deal of time trying to decide on what they want to eat.
Well, MOBE's comp plan is no different. If you don't know the prices of these levels, I will break some of it down,
It starts off with MOBE's consulting program at $19.95 a month.
Silver $2,497 then a monthly fee $27 or yearly at $216
Gold $4,997 then a monthly fee $64 or yearly at $512
Titanium $9,997 then a monthly fee $121 or yearly at $968
Platinum $16,667 then a monthly fee $198 or yearly at $1,584
Diamond $29,997 then a monthly fee $295 or yearly at $2,360
Yeah, I know it seems like your buying some jewelry that you'll never wear, Lol. Just kidding!

MOBE encourages people to start off at the Titanium or higher levels because if you don't, commissions pass you up and go to your upline.
How it works is that if you were to start off in the silver level and sold a titanium level to someone, you do not make the commission, your upline makes that commission.
Now it gets a bit complicated because there are a number of digital products you can sell and commissions are based on what level you decide to pay.
Also, remember that mega menu that I was talking about regarding Chef Ramsay, this is the turning page point, meaning, there are a number of digital products you can sell along with purchasing for yourself.
If you decide to use MOBE's sales team to close the deal, your commissions drop because of course, you're getting a sales team to help you make sales.
You also have the option to close the sale yourself and make the full 50 percent commissions depending on the level you start in.
I'm not listing everything but to get a general idea,
Business Resale License $1,997
Wealth and freedom lifestyle $1,997
Tax liens $997
How to plan a website $497
Inbox Empire $497
JV Mastery $497
21 step program $49
Traffic Generator $197 a month
Internet Marketing Revolution $9.95
Affiliate Bonus $291
How to build a proposal $194
Email Marketing $194
OPT Formula $194
Traffic or leads mastery $297
MOBE licensing kit $297
are just a few.
The main business structure of MOBE is to sell and recruit products to people just like any other Multi-level marketing business structure.
The Down Line
---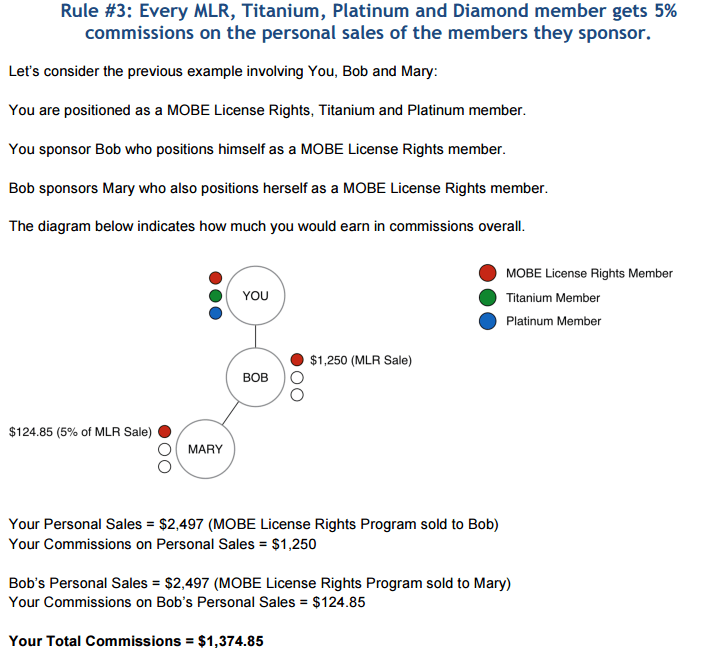 This is where the 5 percent commission comes in to play allowing you to make money on your sponsors.
If you decide to get involved at the Titanium or Platinum level, you can make those 5 percent commissions.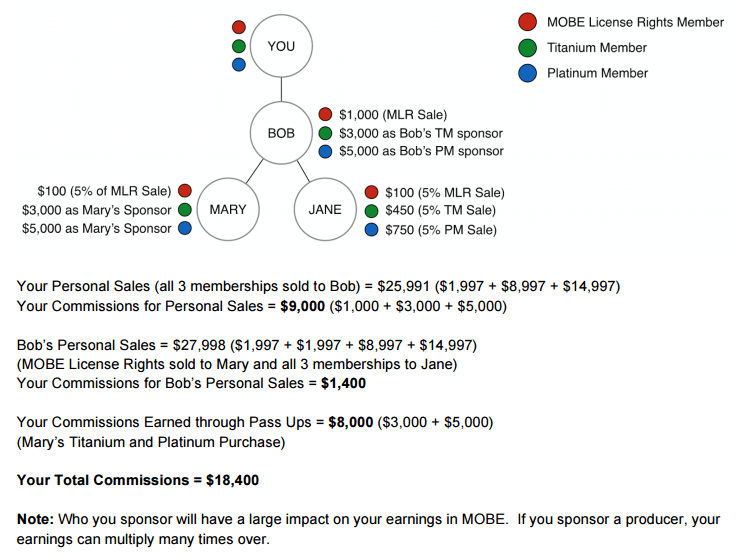 As you can see, the 5 percent commissions are 2 levels deep. It's not a major downline however, you make commissions based on your sponsor's efforts.
I Can't Afford Titanium Or Platinum
---
You have the option to start off small and once you sell 5 products, you're able to move up in the MOBE business.
Yes, you won't get commissions on the products you sold, but at least there is a way for you to move up without spending so much money.
I personally feel that's not right, but that's my opinion. If you sell products and purchase the licensing rights, why can't you make commissions on every level without limitations?
To me, it's kind of like those commissions are a dangling carrot to get people in at the highest level.
Think about it, how many people are really willing to spend more than 25 grand to sell digital products that are not really in high demand.
Just because you see a video of people saying they made 8 grand or 100 grand within a 2 week period time, more than likely it's over-exaggerated.
It's always up to you in what you want to do, but I always say, please stand behind the products you sell.
All In All
UCDS is another way for people to get access to, um yeah. I guess what I'm getting at is that you have to do some digging first before you find out, just like with Steal My System.
I feel that before you even place your email address to get access, find out where it leads to.
If they are not going to tell you, why should you give out your email address?
Think about it like this, you answer your phone and the person on the other line asks to speak to so and so and you ask, who's calling please and they answer back by saying who's this?
You say, no, look,
You called on my phone who are you?
What I mean is, they are out there looking for you so if they CAN NOT state who they are, hang up, meaning click the X out button.
Then what may happen is a pop up may appear that ask you to stay or leave. It's up to you if you'd rather stay if your curiosity is still active or you could just leave.
I personally feel if you have to go to that much depths to find info out who and what you will be doing, maybe you should look elsewhere, that's my opinion though.
Anyways, there are lots of ways to make money from home and if you're completely not into that MLM thing like me, you should check out My #1 Heroic Site.
What is your take about UDC System, Tweet me @evelynbaz!
No Friends And Family
I learned that you don't have to bug your friends and family to make money with your home business.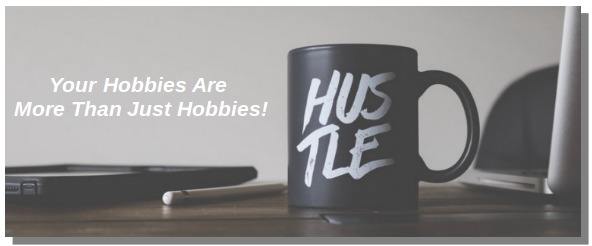 We earn a commission if you click this link and make a purchase at no additional cost to you.