Hey, all I thought I'd do a review about Video Wave and let you know my findings.
I know a lot of people seem excited about an actual service that offers a way to rank well-utilizing video marketing.
With Video Wave they also make money claims that appear to be very appealing to anyone who wants to make money online.
I want you to take the time to read my Video Wave review and at the end of this review, you can decide if their tools are worth it.
Specs About Video Wave
---
Product Name: Video Wave
Year: 2016
Free Access: No
Price: Starts At $57
Website URL: getvideowave.com
BeginAtZero.com Overall Rating: 5/10
---
The Rundown
What is Video Wave AKA VW?
It's an all in one video marketing services.
How does it work?
VW offers four simple steps for users to publish and rank videos at the top of search engines.
How much does it cost?
Who can join?
My Take
If you ever look for ways to make money from home, you may be familiar with a lot of these services online.
You may even find something tempting like VW (Video Wave). You probably have high expectations because of how their service works.
Then when you try it and what seemed to be very appealing turns out not to be what it is cracked up to be.
To give you an example, the four simple steps, Yeah, there are 4 steps to getting a video published, but I know it takes a lot longer than what the sales pitch demonstrated.
The Four Simple Step
---
keyword research
Create an animated video
Syndicate it to sites
Rank high in Google
Countdown Time Demonstration
---
VW's site demonstrated how simple it is to use their system. One of the Partners had a countdown clock of 2 minutes.
The problem I had is that the Partner paused the clock as he was demonstrating how simple their system is to use.
I'm not hating on that because I know he had to explain what he was doing. He did show how simple it is to use, but we all know it's going to take longer than 2 minutes.
In reality, we got to look for a keyword, make the video, which I know takes longer than 2 minutes, then view the video and edit it to our liking.
Even if it takes a few hours to do that, the time put into it is really not that bad. You're taking action to bring value in what you have to offer, so your hours are not wasted towards doing anything.
I must say, all in all, VW didn't hide how their system work, and I really like that.
How Much Does Video Wave Cost?
---

Video Wave even has a double your money back if you're not satisfied.
That's a bold statement. When I see a statement like that, I'm expecting it to work like no other.
They offer the Pro Version and Lite Version and both are a one time fee.
Lite $57.00 for 5 videos
Pro $67.00 for unlimited videos
The price point seems okay to me, but if VW needs to update or add additional animations and more, wouldn't you think they would offer a monthly fee for their pro version?
They didn't explain anything about getting an upgrade.
If someone purchases the Lite Version then they decide to use their pro version, how much does that cost?
It got me thinking that there might be other up-sells down the road because I did notice on their payment page, that they did have the option to check or uncheck to receive other offers.
---

What Is The Problem Mrs. Evelyn?
---
Oh no, Lol, I did research VW because I know people want to make a great investment in a service that they are thinking about purchasing.
On their site, they have screenshots of what ranked online, so I did some research on these screenshots.
Okay, the good news is that their videos did rank online for the keywords that they said in their screenshots.
The testimonials and all that money stuff, I wouldn't really count on that happening to you, we'll get into that a little later.
I've always stated when you come across testimonials you can read them, but don't take them too seriously.
Some sites use fake testimonials. With testimonials, though, if they are true, it's usually about someone who achieved things that are not the usual. I'm not saying it can not happen for you, but nothing could happen either.
From what I've seen and experienced in making money from home is that it comes down to good info and business services for the online business that you want to build.
Anyone can place testimonials and blah, blah, blah info on their site, but what I want to get into is the keyword service, the quality of work, and how VW rank.
The reason why I want to get into keywords and ranking is that people don't realize how important keyword research is along with the quality of info you send out online.
Why Are Keywords And Content So Important?
---
It's important because you don't just want to put info online just to rank. The people viewing your content whether it's a video or an article, people want value in what they are searching for online ie keywords.
If you're just throwing anything out there to rank high, yeah it may work for a little while but down the road, when people don't get value from the content, people leave very quickly.
What Google Wants Is What Google Gets
---
Google knows what is going on and they will start to de-rank info because they want to stay #1.
Imagine if there was a bunch of info online that people really are not interested in reading or viewing that is ranking high in Google.
You know and I know that people would find other resources.
If people are looking for other resources, Google will not be the #1 search engine and another service will.
Do you think Google would want to jeopardize their business because of low-quality info ranking high in Google, heck no!
Back To What I'm Getting At
---
Like I said earlier, I did check out their videos that are ranking high in Google. One video lasts about 30 seconds and it cut off abruptly.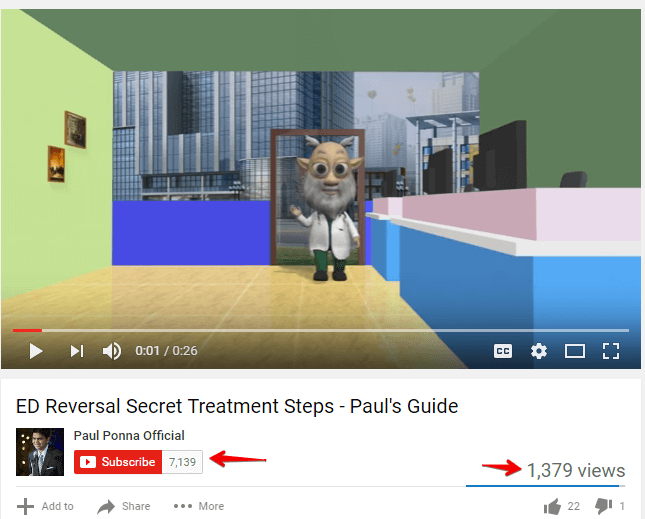 I thought the video content was of low quality. As you can see with the subscribers and the amount viewed on YouTube, there was a big difference. Usually, I would see, a lot fewer subscribers and more views.
From my understanding, the main reason why this would happen is that the content of the video is of low quality and that's how I felt when I viewed the video.
As For Keywords
---
If you don't know what keywords are, in a nutshell, keywords are mainly what people are searching for online.
If you were looking for a certain type of shoe online, you would type (knee-high black boots) and search engines like Google will show you the results.
How I Do Keyword Research
---
Keyword research is so very important, but for me, I choose to choose my battles. This is what I personally do and others may disagree.
For me, sometimes I don't do keyword research on every article I've written. Sometimes I go for a more competitive keyword while other times, I look for a good keyword.
What happens for me, sometimes I get the number 1 spot, but I do my best to bring value to what I'm doing.
Sometimes I hit the first page in Google, other times I might be nowhere to be found on some of my keywords.
My quality of work may not be the best grammatically correct written articles, Lol, but I do my best to get my point across in what I publish online.
So How Does Video Wave Keywords Rank High?
---
When I looked into the keywords that were shown on their ad, they were not competitive keywords.
What I mean by this is that either no one is searching for that keyword which allows it to rank high.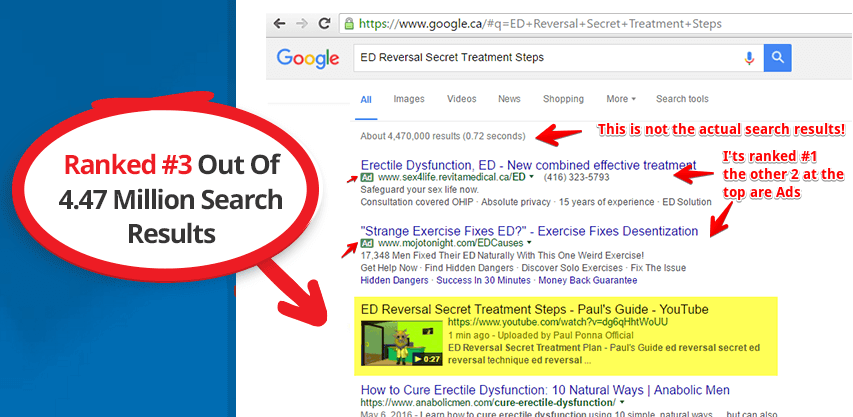 If you look up (ed reversal secret treatment steps), it's ranked #1 in Google. It even ranked high for (ed reversal secret treatment).
The Google search results you see at the top that says about 4 million that is false. I know this because I use a keyword tool for years and I know it's accurate.
---
I know the keyword I use is accurate because when I look at my analytics on keywords, the numbers are not exactly the same, but it shows what I can expect and it's usually correct.
There are exceptions though when a product or service gets popular for some reason and the keyword may get a lot of views.
I personally didn't know what this ED stuff was about until I did some research and it turns out it's about Erectile Dysfunction. Look, I'm a girl so I had no idea what the heck this stuff was about, Lol.
I'm sure a number of you probably haven't thought about ED either unless someone experienced it, came across some sort of ad, or know someone who may have it.
The other keyword I researched was (Red Smoothie Detox Ingredient guide) it was a 29-second video of nothing.
---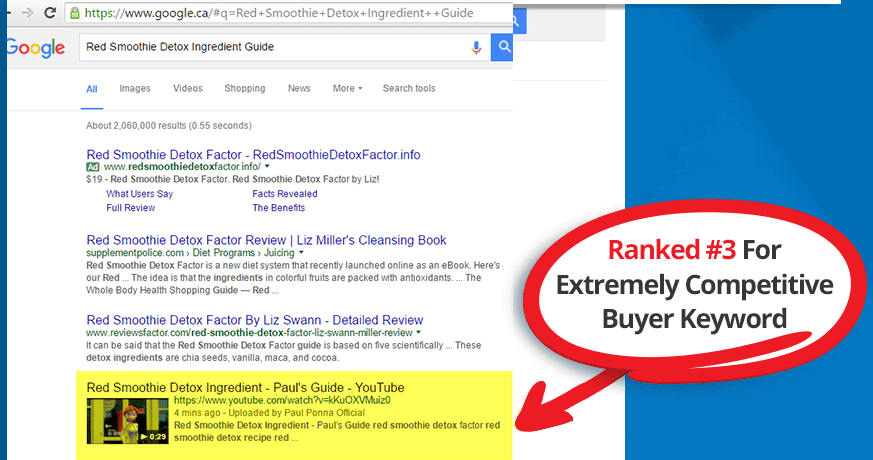 This one I didn't see it ranked #1 on Google but when I entered (Red Smoothie Detox Ingredient Pauls Guide) it was #1.
---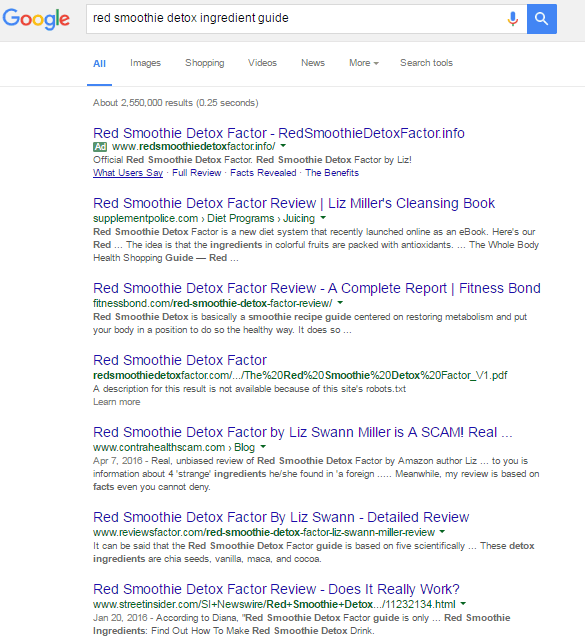 I don't think people are going to type in (pauls guide) unless they are looking for this particular video.
I also look into my keyword research tool and again the results were the same.
---
I don't know if these videos will last long in the search engines because it's up to Google.
You can not guarantee anything will rank because it's Google's site and they go by what people like and Google's personal algorithms.
For me, viewing VW's videos, I got no value from them. The video animation was okay, but the audio sounded like robots.
You have a better chance of just using you in the video or if you don't want to be on screen, just talk and show people value in whatever niche you are in.
Doing videos this way is a much more relevant way. You can also use a service like a movie maker for free.
Listening to some robotic 20 or 30-second video isn't going to amount to much in sales.
Even if you have an accent, don't think that people won't like it because of an accent.
I felt the guy who did the 2-minute demonstration about how VW works did a great job speaking. I understood every word he said and I wasn't bothered by his accent.
If you took the time to watched one of VW's videos online that ranked in Google, It wasn't complete, it cut off very quickly and it felt to me that there wasn't enough time or thought put into it.
Another thing about videos online that you may not realize is that there is a good and bad side in doing videos.
I tend to search a lot deeper with videos than I would with written articles. I go down the line through videos and I get distracted by other videos online all the time.
I think a number of people tend to look at more videos online because there are a visual factor, entertainment and most of the time, no reading involved.
So if you're going to do just videos, there is that visual factor that catches someone's eye, but a viewer may move on to the next video.
On the other hand, they may land on your video and like it. This is why valuable content is so important when you publish anything online.
Traffic Is Important
---
I noticed that with VW's keyword tool they didn't give much info except excellent, good, and average.
If you look to the right of my site and the results you saw above that showed the traffic, I have my secret weapon and that's Jaaxy. My good ole Jaaxy has helped me rank for a number of keywords.
With Jaaxy, it shows you the expected amount of traffic you would get on a monthly basis. Jaaxy also offers a green, yellow and red light and much, much more. You can read about Jaaxy here if you'd like.
Don't think it's that difficult to do keyword research either. You want info and knowledge about the expected traffic you're going to get within a keyword you are using and Jaaxy does that.
You can not just rely on words like excellent without knowing the expected amount of traffic you're going to get.
I felt that VW didn't show that, so even if a keyword may rank high on the net, it doesn't mean you are going to get a lot of traffic for that keyword. Just like with that red smoothie ingredient's keyword.
He either got de-ranked for that keyword because of the quality of the content and that's probably the reason why you have to type in (pauls guide).
What About Using No Keyword Tool
---
Well, you're playing the guessing game. I do that occasionally for purposes that I feel a particular article may help someone.
To give you an idea, I wanted to help people with a particular product. I didn't research the keyword, I just wrote it.
My keyword was, "Remove MyPCbBackup." As of today when I checked, I rank on page 4 and I'm number 7. It could change and move further down or up.
I wasn't worried about my rankings in this article because I internally linked it to an article I written for people who landed on a page about a service that uses MyPCBackup.
I gave tips on how to remove the program. I can't compete with these niches because we are in totally different niches, but it didn't stop me from writing the article because I knew that someone may want to know how to remove the software from their computer without researching elsewhere.
Will Ranking High Make Me Money?
---
There are many ways to make sales, whether it's affiliate sales or your own product and more.
Of course, ranking high will help you bring in revenue. But there are other factors such as if you bring value to a person who lands on your videos or articles.
There also has to be traffic for those keywords you're ranking for.
One thing is for sure and that is, not everyone who comes online is there to purchase something.
The more value you bring the better chances you have of getting new subscribers, more shares/likes, more traffic to your content and sales.
It doesn't happen quickly either. One of five videos ranking high in Google most likely isn't going to bring in that 16 grand a month like VW's site claims.
The claims in VW's ad are overinflated. Like I said earlier, don't have high expectations and all this money is coming in because you rank high for a few videos.
Complaints
---
This is a new product and I've already read how people are not getting their money back when they purchase Video Wave.
I even saw a YouTube video where someone who was promoting this service wrote in their comments area that they are no longer promoting it.
Being that this is a new service, I tell people to wait. If their videos are still sitting at the top of the net, most likely it's going to work for years to come.
I don't know if some blackhat SEO Harry Potter games are going on with their fourth step because this part works in the background. So only time will tell if it's worth your time, money, and effort.
There is nothing wrong with waiting. keep an eye on what they say ranks high and see if it's gone in a few months. This way you don't have to fight to get your money back or even bother getting a refund.
All In All
I personally decided to say goodbye to Video Wave. The main reasons are because Jaaxy is a great keyword tool that I use and I know it works. You can also use free video services such as Movie Maker to create videos.
Everyone may have their own way of looking for keywords and that's fine too. With Jaaxy though, they even give out 30 free searches that you can use for free and can check out to see if it works for you.
The other reason why I wave goodbye is that I don't know if some blackhat SEO mojo is going on with step 4. I don't have time for that, I'd rather wait and see where VW goes.
The final reason why I wave goodbye is that it's just too new and I'd rather wait. I see lots of sites go out of business within 2 years or less.
There is nothing worse than utilizing a service than when you go to log in, the site is gone.
These are my reason, but some of you are risk-takers. If you're going to take the risk, I would suggest you're better off getting the $67 dollar pro version plus try Jaaxy's free version and see what kinds of results you get.
I want you to get the most for your money. I feel that 5 videos won't amount to much. You're going to have to publish a lot of videos and be consistent.
If you want the whole package experience with Internet marketing, I would highly, highly suggest you check out My #1 Heroic Site.
You would learn how to build out a website, do video marketing, plus PPC. My #1 Heroic Site even has a keyword tool that you can use.
What is great about this service is that you can check them out for free. This way you can see if it is a good fit for you.
What is your take about Video Wave, Tweet me @evelynbaz!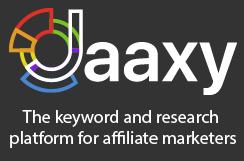 We earn a commission if you click this link and make a purchase at no additional cost to you.