I got an email about VO Genesis.
I decided to check it out and see what it was all about.
I even took the time to pay for this service because it seemed like a reasonable way to make money from home.
I will give you the rundown on this VO Genesis review to let you know if it is worth the money plus can earnings get made if you were to purchase their digital product.
Specs About VO Genesis
---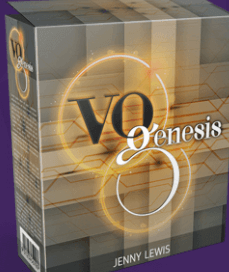 Product Name: VO Genesis
Year: 2015
Free Access: No
Price: Starting price $97
Website URL: vogenesis.com
BeginAtZero.com Overall Rating: 4/10
---
The Rundown
What is VO Genesis aka VOG?
How does it work?
You get a PDF download book on how you can build your own business by becoming a voiceover artist.
How much does it cost?
It starts off at $97, but if you X-out enough times you can get it for $19.95.
Who can join?
My Take
The reviews I read online hyped up VOG.
Most of the people said they would give a free download of VGO's product.
When I clicked the links, I never got a free download.
All I got when I clicked the link was the ad about VOG.
The Email I Got
---
---
It started with an email I got. Here is what it said.
The email made it seem like I was getting some type of secret to making money easily.
What Is VO Genesis' Business Model?
---
The business model does sound exciting.
What VOG is supposed to supply people with is a PDF eBook on what a person can do to have a voiceover career.
There are specific types of voiceovers jobs such as,
Radio
TV Commercials
Phone Messaging
Content On Websites
Training Videos
Video Game
Documentaries
Animation Films
VO Genesis Website
---
When I went to VOG's site, it started with a video.
It showed a number of testimonials of how people were making money.
As I scrolled down I started reading their site.
On their site, they showed screenshots of PayPal accounts.
When I have seen the screenshots of payments made through PayPal, the red flags came up.
The site still seemed interesting though so I continued on.
The first thing I did was X-out to see what would happen.
When I X-Out
---
---
When I decided to X-out the waiting tactic came up.
This is another red flag because it shows that people can purchase a product for a discounted rate.
What happens was another video started about how people are making lots of money by using VOG's secret.
Then they showed the vacations and all the blah, blah, blah stuff.
This is another red flag for me because it's just a way to tempt people into staying interested.
We all want these things, but it doesn't mean anything.
I always like to express to people just don't take what these ads say too seriously because it's just hype.
In the video, they claim they have a proven blueprint to follow.
VO Genesis claims people can get more voiceover gigs than anyone can handle for $39.95.
I X-out 3 times and finally was able to purchase VOG for $19.95.
In this final video, VOG said they understand how frustrating it can be for people to spend their hard-earned money.
VOG allowed people to X-out 3 times to get the discount.
If it meant anything to VOG, they would have started the price at $19.95 from the start instead of $97.
I Decided To Purchase Their Digital Product
---
---
I decided to purchase VOG because I wanted to see what would I get. I normally don't just purchase a product because most of the time the business model seems a little on the sketchy side.
I wanted to see what this service really offers and if it would be beneficial for anyone to use.
Mind you, the ad itself for me seemed sketchy because I've seen so many ads like this online.
I did have my guard up and so far from this standpoint, I have my doubts.
Once I Paid
---
---
When I finally paid $19.95, It went to an up-sell for $37 for this VO Genesis Accelerator.
I clicked the no thanks link and it went to another ad with a 50% discount, I didn't get that either.
At this point, I was a bit irritated because these ads claim they want to help people, but I wasn't getting access to what I paid for except for another offer.
They did ask for my name and email and I finally checked my email and I was able to download their PDF eBook.
What Did I Get?
---
It mainly was a PDF eBook on how to become a voiceover artist.
They did give out some info on what sites to go to that can help you with training, coaching, and places that hire voiceover artists, but I personally could have found this info on my own.
When I went to some of these sites VOG suggested, these sites still required a lot of training.
What I did next was Googled voiceover jobs and came across a number of services on the net.
I personally would suggest just taking the time to Google how to become a voiceover artist or go to forums and speak with people who are already in the industry.
Will I Get A Voiceover Job When I Purchase VO Genesis?
---
No. It's not as simple as just purchasing an eBook and once you're done reading the book and following the instructions, you're going to get all these voiceover jobs.
It's going to take work, practice, and a commitment and other resources to get paid.
From what I got from the info in VOG's PDF eBook and researching online is that it's almost the same as becoming an actor.
You're gonna have to audition for these jobs. You will need a voice portfolio ready, you have to practice and work at it before you're ready to make money.
Even though I got a 93 page PDF eBook, the ad did over exaggerate their claims.
They made it seem like I would get everything I needed at no additional cost except purchasing my own equipment.
VO Genesis' Elite Package
---
They claim the ELITE package will get you jobs, but think about this, it takes work and practice to become a voiceover artist.
I felt purchasing the ELITE package would be a waste of money.
I decided not to purchase that ELITE package as I felt VOG didn't really deliver on their first offer.
I felt the ELITE packages were just an up-sell to nothing.
What I Liked About VO Genesis
---
What I liked is that they gave info on where people can learn how to become a voiceover artist.
I liked how they did state that people would need a website to brand themselves.
What I Didn't Like
---
VOG's ad really over-exaggerated their claims just like they did with Data Dollar Pros. I felt like they made it seem like it was going to be a lot easier than it really is.
One of the sites they suggested people go to was greatvoice.com, this site is for sale and not active.
They also up-sold on their elite package. I felt like this Elite package wouldn't lead to anything substantial as they claim.
All In All
I know these services online make it seem easy for people to make all this money from home. It takes work. I work at it, the people who make money from home, work at it too.
Even if you decide to become a voiceover artist is going to take (you know what I'm going to say) work, Lol.
With today's time, almost every business has a website. A website is an important tool to accelerate any business, whether it's to brand yourself or with your own business.
VOG will give you some info on how to become a voiceover artist, but don't expect to make money by purchasing VOG.
The reviews online make it seem like it's going to happen in no time when that is not the case at all.
If you're looking to make money from home, you may want to check this out and see if any of these may help.
What is your take about VO Genesis, Tweet me @evelynbaz!
Looking For Ways To Earn From Home?
Check out a list of opportunities!
There are many ways you can earn from home. In this list, you can find other options that can help you make money online. Each opportunity is either earn some extra coins, find work, or start a business. Click the button below to see if any of these options fit your needs.