Building a business online takes time and work.
Finding a program that is worth any money is so important.
It's important because people want to build a business that offers a great service for their money.
This is one of the reasons why I wanted to review WAH EDU.
When I looked into WAH EDU, I discovered some red flags.
I want to let you know what these red flags are because it's so important to look at the whole picture when someone is looking or finding the correct service.
So let's go over some of some details that may give a person second thoughts.
Specs About WAH EDU
---
Product Name: WAH EDU
Year: 2012
Free Access: No
Price: $97
Website URL: wahedu.com
BeginAtZero.com Overall Rating: 1/10
---
The Rundown
What is WAH EDU aka Work At Home University?
What will I learn?
Video Lessons
Basic Internet Marketing
Mindset Training
SEO
PPC
How much does it cost?
It starts off at $97. There may be up-sells so please be careful.
My Take
Someone mentioned WAH EDU to me and this person said they almost purchased the service but decided not to.
It got my curiosity going and I decided to check out their website.
When I got to their site, I really had some problems with what they have to offer.
I want you to know I didn't purchase the product.
If you want to purchase it, that's fine, but I want to get people to really dig deep before they buy.
Website Overview
---
When I first come to a website that I'm reviewing, I try to view it just like anyone landing on the service.
The first thing I try to look for on a site is what a website has to offer.
When looked over WAH EDU's site, I felt like they did a great job at making what they have to offer to watch reasonable.
I know if I wanted to build a business or a website from home and had no idea what to do, this service looks like something for me and something I can afford.
I want people to understand is that before you start to get into the deep dark forest of the online world, aka the wild, wild, west, people should do some in-depth research.
What Appeared To Look Reasonable
---
The Price
Money-back guarantee
Phone number
They offer some sort of support
Training
Learn at your pace
All this looks like a perfect avenue to take. It looks like it's not on some sort of Ghetto road and people are off to a wonderful pathway.
It looks transparent and It looks like you can make a return on your investment.
WAH EDU looks great and wrapped in a wonderful package with a nice bow.
Shake That Box
---
When I talk about shaking the box, I'm talking about deep research because we are talking about the wild, wild, west here. The Internet can play tricks on people. Especially someone looking for a way to generate an income from home.
There's nothing wrong with reading an offer and doing some deep research. I like to say, they should fork the bill because they are the ones asking you to pay for the service. So sniffing them like an animal and shaking the box is not a bad idea.
Like myself, I don't have time to play those fast draw games. Take out your bigger gun if you have to and just say "wait, I'll be back, maybe".
What Did I Dig Up
---
What I discovered on their home page:
They give you a quick overview of what you will learn-When I saw this, this would make me want to call the number because, for me, that's not enough info. Sometimes it's not best to call, but we will get into that later.
6 months of unlimited access-I thought people can work at their own pace, but there is a rush here. Now, I know it's not a big rush. Everyone has a different pace of learning things and that 6 months may not be enough.
Back to the 6-month thing-This also means up-sells. Yep, think about it. You don't get lifetime access. You only get 6-month access. That, to me, means if you want more access, you're going have to pay again.
On the site, it says seven days of telephone support and email support that's scary to me because they could be calling you for up-sells or bugging you when you don't want to be bothered. Those emails also could mean more up-sells or getting spam emails.
These are red flags that are on their homepage. Because of what I found so sketchy on their homepage, this made me want to dig a little deeper.
Dig Even Deeper
---
Now it's time to go to the fine print. The red flags I express should give a person a reason why to dig a little deeper or decide to move on.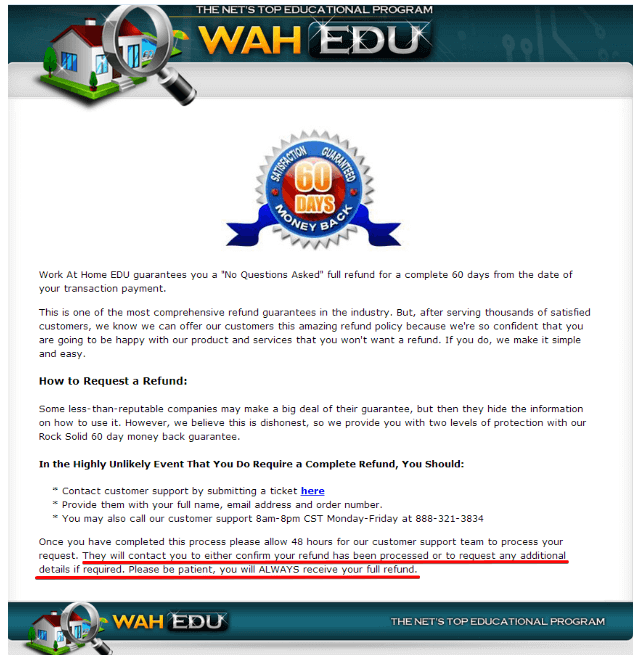 They will contact you part looked reasonable right when I kept on reading a red flag came up. On that 60-day guarantee, it said additional information might be needed.
When I read that statement, that sounds to me like someone may have a hard time getting their money back.
This service may keep bugging you and try to give you a reason why NOT to give you your money back. So buyer Beware.
When I Got To The Terms Of Service
---
A REAL BIG RED FLAG stood out please read!

It means you will get phone calls from their affiliates. That, to me, means more up-sells. Why would people need to get more phone calls if they have all the learning materials they need?
They even stated other related purposes, which means you agree to get spam and called to the debt I mean death.
I think it would be a good idea to give a phone number you rarely answer or refuse to provide your phone number. You may also want to consider an email address you rarely use or get a new email address that you won't use.
Why Would There Be Up-Sells?
---
Building a website has it's fees, no they are not substantial fees like building a business offline, but there are fees.
I want people to understand, especially when a person is starting is that it shouldn't be fees that will put you in the poor house.
You're reading my site now, so I have an understanding of costs.
---

---
This service may call you and recommend their hosting, websites, and autoresponders that may be on the pricey end.
This is why I recommend people have their guard up or do more research. It's your business you are building and finding the right services for you is what is most important.
Why Not Give Them A Call Before I Buy?
---
By giving their agents a call, this can bring a personal relationship that someone may be unsure about. Once someone starts talking to these agents on the phone, people can open a can of worms.
Some people can take control of a phone call and hang up or just say no thank you.
Some people lose control of the phone call and say let's give it a shot. This is why I suggest to just don't bother with that phone number.
How Did I Start My Website, Mrs. Know It All?
---
Before I bring it up, I want people to understand a website is where it all begins. If you're interested in building a business from home, a website is your home base.
I learned everything on one platform. I started for FREE, and as I said earlier, they should fork the bill by giving me 10 FREE lessons, Hosting, and a free website.
I learned everything on one platform, and I'm going on my third year there. Yes, there is a fee, but you can decide when you're ready to pay that fee because when you check it out, you don't even give a single digit of your credit card info.
Not only that, but there were also no up-sells.
You can start really learning how to build a business online.
All In All
I appreciate your reading my thoughts and the red flags about WAH EDU. I believe it's important to do research and dig deep especially when it comes to what sites like to offer online.
Doing your research will save you time and money.
Building a business online doesn't happen overnight. It does take work and excellent services like Wealthy Affiliate will help you get there. Don't hesitate to take the time to check them out, remember not a single digit of your credit card is needed to check them out so, see you on the other side.
What is your take about WAH EDU, Tweet me @evelynbaz!

We earn a commission if you click this link and make a purchase at no additional cost to you.