Wow, Evelyn did you just yell everything?
I sure did! I get it that yelling can be a bit rude in the online world. The last thing I want to do is be rude to you.
I also don't want you to think I'm sounding a bit hype-ish here either with the yelling and all.
The reason why I decided to write a Wealthy Affiliate Hosting review is that I would be very stingy not to let you know why their hosting has everything.
So before you run off and miss out on the Everything, find out what this briefing is all about because the info I'm sharing is going to be worth your time.
Specs About Wealthy Affiliate Hosting
---
Product Name: Wealthy Affiliate
Year: 2005
Free Access: Yes
Price: $49 per month
Website URL: wealthyaffiliate.com
BeginAtZero.com Overall Rating: 9/10
---
My Take
There are great hosting services out there in the online world.
People select hosting because they want to independently manage their website or it could be websites.
So instead of using free services out there, people purchase domain names and host them from hosting services so they are able to build out their brand without limitations.
I've checked out hosting companies and all of them seem to efficiently do their job, however, compare to other hosting brands, Wealthy Affiliate hosting provides more than just hosting, they pretty much provide EVERYTHING.
Okay, I know I just yelled everything again and I won't do it anymore but I will explain why.
Why Is Their Hosting Everything?
---
Wealthy Affiliate service has been growing for over 10 years. They were able to sustain their clout because they are able to fulfill the necessity of what website owners need to scale their brand.
I get it that people get excellent deals when they obtain hosting within their first year, but after that year expires, the price goes up. Not only does the price go up but you may not even know about the limitations.
When I just mentioned limitations, I don't mean limitations on managing your website. What I mean by limitations is that you are limiting your brand in regard to what is provided for you as a website owner.
If you are a website owner or are thinking about becoming a website owner, what Wealthy Affiliate did and still do is make it easier for website owners.
How Does Wealthy Affiliate Make It Easier?
---
Okay, there are some fantastic features stewing inside WA that no other hosting company I came across provides.
There are features that changed the game when it comes to building your brand.
The features that I'm going to share with you not only make the website owner's brand-building experience easier, these features just help their brand.
I'm going to start with the first feature and that is the start of a website.
Wealthy Affiliate or should I say WA created 4 simple steps to build a website in a matter of minutes.
---

---
Select a free, already own or purchase a domain name
Chose a domain name
Select a domain title
Choose a website design
When you begin that process you are done in a matter of minutes. It doesn't get any simpler than that. You see, the owners of WA work very hard to keep it stupid simple.
If you were to follow these simple steps, once you have your website ready to go, you will see your website inside SiteManager.
Okay, we are still in the Everything because you can get a quick glance at everything just by seeing what is going on with your website without even logging in.
To give you an example, I just built a free website inside WA.
---

---
I did the four simple steps just like I stated above. Once I did that I'm able to see…!
Backups
Date of that backup
Security info
The version of WordPress installed
How many pages/posts and comments
Pending comments
Indexed in Google
SitePlus
It is convenient because once you have your coffee in your home office and login inside WA, you are able to see how your website is managing.
If you have any pending comments that you want to respond to, all you have to do is click that blue log in and respond to your comments.
There is no running all over the place from site to site to get stuff done. I personally believe the owners of WA did this because they know that time is everything.
Me being a mom and besides building my brand, I have other things going on in my life. Being able to do it from home makes it easier, but being able to get it done in one place makes it everything.
Changing A Free Domain To A Paid Domain
---
I always recommend that people purchase their own domain names because of the limitations that free domain names have.
There is nothing wrong with a free domain name. People like them because they are free.
If you compare other free domain names to WA, WA outright beats them all. What I mean is that when people obtain a free domain name, they tend to put ads on your website that you have no control over.
At Wealthy Affiliate, you don't have those ads on your website. You may not own a free domain name, but you are able to build your website without worrying about those ads.
So you are probably wondering why people may want to have a free domain name.
There are various reasons like…!
There are people who are not ready to purchase a domain name. So instead of obtaining a paid domain name at the moment, they select a free domain name to figure out if it's the type of website they are willing to invest their time in.
Some people are unsure about building a second website. So what they do is take a few minutes to get a free domain name inside SiteBuilder and start a new website there.
There are people who like to alter their themes but they don't want to do it on their own live website. So they easily go to SiteBuilder, obtain a free domain name, and test alteration there. If what they did is appealing, they can create the same thing without any hiccups on their live website.
There are people who just prefer to start with a free domain name and then transfer it to a paid domain name at a later time.
What Do You Mean By Transferring Domain Names?
---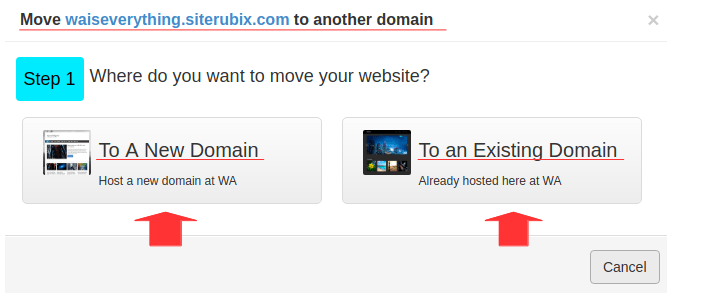 ---
It is very simple to transfer a free domain to a paid domain with just a few clicks of a button.
Once you click on the move button inside your SiteManager, you have the ability to select a new domain name or an existing domain name.
People who select existing domain names are mainly users who may want to transfer their website from another hosting company to WA.
Or they purchased a domain name from another domain registrar and want to move it to WA.
WA makes that easy as well. All you have to do is contact SiteSupport to help you with the transfer. What is cool about WA's SiteSupport is that they don't charge a fee to do that.
Some hosting companies will charge you a fee to transfer your website or give you a deal for the first transfer. Then it's up to you to transfer any existing websites to their hosting without paying a fee.
But if you are purchasing your domain name inside WA, you can buy a domain from WA and then transfer your free domain to your new domain.
Either way, it's two simple steps. Select your domain and move it.
Note: If you are ever going to transfer a website to another hosting company, always make your own personal FULL backup to be safe.
You Mentioned Existing Domain Names, How Many Domains Can You Have Hosted At WA?
---
That is a great question! You are able to host 10 domains that are either free or purchased domain names at no additional cost.
If you want to check out Wealthy Affiliate's hosting for free, you can get a free domain name and host 1 website.
With that free domain name hosted at WA, you get 10 free lessons along with your free domain name.
You can find out here what these 10 lessons did for me!
I know that is an exceptional deal because the hosting companies I dealt with only allow 2 websites at no additional cost.
How Much Are Wealthy Affiliate's Domain Names?
---
On average they cost around $14.99 a year.
Domain name prices can vary depending on the deals you get. Just like when you host your website for the first year, you can get a great deal with a domain name.
What you need to know is that when the next year occurs, the price goes up.
Some domain registrars may not charge you for privacy registration for the first year, but that usually changes when your second year rolls up.
At wealthy affiliate, you know what the price will be every year and the privacy registration comes with your domain name fee.
So in other words, what you paid for your first year will be the same year after year.
A Little Tip That You Can Do!
You could even purchase domain names from other domain registrars for that great deal and then transfer them to WA.
You may get charged additional fees if you were to transfer your domain to other registrars.
It can take a few hours up to 5 days to transfer depending on where you purchase your domain name from.
At WA instead of charging an additional fee, they charge you for another year. That way you are adding a year of ownership for that domain name.
Wealthy Affiliate Hosting
Beginning on the right foot helps you reach your goals faster. Having all the tools you need on one platform keeps you going in the right direction. Wealthy Affiliate hosting does that!
We earn a commission if you click this link and make a purchase at no additional cost to you.
Speaking Of Prices, You Are Probably Wondering How Much Does It Cost To Host Websites At WA
---
WA hosting costs…!
Hosting websites on other services can vary in prices. To give you an example, the first year at one hosting company that I used was $30, the second year was $190 and the third year went up to $259.
I get it that $259 is cheaper than $495, but as I said earlier, you're paying to manage your website not scale your business the way WA laid out their hosting features.
Also, that is just with one website, At WA, I can host 10 websites at no additional cost.
It is a win-win situation here. They help you and they keep their prices reasonable.
Did You Think It Ends Here With The Everything? Well, It Doesn't!
---
Another feature that is really cool is their SiteHealth feature.
SiteHealth is an indicator of how well your site is doing in every aspect of the search engines. I kid you not, this feature can really help you build out your brand in a very efficient way.
What SiteHealth does is keep you consistent.
Website Feedback
Google Ranked
Site Trust
Plugins
Your Engagement
Visitor Engagement
Content Quality & Variety
Publishing Frequency
When building a website, content is the first area that starts the momentum. As a website matures, you will get that data that you need through SiteHealth to know where you need to work on.
That is why people use the term content is king because once your content is published, it leads to visitors.
Visitors go to websites for info and if the info you delivered is relevant to the need of the visitor, they may engage either by purchasing a product, sign up to your email list, download your eBook, click on other valuable info on your website or leave a comment.
This process can happen very often if you are consistent. That is why the SiteHealth Feature helps you stay consistent.
---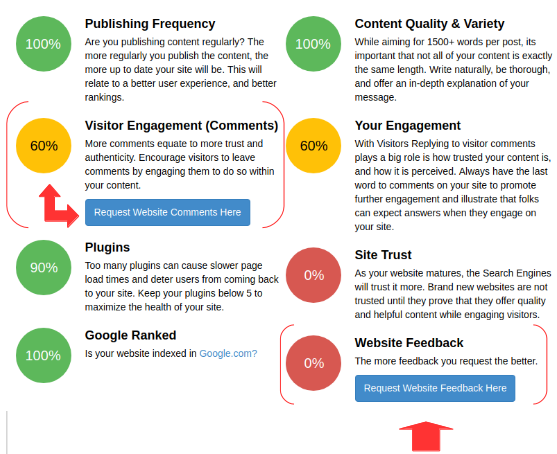 ---
If you look at the SiteHealth with this website, engagement, trust, and feedback need work.
If you were the owner of this website, the way to work on engagement would be to click that blue button and request comments.
Also, click the blue button to get feedback from other experienced site owners to help your brand succeed.
By doing that, it will help with your site trust.
As you can see, Kyle and Carson didn't start Wealthy Affiliate to make themselves money, they started Wealthy Affiliate to help YOU make money.
You are probably curious about SiteFeedback and SiteComments. But before I tell you about those features I want to mention a special feature.
That Special Feature!
---
A cool feature that helps you realize that there is really a need for speed is a feature called SitePlus.
I really, really want to shout out everything again but I already promised you that I wouldn't, but I definitely won't be whispering.
I call this the push-button feature because you can really press some buttons to fix pesky errors that no plugin has done before.
Inside this feature, you can easily start your free SSL certificate and turn on SiteSpeed to accelerate the load time of your website for the search engines.
If you don't want spam comments all you have to do is turn it on and it eliminates those annoying pesky comments that don't help your website brand.
You also are able to get some insight into your page speed with a feature called PageSpeed Insight.
If you ever owned a website, you kinda know what I'm talking about. Inside Google Analytics, they have a feature that shows you how fast a page or post loads on their search engines.
Usually, website page speeds run in the '80s on desktop and mobile runs in the '60s. If you didn't know this, the number you are aiming for is 100%.
WordPress has plugins that are supposed to help ramp up those numbers as close to 100% as possible, but the ones I've used never seem to get it that much higher.
Sometimes these plugins can break your website causing you to contact the plugin owner to help with the issue.
Who has time for all that drama!
Should I just quote Kyle, Yeah I will…!
"code has been cracked"
The Owners literately cracked the code.
If you are a website owner, you're going to be like, What? No Way!
You can even look at the article Kyle wrote about PageSpeed Insights.
The highest page load time I have for 1 page is 99% for desktop and 99% for mobiles.
What people don't realize is that PageSpeed is another factor that Google looks at to rank websites.
It makes sense because if a website loads extremely slow, people will leave that website. Google wants to stay number 1 and they sure don't want their top search engine websites to load extremely slow.
That is why in Google Analytics they even have a feature to help speed up websites because people have that need for speed.
---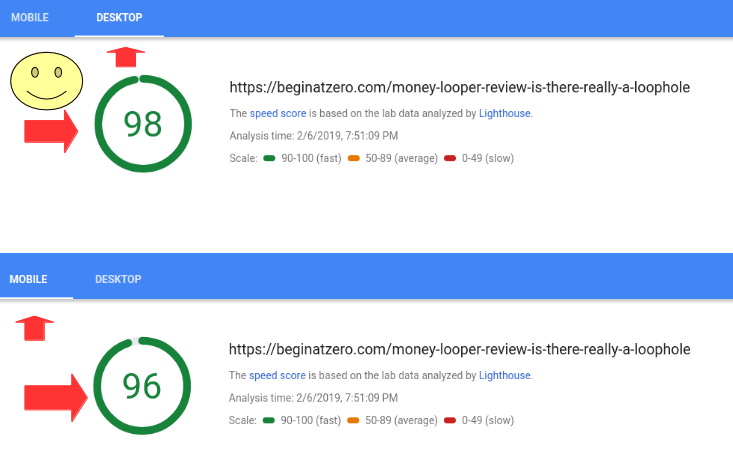 ---
You can look at the insight for this post I have. As you can see 96% is not bad at all for mobile and I got a 98 for desktop.
Should I shout out everything right now, Lol?
Now lets back to SiteFeeback and SiteComment.
Two Helpful Features
---
Site Feedback is a way to request feedback about either the content or your website in general. Getting feedback from other eyes helps you determine how other people view your website.
SiteComments is a way to get that engagement flow to your website. You can request comments from other website owners that help the engagement aspect of your brand.
The Training That Helps You Succeed
---
WA also provides step by step training to help you build out your website properly.
When people start off, they may not know why they are not ranking high in the search engines. WA is not just some sort of push-button service but they help you succeed.
I'm not talking about training courses that give you some tips and dah, dah, dah, stuff.
I'm talking about actual help that will help you.
In fact, you get 10 lessons for free without even pulling out a single credit card. That way you can see for yourself why I said everything.
I'm not done with the training because you also get access to Jaaxy that helps you find keywords for the content that you would like to post on your website.
On top of that, live weekly training to help you in certain areas so you don't get stuck building your brand.
To further the top, a community with over a million like-minded people building brands every day.
I even said in this article here that it felt like I was stealing from Wealthy Affiliate because they give you so much.
Is There Anything That I Should Be Aware Of?
---
There is one tidbit that you should be aware and that is, WA only hosts WordPress Websites.
Some of the reasons are the SEO factor, it is search engine friendly, it is ready to use, you are able to customize it, mobile-friendly just to name a few.
Over half of all website users use WordPress, period!
Compared to a website builder like WIX, what people don't realize is that you can't transfer your WIX website to another hosting company and that can limit you.
With WordPress, you can move it easily to another hosting company like Wealthy Affiliate.
That is why a lot of people gravitate towards WordPress because it is a website builder that transform easily.
All In All
Hosting a website can help you manage your websites. Hosting your website at Wealthy Affiliate will help you succeed.
Like I said earlier, there are many hosting companies out there that do the job.
But if you want the Everything, you are gonna get it at Wealthy Affiliate.
Everything like…!
SiteManager
SiteBuilder
SiteDomains
SiteContent
SiteComments
SiteFeedback
SiteSupport
Training
Live Events
Live Chat
Keyword Research
WA's Community
As you can see, my bullet points are pretty long. There's no other hosting service out there that does it like the way Wealthy Affiliate does. So if you're ready to get started go ahead and check out the Everything right here.
What is your take about hosting at Wealthy Affiliate, Tweet me @evelynbaz!
Wealthy Affiliate Hosting
Beginning on the right foot helps you reach your goals faster. Having all the tools you need on one platform keeps you going in the right direction. Wealthy Affiliate hosting does that!
We earn a commission if you click this link and make a purchase at no additional cost to you.