Before we begin this battle, I want to let you know that I don't think Wealthy Affiliate or Site Build It is scams.
I wanted to give you the inside scoop because I was a member at Site Built It back in 2010 for a year and never got a website set up.
I am a member at Wealthy Affiliate currently and got my site up and running.
Okay, I may sound a little bias within parts of this battle because I am a current member at Wealthy Affiliate.
I want you to know the inside scoop with both services.
There is a winner at the end of this battle however, that final decision is always yours.
So What Exactly Is WA And SBI?
---
in a nutshell, SBI and WA are pretty much services that teach people how to build their own online business utilizing a website.
The Rounds
---
Within these 10 rounds, the battle is in regard to common questions that people have. I will go over these questions and try to be as unbiased as I can.
Just like in boxing, there are ten rounds and one of the two services is going to get knockout in the end.
Oh, boy did I give a little of it away, well the only way you are going to know whose getting knocked out is by continuing to read this article.
It's Time To Ring The Bell!
Ding, Ding, Ding
Round One, Is It Easy To Get Help?
---
WA: Yes, it's easy to get help with WA.
You can post a question and members at WA will answer them.
All you have to do is click the pen at the top, scroll down to Ask a Question, and click on it.
A window will pop up that looks just like the image below.
All you have to do is type in your questions, add a few more details and click submit your questions.
WA members are there to support you and yes, questions will get answered.
SBI: Yes, you can get help at SBI.
They use a forum style way for people who have questions.
It's not as simple as WA, but your questions will get answered.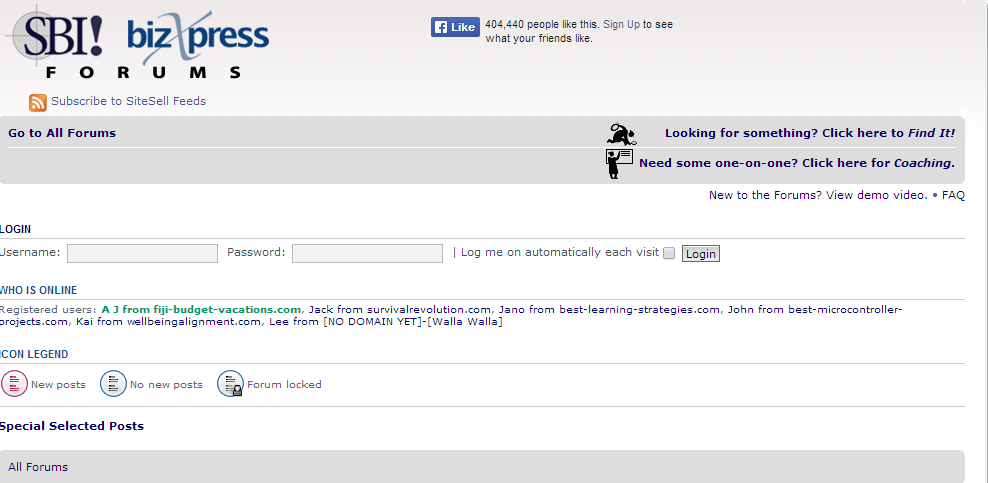 So Who Won This Round?
I would say WA because WA makes it easy for people to get help.
Asking questions is important when building a business online.
We all know how long it can take to go through the search engine to get an answer.
Everyone has a question and if you can't get your questions answered, a person can get stuck or discourage.
Getting stuck or discouraged can lead to quitting.
No one wants that, so making it easy to get your questions answered is important.
The problem with forum styles like what SBI has is if you're unfamiliar with forums like I was, it's going to be really difficult and it's a new thing that you have to learn.
With forums, you have to look for the correct room to pose the question.
If you don't know what you're doing, this can be frustrating.
In today's times doing things easier is what people are looking for.
No one wants to spend hours trying to figure out how to get help.
Round Two, Is There Private Coaching Available?
---
WA: Yes, there is.
Some people get private coaching from the owner's Kyle and Carson or through a member whose been with WA for years.
There's no additional cost for this.
WA's community is great at helping others build a business online.
SBI: Yes.
SBI has private coaching.
Theirs comes with additional costs, but it's there if you can afford it.
If you are not ready for additional costs, you can just go back to their forums and keep asking questions there.
Their private coaching is a service you don't have to use.
Sometimes it's best to learn through experience and making mistakes is not the end of the world.
This Round Is A Draw!
Even though SBI charges extra for coaching, they do provide Coaching
I looked into the private coaching at SBI when I was stuck with their brainstorming tool.
When I saw the extra cost, I went back to the videos to see if I was missing something.
I personally was just starting out and didn't want to spend the extra money on questions I had.
Round Three, Can You Contact The Owner(s)?
---
WA: Yes.
You can contact the owners at WA through private messages.
Kyle and Carson are active members at WA and are always available if you need them.
SBI: Yes.
The owner Ken Evoy is also very easy to get in contact with. Ken is also very active with his company and takes pride in it.
Round 3 Is A Draw!
I find it's very important that owners take pride in their business.
I'm sure these three gentlemen care about their business and want people to succeed.
Round Four, Is There Live Chat Available?
---
WA: Yes.
WA has live chat available.
I find live chat useful when I wanted a question answered NOW, Lol.
SBI: No.
SBI doesn't offer live chat.
You can go to the forums if you really need a question answered or you can also pay extra for coaching if you really need some help.
We All Know Who Won Round 4
WA has a simple structure in a place where people can live chat with WA's members.
But, if you have a question and you want it answered NOW, it's there and yes it does work.
I know I yelled out now, but, sometimes we have our days and we just want help NOW.
Round Five, Is There Step By Step Training?
---
WA: Yes.
WA offers step by step training.
There are videos you can watch with Kyle himself instructing each lesson and phase.
SBI: Yes.
SBI also offers step by step training videos.
The lady instructing the videos does sound a little like a robot, but It's really not that bad.
Some people don't like it, but I guess it's a personal preference.
SBI also offers written material if you don't want to watch the videos.
Round 5 Is A Draw!
Both services offer step by step training.
Step by Step training is there for a reason.
What it did for me was kept me organized. There is nothing worse than not knowing where you left off when you need to log out of a computer.
Round Six, Are Websites Included?
---
WA: Yes.
WA provides you with over 1,400 WordPress websites that you can select from.
SBI: Yes.
SBI does come with SBI's template websites, these sites are powered by SBI.
You have hundreds of SBI template sites to choose from.
Round 6 Is A Draw!
Blogs are what people are using today, it might change tomorrow, who knows. Just so you know, WordPress sites have Pages and Blog posts.
I believe more people are using WordPress sites because they are easy to use.
They also run well with Google's algorithm that solves a lot of SEO issues.
I found a video by Matt Cutts.
If you don't know who Matt Cutts is, he is the head of Google's Webspam team.
In this video, Matt explains why he endorses WordPress.
Round Seven, Is Web Hosting Included?
---
WA: Yes.
WA provides its members with hosting.
If you still want to be a member at WA and want to host elsewhere you can do that too.
Remember this is your business your building, not WA's so you can have hosting where ever you feel comfortable using.
SBI: Yes.
SBI comes with hosting as well.
If you want to use a different website or hosting you can't with SBI.
Round 7 Is A Draw!
both services provide hosting.
To get a good idea of all this website and hosting mumbo jumbo stuff, here is another way of looking at it.
A domain name is your site address www.yourwebsite.com, just like your home address.
Hosting is like the land your site sits on, more or less it holds all the data, just like how a home is held up by the land.
A website is a house or store.
Content is your inventory or your furniture, more or less what is inside the home or store.
These elements are all are very important and there are plenty of free websites with hosting out there.
Sometimes these free sites make their money by placing ads on your site and you don't have any control over what ads are placed.
Many free sites go out of business leaving a person high and dry.
If you are thinking about going with the free, it's best to go with a service that offers you to move your content if they allow that.
Round Eight, Can You Try It For FREE?
---
WA: Yes.
WA has a Starter Membership that allows you to have a website with secure hosting along with 10 free lessons.
You get a choice of 12 WordPress themes to choose from and no credit card is needed.
What I love about their free lessons is that I can actually get a website up and running without obligating myself.
If I'm not a happy camper, all I have to do is move on.
SBI: NO.
SBI doesn't allow you to try it for free.
You do get a 90-day money-back guarantee.
The Winner Of Round 8 Goes To WA
With SBI, you do get a 90-day money-back guarantee.
That is very different from trying a service out for free.
The reason being is that you still gotta give your credit card information in order to try their services.
Sometimes you won't get a full refund depending on certain terms.
Round Nine, Is There A Keyword Research Tool?
---
WA: Yes.
WA provides you with a keyword tool you can use.
You get to an awesome keyword tool called Jaaxy's.
SBI: Yes.
SBI provides you with a keyword tool called Brainstorm It. You also get a limited amount of tries, but the tool is there if you need it.
Round 9 Is A Draw!
Keywords are what people type into search engines.
If I wanted to look for a specific type of phone, I would type in Samsung Galaxy 5 phones.
Whatever the search engine results display is what data people usually read.
What a keyword tool does is give you results in regards to what people are searching for online.
It will give information on what is the best keyword to use and other keywords not to use.
In a nutshell, that's what a keyword tool is used for. It shows results about the data that you're able to rank for in the search engines.
When I tried SBI's keyword tool it was complicated.
They had all these numbers and wanted me to eliminate numbers and run the Brainstorm It keyword tool again and it just went on and on.
When I tried Jaaxy's keyword tool, they use yellow, green lights, and red dots.
Green meant you can try it, yellow meant maybe, and red meant NO.
For me, it just made sense and was a lot easier for me to decide on a keyword.
Round Ten, Is There An Affiliate Program?
---
WA: Yes.
As a starter member or a Premium member, you can promote WA and get paid for it.
I promote WA and other sites that I recommend to people.
That's what Affiliate marketing is.
Promoting services you like or recommend and if someone buys the product, I make a commission.
SBI: Yes.
SBI also offers an affiliate program.
Members at SBI promote SBI too.
Round 10 Is A Draw
I know I stated in the beginning that SBI is not a scam, I personally promote products I personally make money from or if I feel helped me in what I wanted to obtain.
I never made a buck with SBI nor did I get my website up and running.
Here's A recap of the scores
---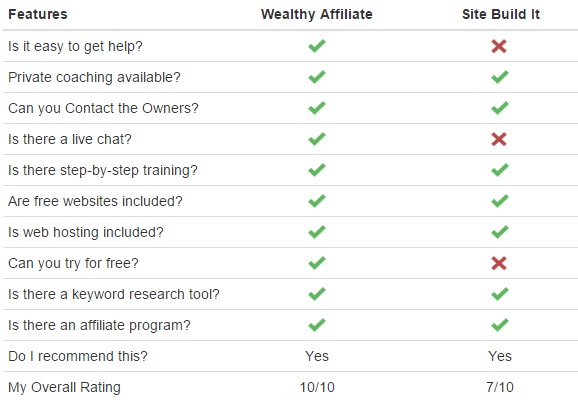 The Knockout Round
---
I wanted to put in a knockout round because of some other info I think you should know about.
SBI costs $29.99 a month or $299.00 a year and it is a reasonable price.
The problem I have with SBI is there are additional costs for private coaching and their webinars.
SBI even charge you to learn about social media.
If you look at the big picture, those additional costs can add up quickly.
Getting the most for your buck is something to consider if you're thinking about learning through SBI.
WA costs $49 a month or $359 a year.
I find WA's price to be reasonable as well.
Yes, WA is a little more pricey than SBI but, WA has weekly live training at no additional cost.
If someone misses the live training that is not a problem.
What WA offers is replays that you can watch at your leisure.
Some of WA expert marketers post-training inside WA, that's additional training that any person can take advantage of at any time, oh and it's not at an additional cost.
Actually, if you know a thing or two and want to post-training inside WA, you get paid by the owners for doing that. Who does that, Kyle and Carson!
If you can't afford a keyword tool because you're just starting out, WA has that for you at no additional cost.
Oh, I'm not done, SSL certificates are also available at no additional cost.
And if you have a need for speed, meaning you can activate that with a push of a button and your website can run twice as fast at no additional cost.
The Knockout punch is this, WA gives you every tool you need as a Premium Member to build a successful online business at no additional cost.
WordPress Website
Secure Hosting
Keyword Tool
Training
Live Training
Websites
Supportive Community
SSL Certificates
Site Content
There is nothing out there that provides you with what WA offers.
SBI Update:
---
Trevor left a comment stating that SBI does offer WordPress. I did check it out and yes SBI offers a 30-day free trial and it's called SBI for WordPress.
I do want to state that It's your choice of what service you'd like to select.
I feel that SBI will give you the learning materials you need to get started.
Everyone learns differently and prefers a different learning platform.
I personally got what I needed through Wealthy Affiliate and I've been building my business at WA for more than a year now and enjoy WA's platform.
My business has been growing and yes I make revenue from my website, but that doesn't mean that people can't do it with SBI.
I will stress this again, at WA there are no additional costs. A person can select either a monthly membership or a yearly membership. The choice is yours!
Also, Ken Envoy has added a new Solo build it service that comes with training, domain name, hosting, keyword tool, and free support all for $299 a year.
Wealthy Affiliate Update:
---
I've been a member of WA for over four years now. The only regret that I have is that I didn't find WA earlier.
I'm so grateful that I was able to learn and build websites because that was a goal of mine and WA made that possible.
I could go on and on about the new features that WA's done throughout the years that I've seen happen.
The best way I could explain it is that as a member, I would log in to WA and be surprised that there's something new.
Then someone in the community would let us know they noticed a new feature. Then some of us would chime in and chat about it.
Usually, what follows, is that one of the owners either Kyle or Carson would give us the rundown of the new features, and if training is needed, Kyle would provide that.
Of course, all the new features that Kyle and Carson work on doesn't come at an additional cost. It's not like an A La Carte menu where you have to pay additional money to use certain services.
When Kyle and Carson update their platform, you get the full meal either at $49 a month or $359 a year!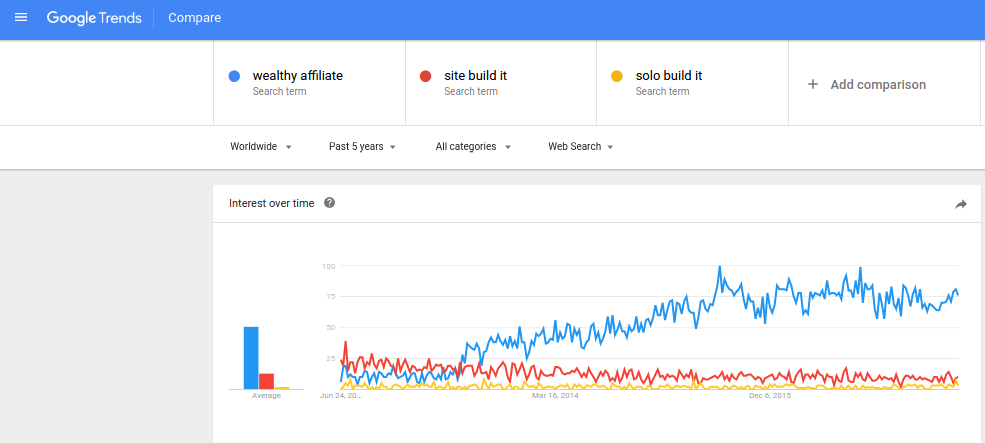 You're probably wondering why I didn't get a website up and running at SBI.
The only thing I could say is that I got stuck with SBI's Brainstorm It keyword tool and it was complicated.
At the time, I knew nothing about building a website and when I saw the additional cost to get help, I got discouraged.
I did try, but I decided to stop paying for something that wasn't right for me and move on with my life.
When I learned about Wealthy Affiliate and learned about the Free Starter Membership, I decided to check it out.
I liked the idea of trying something for free and not having to use my credit card.
By doing that I got a chance to see if I would be able to learn how to build a website and not get stuck as I did with Site Build It.
When I saw a video on how to build a site in under 30 seconds and I actually did it, I decided to go Premium because I wanted to learn more and start achieving my goals.
This is why WA is My #1 Heroic Site.
What is your take about Wealthy Affiliate vs Site Build It, Tweet me @evelynbaz!
Plant, Water, and Believe!
Keep faith in what you're doing.
Inspiration can be a turning point in your life. Click the link below if you need a little kick in the butt to start your journey.

We earn a commission if you click this link and make a purchase at no additional cost to you.