If you ever heard of Easy 1Up, then you will find some similarities with 25 Dollar 1Up.
What tends to happen with services like these is that they are trendy for a while then people start to taper off for one reason or another.
So If you were approached to join the 25 Dollar 1Up opportunity, I'm going to let you know what it is, what they did, and what you should be aware of a Franchise scheme.
Specs For 25 Dollar 1Up
---
Product Name: 25 Dollar 1Up
Year: 2018
Free Access: No
Costs: Starts at $25
Website URL: 25dollar1up.com
BeginAtZero.com Overall Ranking: 6/10
---
My Take
When I looked into 25 Dollar 1Up, I noticed that people are not really selling anything.
What you are doing is buying into a system that recruits others to use the exact same tools to recruit others to use the exact same tools.
There are different packages and different ways you can get paid by recruiting people into the scheme.
What Is 25 Dollar 1Up?
---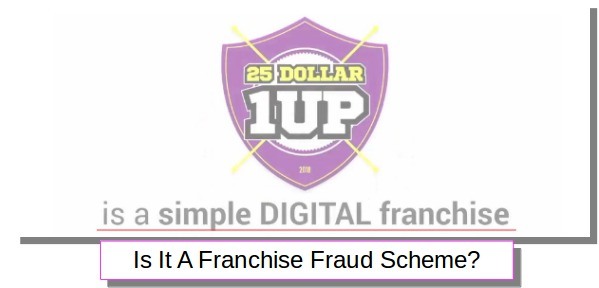 ---
25 Dollar 1Up claim they are a digital franchise.
They offer different marketing tools for every product packages.
Each level gives you the opportunity to make money with the product package you buy into.
What Are The Product Packages?
---
Gold: $25
Platinum: $100
Diamond: $250
Enterprise: $500
Note: There might be new packages in the future!
If you were to purchase the Gold package you get!
100 Pre-written ads, scripts and follow up messages
Facebook group cheat sheet
Mindset training videos
Step by step system tutorials
As the prices increase, each package offers more marketing strategies that are supposed to help you recruit more people.
25 Dollar 1Up Comp Plan
---
They call it the reverse 1Up comp plan.
You make 100 percent commissions on your first sale. Then on your second sale, they use a pass up comp plan.
The way their pass up comp plan works is that on your second sale it passes you up and goes to your sponsor.
On your third sale, there is no pass up, 100% commissions go to you and onward on the future sales.
More On The $25 Dollar 1Up Comp Plan
---
25D1UP offers three different comp plans.
Direct Sales?
Pass Ups
Overrides
Above, I pretty much explain how their comp plan works for every package you purchase.
There are other fees that you pay and there are overrides that you can make if you were to purchase one of the higher packages.
I want to start by saying is that there are no monthly fees, all fees are one time fees.
Once you buy into a package you're done! Unless you want to upgrade your package.
You will have to purchase that package and pay the hosting fee, however, once you purchase that package, there are no monthly fees, you're done.
Let's start with the fees.
25 Dollar 1Up Fees And Overrides
---
For the Gold and Platinum, there is a $10 additional one-time hosting fee for your website
Diamond one time additional $25 hosting fee
Enterprise one time additional $50 hosting fee
Like I said above, direct sales and pass-ups all apply for whatever package you purchase.
Overrides are for the Diamond and Enterprise packages.
The way the overrides work…!
Let say that you purchased the Enterprise package at $500 and you brought in someone who purchases the Gold package at $25.
The person who purchases the Gold package brought in someone that purchases the Enterprise package at $500.
Being that the Gold member didn't purchase the highest level, overrides occur.
So the Gold package member makes their $25 on their first sale however the remaining $475 goes to you. Then if that Gold member gets a second sale, whatever package the second sale decides on that sale goes to you.
Then the third sale let say was a Platinum sale at $100, overrides go back to you which would be $75.
So when you look at their comp plan, it's your upline, and you and your downline.
It's like a $25D1UP sandwich, Lol.
Is This An MLM System
---
---
They say it's not, but I say it is. It's not the common downline and upline that goes 6 levels deep, however, there is a formula that indicates it's an MLM business.
Recruiting people
Make money on your downline who is recruiting people
There are teams
You have to recruit people into the system in order to make money with their comp plan.
You make money based on who you recruit into the system and the better your team is the better chances of you making money on those pass-ups and overrides.
What Transaction Services That You Can Use
---
PayPal
Payza
Authorize.net
First Data
Stripe
Or they can make a direct payment to you via check, money order, or hard earn cash!
I know for a fact that a lot of people I know always use PayPal as one of their trusted sources. What I'm getting at here, if they can't get paid by PayPal they don't want to have anything to do with a system.
You may be okay using PayPal for a while, then next thing you know if PayPal freezes their account, you gonna have some mad people.
Maybe it's best that if you are going to recruit people you may want to suggest other transaction services.
What Is A Franchise Scheme?
---

A franchise scheme is based on the profits you earn by recruiting people into the system without any direct sales. The whole business is based on recruiting and sales made only when you recruit people into the "franchise".
A real franchise that I've worked in corporate offices that owners of these franchises own has residual royalty monthly fees.
A franchise is a business where an owner doesn't want to run the business establishment so they sell their establishment to people by using their name, products, or services.
The genius part about owners selling their franchise is that they make residual income from the franchise owners without having to deal with employees and all that other stuff.
There are many different types of franchises from food to services like the UPS Store.
Some franchise owners have 25 or more establishments. That is why they would have a corporate office to help keep all their inventory, payroll, medical insurance, and all that other stuff they want in place.
If you think about a digital franchise, there should be direct sales made for their marketing materials without ever having to recruit someone into their service.
If you look at 25 Dollar 1Up, they don't have any direct sales for the public.
If you look at what they focus on it is the pass-ups and overrides sales when you recruit people into this franchise. If you think about it, with any type of MLM business, if their products are not well known, they use some sort of comp plan to reel you in.
Another indicator is that 25 Dollar 1Up started with two packages. If you think about it, it got trendy and now they added more packages that keep these systems going longer. Causing people to reinvest their money made into the comp plan.
The other packages allow members to buy into a higher package leading them to recruit more so they can make more commissions on the pass up and overrides.
Most people are not going to buy into a higher level because of the structure of these systems.
$35 isn't going to do much damage financially and if their marketing materials work for them to recruit people, they are more inclined to upgrade.
On the other hand, if it doesn't work out for them, $35 is a loss, but hey we all make frivolous purchases so there really isn't much to complain about.
There Is Something That I Love About 25D1UP That They Did
---
Okay, if you read any of my reviews especially when it comes to pass-ups, boy do I complain about that.
I find it to be disrespectful to say hey come sell our service, however, if you sell this level or package, you don't make commissions on it unless you buy it.
But you can sell it if you want to, but yeah, I'm sorry, you didn't make the commission, it passes you and goes to your upline or whoever that may be at the very top.
At least someone, something or anyone did something about that and that is 25 dollar 1Up.
How would you feel if you sold your mama a package plan and you didn't make commissions on it and it went to someone you don't know on that upline?
I don't know about you but I would be hella mad that someone made commissions on my hard work especially my mama's money and it didn't go to me!
So I have to give it up to 25 Dollar 1Up for doing that. I applaud you for thinking about the individuals who work hard to make money from home.
So Are You Saying You Are Recommending 25 Dollar 1Up?
---
MLM is not for me despite what they call it. If you are new to marketing online, despite the marketing materials they give you, it is not as easy as it seems to recruit people.
It takes a lot of time and hard work to get there. With any type of comp plan shown to you, which is what they use to get you all excited, people are going to realize it's not as easy as it seems.
Their name indicates what they are doing. Systems like these taper off in time. Yeah, it is trendy now and everyone is showing how much money they make. But there is going to be a time where it collapses.
All In All
25 Dollar 1Up claim it is a digital franchise where you can easily make money even if you're a newbie. Everything is handed to you to make money except the recruiting part.
You have to go out there and reel people in using what many MLM systems use and that is their comp plan just like Easy 1Up.
It's nice that they do offer commissions on every level not leaving anyone out.
If you think about it though, there really isn't a product that you are selling, causing 25 Dollar 1Up to fall into one of those franchise fraud schemes.
What is your take about 25 Dollar 1Up, Tweet me @evelynbaz!
Looking For Ways To Earn From Home?
Check out a list of opportunities!
There are many ways you can earn from home. In this list, you can find other options that can help you make money online. Each opportunity is either earn some extra coins, find work, or start a business. Click the button below to see if any of these options fit your needs.

We earn a commission if you click this link and make a purchase at no additional cost to you.