A lot of people love side hustles for various reasons.
A good side hustle doesn't hurt. What people don't realize is that your hobby can be a good side hustle.
I know that people enjoy their hobbies as a way to relax and unwind after a long day from whatever they were dealing with earlier in the day.
Some people like a glass of wine and TV at home, go on social media or kick it with your family or pets.
Whatever your hobby is, you definitely can make it a side hustle.
In this article, I'm going to share with you information on why your hobby, how you can turn it into revenue, and resources that can help you get started.
What Is A Side Hustle
---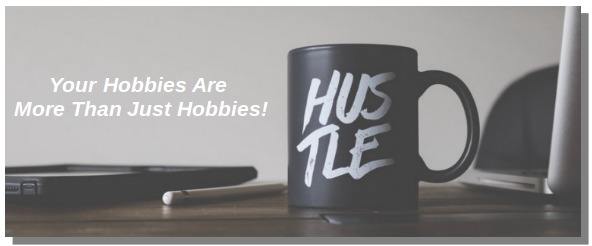 A side hustle isn't a second job.
A side hustle is when you are trying to build an income stream that takes over your full-time job.
You could be working a full-time job, but after work, you are inspired to do your side hustle because of what a person wants for their future.
You have to have that entrepreneurial spirit to get successful at it.
If you think about famous singers and actors, they may have worked a job before they became famous or well-known from countless years of hard work to get there.
More or less, it's about the time you put into your craft that will help you reach your goals.
Why My Hobbies?
---
A side hustle doesn't necessarily mean it has to be your hobbies. But if you are thinking about earning revenue through a side hustle, your hobbies are a much enjoyable way to earn income.
With your hobby as your side hustle, you're able to do it any time of the day and when it's convenient for you.
Most people invest money for their enjoyment, so why not start doing what you enjoy and earn revenue from it.
Before You Start Your Side Hustle Know The Cost
---
What people don't realize with a side hustle is that you have to put in the time. There are no magic buttons to speed up the process.
Investments may not be much, but what is going to cost you from your side hustle is your time.
So you have to be in an excellent mindset to know that.
With a job, you get up and do it weekly because you know it pays the bills. With your side hustle, it's not going to pay the bills in the beginning.
Your goal is to change your side hustle into your main income stream ultimately.
Okay, You've Grabbed My Attention, How Can I Turn My Hobby Into Revenue?
---
Okay Let's Start With Why A Website
The Internet has made it possible to build a base where people can find you.
The Internet has billions of people online every day going to various areas online for whatever reason.
Whatever your hobby might be, a website is a fantastic way to begin a side hustle.
With the proper resource, you can generate traffic to your website.
What makes a website a fantastic way is that your website could be about anything. If you like to travel, dine out, watch movies, drink wine, listen to music, or whatever it is, you can certainly build a website around anything.
You can do it from home, and you don't need to know any special coding these days.
All you have to do is use a website builder, and you pretty much can have your website up and running in a matter of seconds.
If you look at this video here, it shows you how you can start a website rapidly.
Most websites online have a specific topic which would be your hobby or niche.
I Will Use Me As An Example
When I started my website, I decided it would be about helping people make money online.
Before I started my website, I used to spend a lot of time trying to figure out how I could make money from home.
I have an autistic son, and working outside the home was difficult. My son needed a lot of my time.
The problem I faced by finding work from home gigs was that there were a lot of scams out there that required a lot of money.
What I ended up doing was MLM, or some people call it Network Marketing. The problem with MLM businesses is that the whole agenda isn't about business; it's about recruiting people into their business.
Yeah, they may have a product, but they always want you to bring people into the system for you to make money.
This is why I decided MLM is not for me.
I don't want to recruit people into a business, I want to help people find what fits them and that could be a legit job, a legit side gig or starting a legit business from home.
Believe it or not, your hobby can earn you revenue.
How Can I Earn Revenue Through A Website
If you like to knit as an example, you can recommend a lot of knitting supplies, tips and even sell your creation online.
The way it works is that you can find affiliate programs or networks that will give you your links.
What this link does if people purchase through your recommendations, you earn revenue.
You can use a service like Etsy to sell your products and your website as a way to direct people to your Etsy shop.
You can add Google ads and even build a list of subscribers if you choose to do that.
How Do I Get Started With A Website?
I believe if you are going to begin your side hustle, the right resources are needed to help you bring your goals to life.
You can spend a lot of time reading books learning, but why not learn as you go!
What I did when I decided to start my side hustle I wanted to get proper training.
The service I used is called Wealthy Affiliate. It is a service that guided me step by step.
What I did first was get my site up and running correctly with the proper legal info needed.
Then I followed training that guided me to build out my website. With consistent work, within six months, I saw my first revenue, and it's continued since.
What you get at Wealthy Affiliate is,
WordPress platform
Keyword tool
Step by Step training
Hosting
Domain registrar
To get the process going. WA's hosting alone pretty much has everything to keep you on track with your side hustle.
You can check them out for free right here!
All In All
Some people might not think of a hobby as a side hustle, but it indeed can become one.
Hobbies tend to be stuff we enjoy doing without earning revenue from it.
Why not turn that around and start earning from the hobbies you enjoy.
A website can be about anything.
Not only that, with proper training, but you can also bring target traffic to your website. Once you have traffic, you're in business to start turning that side hustle into your main hustle.
What is your take about a good side hustle, Tweet me @evelynbaz!
Start Your Online Business Today
Start Your Business For Free
Beginning an online business is simple. With good guidance, you can achieve many goals that you thought were not possible.

We earn a commission if you click this link and make a purchase at no additional cost to you.