You might be interested in Too Damn Easy because you got some sort of Postcard in the mail or other marketing materials that raised your eyebrow.
Well, what you are looking at here is a cash gifting system.
That is precisely what Too Damn Easy does.
Some of you might gasp with concerns, and some of you probably are unsure about cash gifting and want a damn easy way to make money from home.
In this review, I'm going to share why it is too damn Messy.
Specs about Too Damn Easy
---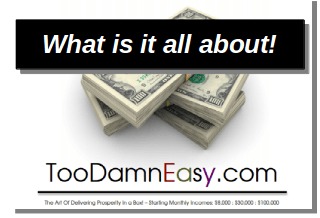 Product Name: Too Damn Easy
Year: 2006
Free Access: No
Price: Starts at $2,400
Website URL: toodamneasy.com
BeginAtZero.com overall rating: 0/10
---
My Take
I must say I love the domain name Too Damn Easy.
I like it because it is too damn easy to remember.
It's like one of the songs that stick in your mind.
But what seems too damn easy is far from my thoughts when I learned exactly how their system works.
Cash gifting schemes are systems I stay clear of because there is no actual product sold to the general public.
According to my understanding, cash gifting systems are not legal from where I come from.
What seems to be getting sold to people is a dream.
If you take a look at the way Too Damn Easy markets their system, a guy named Q says he purchases cars by paying cash, flashes a lot of hundred dollar bills, and claim they are making money quickly by people sending their hard earn cash in the mail.
How Does Too Damn Easy Work
---
The way their system works is by paying a minimum of a little over two grand by joining one of their levels.
Too Damn Easy supplies you with postcards or flyers with your referral ID on it. All you have to do is put a stamp on it and mail it.
You don't even have to find people because they have a list of people for you.
You don't have to follow up with anyone because they do that for you.
Other than sending out postcards or flyers, all you have to do is wait and see if you get cold hard cash in the mail.
That is the gist of their system.
Too Damn Easy Comp Plan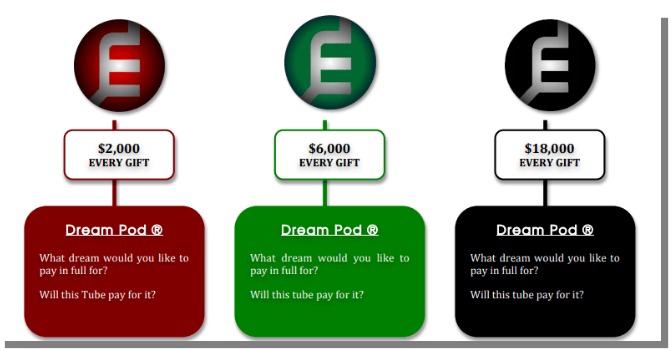 They offer a system called the Ecosov dream tube or a Pod system.
It is similar to a matrix system where you start at a level, and you can progressively move up levels as you build your team.
The Levels
You can start in the initial membership level the red tube, and they claim the monthly cash flow you can receive is $2,000 a month.
To start, you will need to gift $2,000, and you must enroll one other person.
Besides the $2,000 you gifted. The other fees to get started is a $100 for team leader bonus and a $300 membership fee.
Costing a total of $2,400
As you progress into the system, you can make a lot more money.
Second dream tube, which is green, you can make a minimum monthly cash flow of $6,000. You must enroll one other person.
The entry fee for this level is gifting $6,000 a $200 team leader bonus and a $400 membership fee.
It costs a total of $6,600.
Third dream tube, which is black, you can make a minimum monthly cash flow of $18,000.
Again you must enroll one other person.
You gift someone $18,000, $300 goes to the team leader, and there is a $500 membership fee costing you $18,800.
They claim you get to the point where you're making a hundred grand a month with their purple level.
The purple levels are by private invitation only.
The exclusive purple level claims you can make a million dollars.
If invited, you have to gift someone $100,000 and a $400 team leader bonus and a $1,000 membership fee. It costs a total of $101,400.
The Ecosov dream tube system doesn't handle any of the money.
All cash gets sent to you. Money is sent from members to members via overnight courier.
What the Ecosov dream tube system does is keep track of all accounts.
We All Think Of Gifts As
---
We receive gifts all the time from people. Sometimes it's not cash. It could be someone buying you lunch or a coffee, or it could be a sum of money.
The point of a gift is not getting anything in return.
Too Damn Easy Says About Cash Gifting

The way Too Damn Easy explains it is that Quote
"cash gifting is the act of privately or publicly giving another person or an entity a declared sum of cash, strictly as a gift and to give freely without coerce or consideration."
Why I Question Cash Gifting Systems
---
They are putting a business behind giving by creating a system.

They have these levels and, more importantly, a tracking referral ID to keep track of these gifts given to strangers.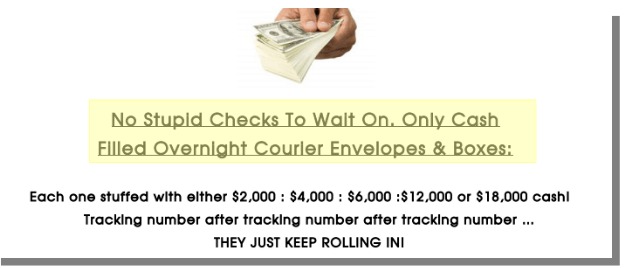 I couldn't see myself sending cash in the mail period. I don't care if it's an overnight courier with a tracking ID number on it.
I am not sending thousands of dollars in cash in a box.
Who Is Behind Too Damn Easy
---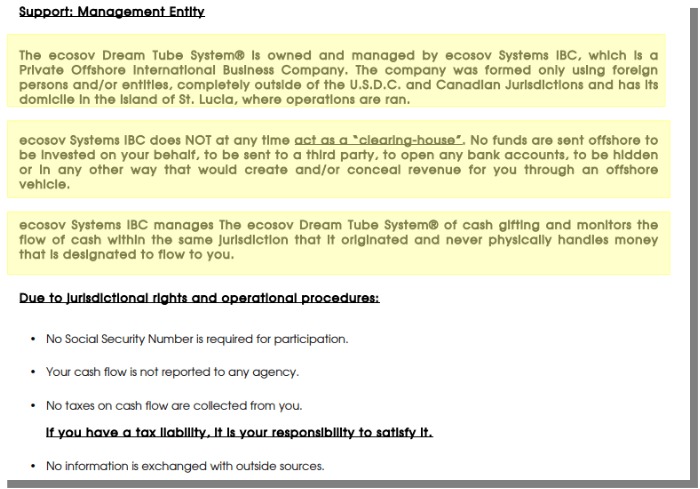 According to what I've read, it is a private offshore international business.
What is okay and legal in part of the world may not be permitted in another.
The Business Model Speaks For Itself
They put a business model behind gifting.
I've said this before and that is I see so many multi-level businesses based on pretty much everything.
Cash Gifting is probably the oldest of them all.
According to the FTC, pyramid schemes are based on recruiting people into the system without any product sold.
The way Too Damn Easy works are by recruiting people into a system via postcards or flyers with an affiliate ID attached to it with no products sold.
You are asking people to send cash in the mail, and the Ecosov dream tube system is supposed to keep track of it all without any products or services getting sold.
All I can say to that is to be very careful about what you join. Some people can end up in a legal mess.
All In All
Flashing cash is what I noticed first with Too Damn Easy.
From what I researched, what they are selling people is a dream.
People who join these systems are supposed to send their hard earn cash in the mail. This system will not keep running unless people keep joining.
If you think about it, how easy is it to ask people to send two grand in cash in the mail. It is not as easy as you think.
What is your take about TooDamnEasy, Tweet me @evelynbaz!

We earn a commission if you click this link and make a purchase at no additional cost to you.