It will stagger you to find out who and what is Wealthy Affiliate for.
If you are unsure about a service or want to know more about a service, doing your research is what I advocate.
I have been online researching and learning about the online world for many years.
I've even had my share of ups and downs in the online world.
When I joined a service named Wealthy Affiliate almost 5 years ago, I didn't know much about them too.
So, it's time to get to the gist about this WA (Wealthy Affiliate), but before you get the gist, let's start with a little about myself.
Let Me Tell You A Little About Me
---
I'm a mother of two, who have been wanting to earn revenue online.
I also have a son that has special needs.
I personally needed to find a job that was extremely flexible or start a business online.
What I learned about jobs online is that it is difficult to find the "right" job from home.
Another problem I faced is the claims out there online.
Everything claims you make a substantial income from home anytime, anywhere and anyplace.
Unfortunately, that anytime, anywhere and anyplace tend to turn out to be not the case and the money made is not what they claim to be.
It got to the point where I was like screw it! I'm going to build a website and make money that way.
The other problem I discovered when building a website is the importance of proper guidance.
You see, prior to joining Wealthy Affiliate's service, I tried another service.
That prior service made me feel skeptical about everything.
Being that WA was free to check out, I thought, well it's free! There was no credit info needed. I thought, let me see what will happen!
When I created an account at WA, I wasn't expecting to get 10 free lessons along with using a domain name and WordPress platform to go through the training while I am learning some skills, I was staggered.
I know the sentence above is a bit winded and odd. But, think about how I felt when I found some cool lessons.
I was able to start the process of building a business online for free!
In the online world, I found a golden nugget.
When that happened, it was five years ago.
I'm sure as you are reading questions are going to come up. I will do my best to cover everything.
For your info, if I didn't cover what you are looking for, don't hesitate to leave a comment or ask questions below. I will be happy to answer your questions.
Also, you can contact me here personally.
Now let's go over what WA is all about.
What Is Wealthy Affiliate?
---

---
Wealthy Affiliate or WA is what people tend to call their service. It's a service that helps people make money online through a website.
WA has lessons that help guide people step by step.
These steps go through selecting an interest, obtain a domain name, website all the way through attracting visitors that lead to revenue on the Internet.
It's quite the modern way of how people are making money today.
Even though you may not consider yourself an entrepreneur, you will be surprised at how simple WA makes it for people to start making money through the Internet.
Let's Start With The Cost
---
Like I said earlier, you can check out WA for free.
You don't have to pull out your credit card.
All you have to do is create an account.
After you create your account, you get access to 10 free lessons, their hosting and two free SiteRubix website that you can use to follow along.
When I signed up for the free lessons, I was expecting that credit info to come up, but it didn't. I felt comfortable knowing that I had no obligations.
Premium
The first month is $19.
Every month after that is $49 per month
But who likes to have a monthly bill! You're building a business and with any business, investments is part of building a business.
Instead of extremely high prices in the thousands like those businesses in your local area, the internet changed the game.
Not only did the internet change the game, but Wealthy Affiliate also changed the game.
The cost for Wealthy Affiliate's 6 months or 12-month services is…!
Annual 
The difference between the monthly and annual is the price obviously, Lol.
I wanted to bring up the savings because it's good to know your investment options.
You get great savings if you choose the annual option.
Instead of paying $49 a month, why not get two months off for $495.
The Lessons Are The Key And It Is Bang For Your Buck
---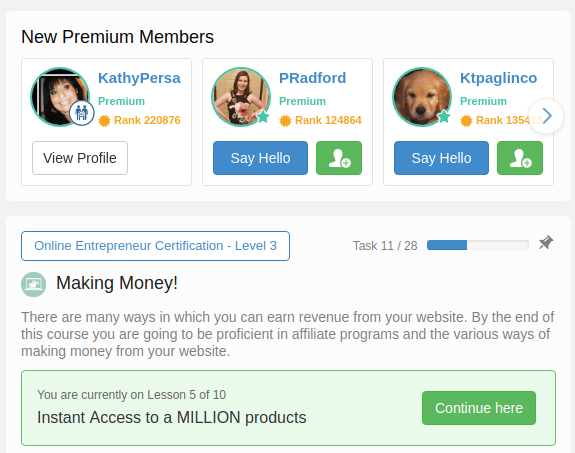 We all have to start somewhere.
You definitely will obtain proper training through WA.
There are people who will spend years trying to crack some type of code and there is no need for all of that.
The key to the courses is to follow them.
All you have to do is apply what you learn, ask questions if you have questions and keep going.
The Bang For Your Buck!
Free
Premium
online entrepreneur certification
5 phases each phase has 10 lessons 50 lessons total
Bootcamp
7 phases 10 lessons 70 lessons total
Other Training
Live Weekly Training
A catalog of community training
Features, Tools and More
We are talking about no up-sells.
It's all about you being able to run a business successfully through the Internet from home.
Once you land inside WA, you will get a tour of how their platform works.
You will have access to some pretty cool stuff in their starter and premium service.
For the starter service, some of these tools and features are not available.
Some of these features and tools when I started WA weren't even available so lucky you.
Websites
Domain registrar
Site speed
Website security
Manage your website health
Site comments
Website feedback
Free SSL Certificate
Website monitoring
Website support
Powerful servers
Website virus and malware protection
Writing platform
Images
auto-correct
Plagiarism Checker
Templates for Efficiency
Jaaxy Keyword tool
Tracking Your Website Rankings
Wealthy Affiliate Community
24/7/365 Help
Live and Instant Support
Some of these features and tools that are listed above, you might not know how meaningful they are if you've never built a website before.
Once you start diving into all the training, you're going to find out how important some of these features and tools are.
Is Wealthy Affiliate For Real?
---
I get that people out there see so many services that charge you for everything.
I felt I didn't get a bargain at WA.
With all the cool features and tools that are included in WA, what it felt like is that I was actually blatantly stealing from them.
Me being the curious type, I had to see what kind of hosting was out there besides WA's hosting.
To host 2 websites in a year, it costs me $181. Oh, I kid you not, each year the price can go up. So what cost a bargain for hosting on other platforms may seem like a steal but as each year goes by, the price will go up.
You can find some sales in the first year, but after that, you could be spending more than half of your yearly fee that WA cost on hosting alone.
Hosting companies have to make up their money for all those deals they give people for their first payment. Then when it's time to pay the bill, you could be looking at double or tipple the cost of your first time fee.
Not only that, but you're also not going to get the needed tools either with other hosting companies.
Mainly what hosting is for is to hold your data to get seen online.
Yeah, they may have support for the hosting side of your website which is good, but if you want the whole shebang, you will get it at WA because sometimes you have other questions and those hosting companies may not have the answer for you.
So, Are You Saying That Wealthy Affiliate Is For beginners?
---
Yes and No.
There are people in WA who owned websites before. They like the fact that they can host more than 2 websites without getting those surprise fees. You can host 25 websites at WA and your bill will not change.
But I would also like to add is that it doesn't matter what level your knowledge is.
You will be able to develop the skills as you grow your website and earn revenue from it.
I've Built Websites Before, I Have Websites, How Could WA Assist Me?
---
Besides the hosting bargain, you get at WA, you are probably knowledgeable in regards to how a lot of these services work.
But I've met people inside WA who may fall into some of these categories,
For some, the knowledge they learned back then may not be relevant in today's time.
Another reason may be that they are generating revenue, but not at the level they want it to be.
They are doing quite well, but they want to network with more of a like-minded community.
They may just want another affiliate service to add to their website that is relevant to their niche.
If You Fall Into Any Of These Categories Above, Let's Break It Down
I'm a big believer that knowledge is power. Your skills and talents are a way to network.
Also, there is nothing wrong with networking with like-minded people.
WA has over a million people premiums and starters.
Some people need to sharpen their skills or learn new skills, they will find it in WA.
There are plenty of reasons that you may not generate the income that you want.
You may find it through the training or one of the key points that I love about WA is that people are there to give you advice on what you can do to generate more revenue.
We are not talking about spamming or doing some shady tactics. You will get kicked out and banned if you abuse their service.
We are talking about actually networking with other people.
WA's Owners Kyle and Carson is a believer in giving back.
Other Ways You Can Make Money Through Wealthy Affiliate, Some Secret Perks
---

---
Besides earning revenue through your own website, there are some secret perks inside WA.
There are some talented people in the Internet Marketing field.
Actually, no matter what level your skills are in regards to anything pertaining to business or marketing, you can benefit from WA's perks.
The first perk is…! You are able to add training and get paid to do that inside WA (third-month premium).
The second perk is…! Your WA blogs can earn you revenue as well.
To elaborate more, WA has its own blogs that you are able to use inside WA.
For example, you could blog about how you grew your business in the first month. It's a great way to communicate inside Wealthy Affiliate and on the internet.
What happens is, your blog inside WA starts to rank in the search engines. People will be able to read about your first month's growth.
The way the revenue part works is if someone reads your blog that didn't join WA if a person decides to go premium, that action causes you to make a commission.
What is so exciting about these other secret ways, is that it could get to the point where your fees don't cost you a dime.
It may get to the point where you are earning more than what the premium service costs you.
You may even get to the point where you end up feeling like me, like you're stealing from WA, Lol.
You Said Some Great Things Evelyn, But What About Me! I'm Tired Of All These Promises Online! I Want More Data In Regards To Income! I Want To Know About The Money, SHOW ME THE MONEY!
---
I get this question all the time. I feel you on what you're saying. I know and understand how it feels when you start to invest in anything and it is scary.
You don't think I was scared too! I didn't want to give up my money either! But, I put my trust and faith when I actually saw for myself what I was getting for free.
Then when I made the investment, I just kept following the training. I selected a niche that I enjoyed. I put what I learned into action. I just kept going.
But since we are talking about money here let's get back to that. I'm not going to talk about how much I make.
I'm not a big fan of screenshots because a lot of times they are fake.
I just wanted to show a snippet of some of what my first-year revenue was like.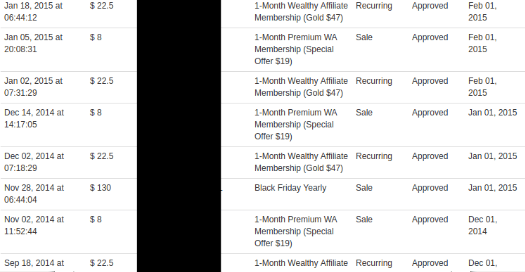 Know that it was not anything substantial.
But, it is the beginning of revenue and what can happen for you.
For some of you, you will do far better than I did and that is what I want for you.
Some of you may not and that's okay too.
Know that we all have to Begin At Zero and we learn at different levels.
Some of us may not have as much time as others, but putting in the time is so very important.
I'm going to say this part again because this is where show me the money will not happen unless you put in the time.
If you don't have the time, you are gonna be wasting your time.
It also depends on the interest you build your website around.
I personally selected the Bootcamp training when I started because that is what I was interested in.
We all have different interests and I certainly don't want anyone starting off on the wrong foot.
You will do far better if you select a website around your interests than just building a business based on some revenue you saw within the first year.
You want to enjoy what you are doing. You certainly can do that through a website with any interest.
This part I will repeat again! Work Is Required!
All In All
Wealthy Affiliate is for you, for you to grow and build a business online.
With the Internet, possibilities are amazingly there.
In order to make the possibility the reality, it's going to take action.
It starts with a beautiful website.
With the Internet, I call it the new frontier.
I call it that because you can reach billions of people globally online.
You get some awesome tools and features that will scale your business at Wealthy Affiliate.
I'm not going to sugar coat anything because it does take work and time.
For me, when I went yearly at WA, it was, is, and still is the best investment I made, period!
If you have any questions or comments about Wealthy Affiliate, please feel free to let me know below, thanks!
Get Your Business Started Today, It Starts With 10 Free Lessons!