I get it that people get fed up with all the phone and Internet scams circulation online.
It seems as if these scams are an infestation. The more people don't do anything about it, the more it happens.
If you want to know where to report an Internet or phone scam, there's a place to do that.
Yep, there is a place for us to start combating these scammers and schemes, so it is time to take action.
Before You Report A Scam
---
If you did business with a company and you want your money back, it's best to try and resolve the issue with the company first.
Most institutions where you want to file complaints would prefer you to resolve or try to fix it yourself.
Not every transaction or business is a scam. Sometimes issues come up that is rare, but it just so happens to be you dealing with it. So give the company a chance to resolve it.
By communicating with the company, you should be able to get your money back. If everything worked out fine, then the issue was resolved. There is no need to move any further.
Even if it's a phone call, tell the company that you want to be on their Do Not Call list.
Most companies will abide by your request, and that should resolve the issue.
On The Other Hand
Sometimes people do business with companies that promise the world, and when you are not a satisfied customer, you get ignored.
Some of these businesses are just scams, and the only intent they have is to scheme people.
If you're dealing with these types of scams and you've done everything possible to try and obtain a resolution, but the company you're dealing with doesn't know you exist, you may have to turn fatal attraction on this scam.
These scams act like; you're the ex that they want to forget they've ever dated you, WHO!
Knowing darn well, they brought you to this point. We won't complicate things. We have to get it done.
So if you did everything possible, it's time to report.
Phone Call Or Robocall Scams: How Did They Get My Number?
---
There is no telling where they got your number, but sometimes people sign up for services and don't read their terms.
If you look at Opinion City's terms, they even indicate if you're on the National Do Not Call List, by you placing your info in there, you revoke that privilege.
Some of these online forms where you inquire about info, like energy-efficient programs or refinancing your home, may not tell you they are selling your info.
When you place info in online forms, it can lead people to get these robocalls about other programs they never intended to get.
Some of these unwanted robocalls spoof phone numbers to make it look like it's a legit agency when it's not.
These calls tend to happen internationally, and now the FCC endorsed new rules to fight against these malicious calls.
The best tip I can give you if you don't recognize the number, don't answer it. Let it go to voicemail, and if it's an important message that you're familiar with, you can address then.
You can also block numbers on your mobile devices. Each phone is different so you may want to contact your service provider on how to block numbers.
The FCC also gives tips on how to combat these robocalls here.
You can also combat robocalls and make money from their illegal actions.
Places Where You Can Report Robocalls Or Internet Phone Scams
File a complaint with the FCC here!
File a complaint with the National Do Not Call Registry here!
Where To Report Internet Scams Here Are Some Steps
---
I wrote an article here on how to get a refund from a service online that you should check out.
Your First Step
Get all your receipts or any information you have to report the scam. The info you would obtain includes emails, credit card or PayPal transactions, dates, and company website info.
The more info you have, the better chance you will have to get a resolution. The is no guarantee you will, but at least by reporting it can lead to an investigation.
Second Step
If you were scammed out of your money and try everything you can to resolve the issue, the first report you should make is to your financial institution.
Let them know the details of the transaction, how you tried to get your money back, along with letting them know you do not want any recurring charges from that same company.
Some of these scams sites take hostage of your credit card. You may even want to get a new one which is a pain, but at least you still have the remaining money in your bank.
Third Step
Sometimes it takes YOU to take action for them to stop saying, WHO!
If you couldn't get the issue resolved through the company, see if the Better Business Bureau will help you correspond with the company.
The BBB tends to help people individually with complaints.
Some business doesn't like to see their business name with negative complaints on file with the BBB because people go there to research and read about complaints to decide if they are going to purchase a product or service.
Filing a complaint may put a fire up you know what for the business to react to your claim.
The complaint might get resolved there, and everyone can move on with their lives.
Go here to file a complaint with the BBB.
Fourth Step
If for some reason you were not able to file a complaint with the BBB, the FTC is another alternative.
The FTC doesn't resolve individual complaints; however, if there is a mass amount of people with the same complaint about the same Internet scam, the FTC may start an investigation and take action against the company.
The reason why you should file a complaint with the FTC is to be apart of a mass complaint. If people don't file a complaint, nothing will get done.
The scams will continue, and people will continue to get duped. All you do is file a simple report.
If enough people file, the FTC may recover some of your money and send you a check.
It may take months to recover any losses, but more importantly, the FTC may stop unlawful practices that these scammers do.
Believe it or not, the FTC has recovered 2.3 billion dollars between July 1, 2017, to June 30, 2018.
So it's time to file a complaint with the FTC here!
Fifth Step
This complaint is for international scams. Some people feel that because they got scammed outside of their Country, they may feel like they can't file a claim.
The econsumer.gov is where you go to file an international scam. From what I gather, they work similarly to the way the FTC works.
When people file a complaint, and there are enough of them, the econsumer.gov, starts an investigation.
Every country has to deal with these schemes, and if enough people know where to file, we can start combating these schemes.
So, file a complaint at econsumer.gov if you got scammed internationally.
What If It Is A Scam You See On A Website
---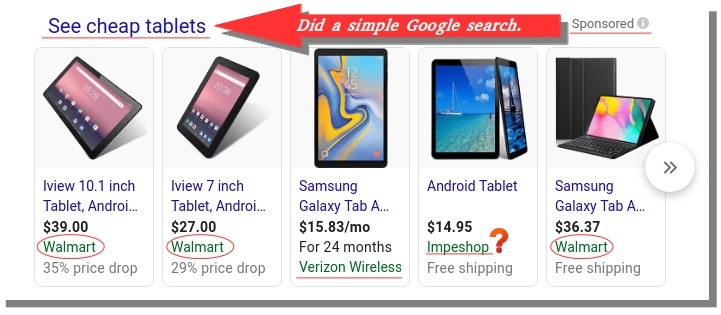 If you see a scam on a website, to give you an example, I just did a quick Google search for cheap tablets. As you can see, we are familiar with most of the stores.
There is one that is called the Impeshop, and I'm sure it is not a typical online retailer we see all the time.
As you can see, it is showing on Google's search engines as an ad.
When I did further research, Impeshop is a Shopify store platform that underprices products, and all their prices are the same.
These types of scam sites keep circulation online and rename its store and manage to get on the search engines quickly.
Some people possibly saw these types of e-commerce sites on social sites.
Most people know it's a scam, but some people don't think it is because it was on Google's search engine or a website they trust.
As of now, it might be best to purchase products and services from trusted retailers.
When companies deal with receiving a lot of data daily, like Google or even social sites, they are not going to catch it right away.
The funny thing is, the people I know are calling Shopify sites, Scamify because of the people running these schemes using their platform.
Even though you see these scams circulating online, your best bet is to file a complaint, especially if you paid for a product that never came in the mail.
File a complaint, go for it!
Google (Note: Google takes down anything that shows on Google's products that violates their terms.)
Most of these platform sites won't do much to combat the schemes. If you look at the Facebook article I wrote, a lot of people felt that Facebook doesn't do much when you see scams on their site.
I check the next day to see if that Impeshop was on Google's search engine ads, and it was gone. I don't know if it's going to come back, but Google took care of that quick!
As for the scam website itself, the only way to resolve getting that taken down is to contact the hosting company where that Impeshop got hosted, and I'm assuming that Shopify hosts this site.
You can find some interesting info and also, why this site rates Impeshop the way they did here.
An excellent solution to help protect GOOD business owners that use Shopify is to research their shop.
I don't want people to lose their business because of a few bad apples that try to make the tree go rotten.
Most shops wouldn't price their products at the same rate for products that cost a lot more than what is listen in their shop.
All In All
We as people need to combat scams on the Internet. We want to enjoy our time online. We want to shop, find jobs, go to social sites with ease, and enter our details with trusted services.
It's going to be a battle, but I believe it's a battle that we can win.
So if you are dealing with Internet scams or phone scams, there is a place to report them.
What is your take about phone and internet scams, Tweet me @evelynbaz!
Plant, Water, and Believe!
Keep faith in what you're doing.
Inspiration can be a turning point in your life. Click the link below if you need a little kick in the butt to start your journey.

We earn a commission if you click this link and make a purchase at no additional cost to you.