Lots of people see ads online when they are looking to work from home.
When people see a promising opportunity, of course, they are going to want further info.
They may click links to get further details.
A lot of jobs recommend that you apply on job boards or LinkedIn.
There's nothing wrong with that if someone you know advises you to do that.
However, many people don't get that recommendation, and they are unsure about where to apply for jobs online.
In this article, I'm going to show and explain why caution should be taken first along with advice on where you should start to apply for at home jobs.
There Are Many Fake Jobs Online
---
There are many fake jobs online that gives the impression that you are going to apply for a job when that is not the case at all.
Some of these "jobs" are more in the field of GPT. What GPT means is get paid to do a certain task like complete surveys.
Some of these listings may get compensated when they refer people to these types of sites. So, they get creative and use job boards as a way to get others to join.
Almost all of these types of GPT sites are free to join and the money made is not exactly what they list in their job ad.
We All Know What Jobs Are
---
You get compensated either weekly, biweekly, or monthly for a position that you apply for.
You know when you do the job that is required of you, you will get paid in the agreement that you and your employer made when you got hired.
There is no get compensated depending on how much work you put in.
Now, there are real jobs out there that are work at home that may have an agreement where you're an independent contractor and you get compensated when you agree to take on an assignment and complete it.
This is why it is so important to do your research first before you take on anything online.
Work At Home Jobs.org Is An Example Of Why You Should Do Your Research
---
I noticed that there was a job listing about a week ago online. Pardon me for not writing about this sooner, I just experienced a loss again in my family and I needed a minute.
Anyway, I want to start with the ad.
---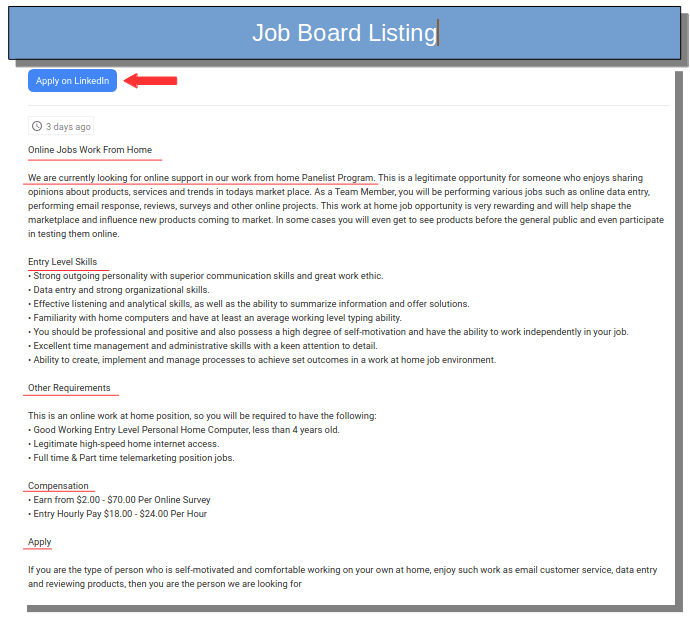 ---
As you can see in the image above,
The site list that opportunity like a job. It said they are looking for online support in their work from home panelist program.
They also list skills, other requirements, compensation, and at the top it says to apply on LinkedIn.
I Went To Apply On LinkedIn
---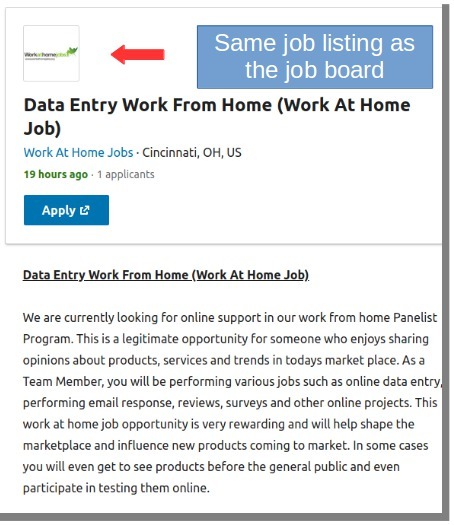 When I went to LinkedIn, the same job listing is listed. So what I did is clicked the apply button. Then a pre-screening questioner appeared.
I answered all the questions to see what happened next.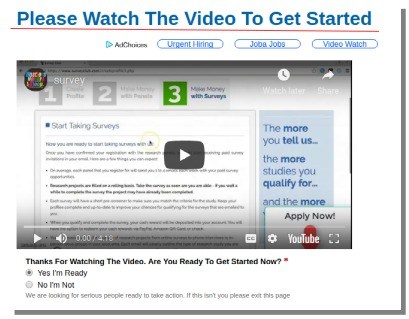 Then a video comes on about applying to Survey Club. Okay, obviously something funky is going with the job listing. Survey Club is one of those sites where you can join to complete surveys.
These types of sites really don't pay as much as the job listing reveals. You can get compensated for completing surveys but it's going to be around $0.50 to $1.00 spending twenty minutes if you qualify for the survey.
You are going to spend hours chasing full-time money when the possibility of doing that is almost impossible.
Know that the video they showed where they claim all this money they get compensated a lot of those YouTube videos pretty much say the same thing.
Also, another red flag about that video is that the comments are disabled. People do express their opinions when they watch YouTube videos.
Sometimes people will express what they experienced and when you see comments are disabled, there is a reason.
For me personally, when I see comments disabled, I assume that the video content creator doesn't want you to read something, Lol.
That leads me to believe that the trust factor of what they are saying may not be exactly what they claim it is.
I Did More Digging
---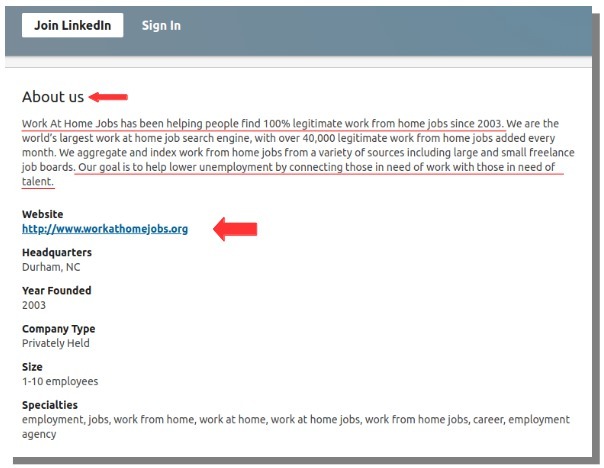 I went back to LinkedIn to gather more information about Work At Home Jobs.org. On their profile, it shows about us.
In their profile, it says I'm quoting…!
"Our goal is to help lower unemployment by connecting those in need of work with those in need of talent."
Sounds great!
However, when I looked at the profile of these employees, none of them had profile pictures.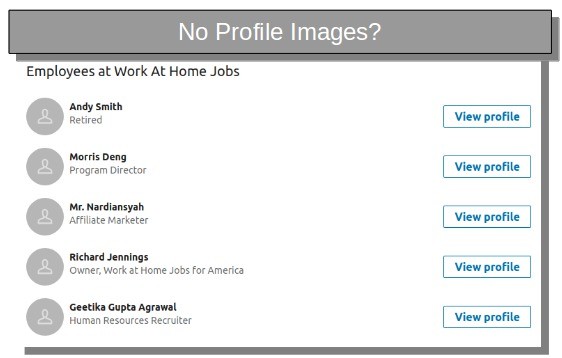 Yeah, names are listed, but not one employee that is helping to lower the unemployment by connecting those in need of work isn't happy to show their image!
I feel that is a good thing and why not show an image of where they are employed.
Also, when I clicked on the link in the above image, it showed that this site could not be reached.
That is a red flag because if you want to know more about what a service is offering, you should be able to get to what they offer.
They've been in business since 2003.
I Went To The Way Back Machine
---
If you look at the image above, work at home jobs doesn't show anything about connecting or helping people in need of any kind of job.
It shows find your dream vacation home?
What is so odd is that why would a domain name that is called work at home jobs have listings for…!
vacation rentals
hotels
car rentals
airline tickets
apartment rentals
relocation
moving
refinance
home mortgages
home equity loans
debt consolidation
weight loss
health insurance
life insurance
This sure isn't about jobs from home and it seems like some sort of scam is going on in my book.
I wanted to use the work at home job listing as an example because this kind of stuff is quite common these days when people are looking to work from home.
I Too At One Time Was Looking For Work From Home Jobs
---
Back in the day, there were all sorts of scams out there too. I realized that it was quite tough finding a job from home.
Back then, people were not hiring like they are today, but it still is a tough task.
I learned that doing research first is key. I also learned that jobs from home don't pay as well as working outside the home.
I realized my best bet is to just make my own way.
This way, I can work when I can and be able to care from my special needs son.
It took work, but this service here showed me how to do it.
It's my heroic site because they offer so much that helps people actually make money from home.
Where Should I Apply For Work At Home Jobs?
---
If you find an interesting listing, I suggest your first step is to find the actual website.
There are many job listings that say you can work from home, however, they don't even have a website!
How strange is that!
Lol, where do you log in on a daily basis to work if there isn't an actual website!
Anyhow, if you do find a website, scroll to the bottom of that website and find careers or anything pertaining to jobs or hiring.
Now you're able to read their listings and see if there are actual jobs that coincide with a job listing that was listed in one of those job boards.
If everything is all good, apply on the actual website that is hiring people.
Sometimes job scams will use actual business names to scheme you out of your money.
If you look at my OnPoint Advocacy and Hospira Inc, scammers are there using their business name to do some sort of shady tactics.
All In All
I want you to be safe out there. There are trusted sources out there. Unfortunately, online services get tainted because scammers don't care.
Their whole agenda is to steal your info, identity, or money. At this point in time, it falls on you to be careful.
Sometimes these schemes are not even from the country you are from and it could be very difficult to get the issue resolved.
As you can see with the example I showed, people don't care. They will use words that sound so touching that they grab your emotions.
Trust is based on your research not what they say. You can go to WayBackMachine yourself and see for yourself.
Even though I'm a trusted source, I really don't mind when people take it a step further and do their own research.
That is what I advocate because deception seems to be running the world right now.
What is your take about applying for jobs online, Tweet me @evelynbaz!
Looking For Ways To Earn From Home?
Check out a list of opportunities!
There are many ways you can earn from home. In this list, you can find other options that can help you make money online. Each opportunity is either earn some extra coins, find work, or start a business. Click the button below to see if any of these options fit your needs.

We earn a commission if you click this link and make a purchase at no additional cost to you.