I came across Your Eight Steps through an email I got, so I decided to check it out.
When I got to the video with the fake news reporter guy, he stated they are giving people eight steps to a complete marketing plan.
I was curious to see what this marketing plan was.
So, I decided to do some research on this program, and here is my review on Your Eight Steps.
Keep reading so you can decide if this is the plan for you.
Specs About Your Eight Steps
---

Product Name: Your Eight Steps
Years: 2013
Free Access: Yes
Price: Cost starts at $14.97 a month
Website URL: youreightsteps.com
BeginAtZero.com Overall Rating: 6/10
---
The Rundown
What is Your Eight Steps?
How does it work?
They teach you how to build a list by using Traffic Exchange programs and Safelists. Their main way to build a list is by using splash pages.
How much does it cost?
You can start off for free, but they have different membership levels. Some levels get a higher percentage pay rate.
Who can join?
Anyone 18 years or older.
My Take
---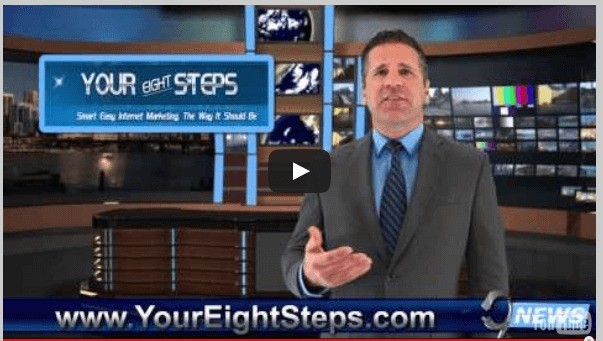 ---
When I saw the video with the fake news reporter, he stated how people try things to make money online and how it doesn't work.
This reporter is correct about how a lot of programs don't work online.
There are way too many scams out there that outnumber legitimate ones.
It is why I advocate researching before you buy.
Now they are introducing a new legitimate way to make money online.
According to the newsman, it's eight steps to a complete marketing plan.
It's supposed to walk you through steps to make a residual income from home.
They claim that you can make cash in as little as a week.
Then he says, for a limited time, I can sign up for free.
I will get 7 exclusive eBooks along with a free membership.
$189 value that includes advanced SEO techniques.
If you read some of my posts, you know I like free.
I think it's important to check out what you're getting into before you decide to pay for a service.
This way, it gives you an idea if you're really are getting junk or if you're getting the real deal.
I Didn't Sign Up
---
Just so you know, I didn't sign up for Your Eight Steps. When I went to click on the get free access, I got to create a free account page.
They want me to read something first before I signing up.
In the free access area, they are now telling me what emails I cannot use, which I find a little bit odd.
They say don't use Yahoo, AOL, or Hotmail because I will not ever receive a confirmation.
It even states not to use Boxbe or Emailsecuritysystem because it will get your account banned.
Now they are giving me the advice to go with the ViralinBox email address.
It is taking me back to a review I did on MyFlexJob where MyFlexJob wanted me to sign up for offers.
On Your Eight Steps, they say the ViralinBox is free, but they have an upgrade and they say it's okay to dismiss it for now.
What do they mean by dismissing it for now?
That sounds to me like I'm going to have to pay for it later. Plus, what is wrong with my Hotmail?
They want me to click on the banner below so I can get access to ViralinBox mail, which I really don't want.
This is why I didn't sign up for this so-call great service.
They didn't recommend any other email systems.
I didn't know what the heck I'd be getting myself into, especially when they use words like, dismiss it for now.
Instead, I had to dig a little deeper to understand what is going on and to see if this Your Eight Steps is really going to cost money.
What is ViralInBox?
---

---
ViralinBox is a system that you can check all your emails in one place. You can direct every email address you have to ViralinBox.
It's also similar to a traffic exchange program, where you look at business offers and you can also send your business offers when you accumulate enough credits.
With ViralinBox, the only difference is that people do it through emails. The way someone earns credits is by looking at business opportunities. Once you earn enough credits, you're able to send your business opportunity to other people.
Just so you know, you are required to receive these emails if you want to join ViralinBox. If you don't want to get these emails you can cancel your account.
I personally wouldn't direct all my email accounts to a program like this. I like to keep my personal and business life separate, that's the way I like to do things.
I don't want to risk my friends and family getting spam email because I prefer to build a business online.
How Does Your Eight Steps Works?
---

---
What I found out through Your Eight Steps FAQ page is that this site is mainly a list building program by using Traffic Exchanges and Safelists.
Traffic Exchanges and Safelists are very similar programs. The way they suggest to get a mass list of emails is by using splash pages and solo ads.
I've come across a lot of opportunities online and too many business opportunities that use splash pages have over-exaggerated claims. I'm not a fan of splash pages because of this reason.
There are other ways to build a list that doesn't involve enticing people using FAKE news reporters or some sort of so-called quality SEO technique.
This Is The Plan?
What you will mainly be doing is signing up for a bunch of traffic exchange programs and spend hours clicking and reading emails so you can get credits to promote Your Eight Steps.
Once you earn enough credits through these exchange programs you're now able to promote your affiliate link inside these exchange programs.
If someone decides to sign up, you get credit through your affiliate link. If they become a paying member, you earn a commission.
Why Does This Your Eight Steps Want You To Get ViralinBox?
---
In the FAQ area, they had videos and I noticed that the owner Richard was using Gmail. I was like what! why didn't they let people know in the get access area that they can use Gmail?
I'm sure they encourage you to use this ViralinBox so they can make a commission when you become a paying member.
They also want you to promote Your Eight Steps through ViralinBox. This is one of the ways you can promote their program along with other ways they will teach you.
I'm sure Your Eight Steps will encourage you to upgrade so you can have more credits to promote their program.
Is It Really Free?
---
Yes, you can sign up for free, but you will have limited access to all the materials that a paying member would get, such as Splash pages.
How Much Does This Your Eight Steps Cost?
---
Free Members
$14.97 Monthly Pro Members
$77 Yearly Pro Members
$147 One Time Fee Lifetime Pro Members
$497 One Time Fee Lifetime Elite Members
I was trying to understand what the different up-sells were.
What I found out is that each member that you're able to convert into a paying member, you get a different commission rate.
Free Membership 20% Commission
Pro Membership 50% Commission
Elite Membership 90% Commission
The Good And Bad Side To Your Eight Steps
---
The Good Side
The good side to Your Eight Steps is that you get free training and you can earn a commission without ever becoming a paying member.
The commission is a lot less, but you're not going to go bankrupt if you try it out.
The Bad Side
You will be spending a lot of time in those Traffic Exchange programs without seeing results.
I'm familiar with traffic exchange programs as I learned about them when I was involved in the MLM industry.
Some people love traffic exchanges and say they work while others say they don't.
In my opinion, you need to get a mass amount of credits in those Traffic Exchange programs because you will need to reach a lot of people.
Most of the time people have already seen these same old offers over and over again and they are not interested.
I'm also not a fan of splash pages because these pages can contain a lot of lies to entice people to give out their information.
Is Your Eight Steps The Right Plan?
---
I have to say to each their own. If you think promoting a service like Your Eight Steps through splash pages, spending a great amount of time in those Traffic Exchanges sites, and reading Safelists emails is the way to market a business, then go for it.
In my opinion, the way to build a business online is through your OWN website. There are many ways you can make money on your OWN website. You can also build a great converting list with your website if you choose to do so.
All In All
If you want to try Your Eight Steps, then check it out. Lots of people do get tired of seeing splash page after splash pages with the same types of marketing tactics.
Usually, these types of services say it's easy and is a push-button service, then it turns out to be not as easy and that push button doesn't even work.
If you want to build your OWN business, I highly suggest you check out My #1 Heroic Site. It does take work.
It's not a get rich quick service, but your building your own business. I suggest you check out the 10 FREE lessons and see if this is the pathway you want to take.
What is your take about Your Eight Steps, Tweet me @evelynbaz!
Looking For Ways To Earn From Home?
Check out a list of opportunities!
There are many ways you can earn from home. In this list, you can find other options that can help you make money online. Each opportunity is either earn some extra coins, find work, or start a business. Click the button below to see if any of these options fit your needs.

We earn a commission if you click this link and make a purchase at no additional cost to you.